The Oddly Specific Food Demands Victoria Beckham Reportedly Made At A Wedding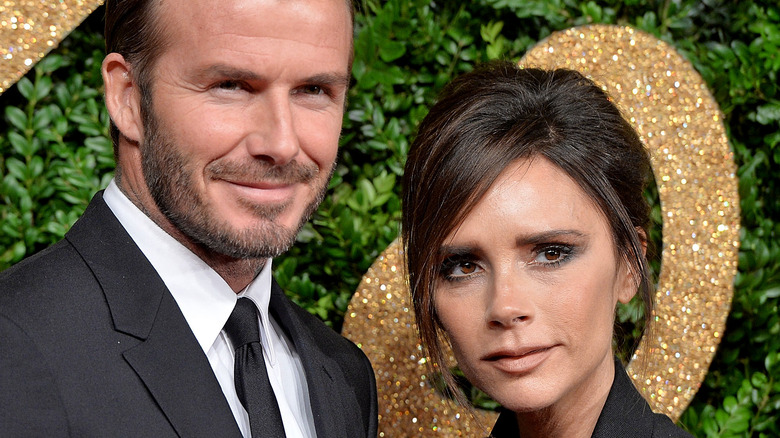 Anthony Harvey/Getty Images
British soccer player David Beckham has what sounds like a very meaningful relationship with food. He told restauranteur Ruthie Rogers during an interview that he "get[s] quite emotional about food and wine, when I'm eating something great I want everyone to try it," per The Irish Times. 
There is just one small problem, at least where Beckham is concerned. He revealed, "Unfortunately, I'm married to someone that has eaten the same thing for the last 25 years. Since I've met Victoria, she only eats grilled fish, steamed vegetables. She'll very rarely deviate away from there." Victoria Beckham will be the first to say that her husband has a point. She not only admits to being a "very fussy eater" and "who likes "things cooked in a very simple way" but also dislikes anything that might dress up a dish, like oil butter. And she won't eat dairy. 
So you might imagine that her taste in food would collide with that of chef Dani Garcia, who told Mashed in an exclusive interview that he makes mac and cheese at home and couldn't live without olive oil. Garcia learned firsthand just how different their preferences could be. And it happened at a wedding of all places.
Victoria Beckham wanted plenty of vegetables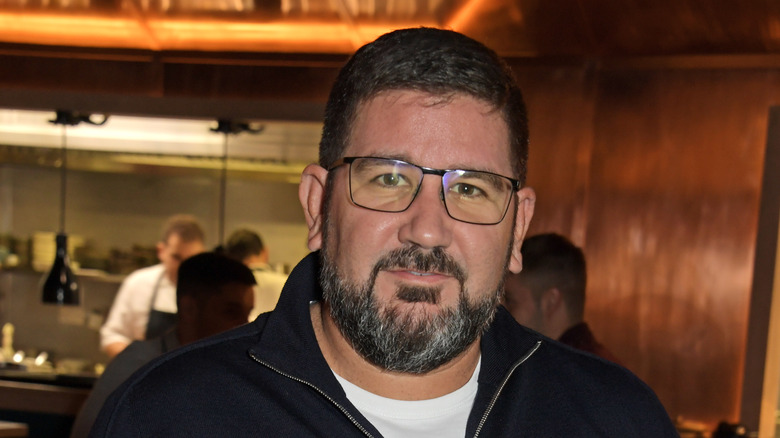 David M. Benett/Getty Images
Victoria Beckham has characterized herself as a restaurant's "worst nightmare" (via The Irish Times). But the fashion designer also posed a challenge for a Spanish chef Dani Garcia, whose restaurant was the first in Malaga province to receive three Michelin stars, per Andalucia. He told Spanish TV that Beckham frustrated him and his staff with her culinary demands when he was cooking at the wedding of footballer Sergio Ramos and his now-wife Pilar Rubio.
Considering that his restaurant's menu has featured such items as "millefeuille of caramelized green apple and goat cheese with foie and sour puree," you might imagine that he had some elaborate dishes planned for the nuptials. But he told Spanish television, per Evening Standard, that "Victoria Beckham changed the whole menu. It was very sad because when you make such an effort, not just me and my team but the bride and groom and everyone else to create a unique menu."
How "unique" was Victoria Beckham's ask? Garcia says explained that her menu was "just based around vegetables." He also remarked that there were "some odd things that I've never seen in my life. She had coconut water, all the time, a bowl of mints, and then on the other side hydroalcoholic gel which is very famous now but back then wasn't because the Covid pandemic hadn't started." While she might describe her tastes as "simple," Garcia found it "complicated" to meet her requests.
Victoria Beckham says her eating habits stem from her Spice Girls days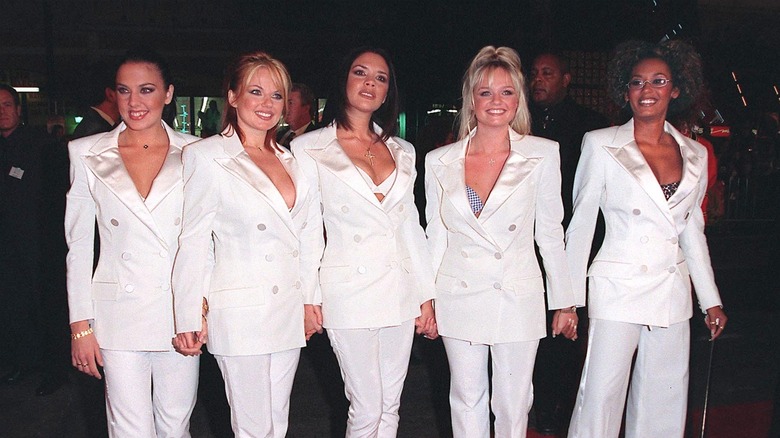 Featureflash Photo Agency/Shutterstock
This is not the first time Victoria Beckham's eating habits have been the subject of public speculation. As The Mirror reported, she remained committed to eating just strawberries and drinking mineral water during Euro 2004.
But Beckham has a reason for that, which goes back to the days when she was known as Posh Spice. "Very quickly I came to the conclusion that unless I adapted a very healthy way of eating I would be just more inclined to sit there and eat the entire contents of the bread basket which when you're eating out regularly is probably not the healthiest, not when you're on tour and you're expecting so much from your body," she said, per Irish Times.
Perhaps it's not surprising that a person who has reportedly eaten the same thing for a quarter of a century did not want to change things up for the wedding. After all, Hello! reported in 2018 that for her birthday she enjoys a cake-shaped watermelon with strawberries and blueberries rather than an actual cake. But we know she knows how to break that diet and enjoy herself from time to time. Beckham is particularly fond of eating a slice of wholegrain toast and salt.