The Peachy Twist On A Classic Cocktail That's Perfect For Summer
Dr Faulkner/Shutterstock
Just like you shouldn't judge a book by its cover, you can't assess a cocktail by what it's called. Take the old-fashioned. It sounds dowdy, staid, boring...blah. But try to think of the name as a testament to its staying power, rather than a statement on its essential spirit. It's a wonderful cocktail to use in assessing the skills of a bartender, since it's a classic and, like many classics, the skill is all in the details (via Punch). When a beverage consists of nothing more than whiskey or bourbon, sugar, bitters, and an orange peel, it's important to get it right.
While the old-fashioned is marvelous in its simplicity, it's not a very summery beverage. Summer tipples tend to be fresher, lighter, and cooler to offset the temperatures for those lucky enough to be sipping outside. Frozen cocktails can be an especially delightful distraction from the heat.  
Summer drinks often feature seasonal fruit (per Serious Eats), adding a burst of juiciness and even a potential nutritional benefit to your libation. Purees of fruit are also an ideal way of using up anything that's past its prime in texture but still full of flavor, so they are a natural and frequent addition to drinks (think: strawberry daiquiri or a classic peach Bellini). But for those who like their spirits brown, fruit flavor matching can sometimes be a challenge since the more aggressive flavor of whiskey and bourbon doesn't always mix well with summer produce.
Peaches and bourbon: two great tastes that taste great together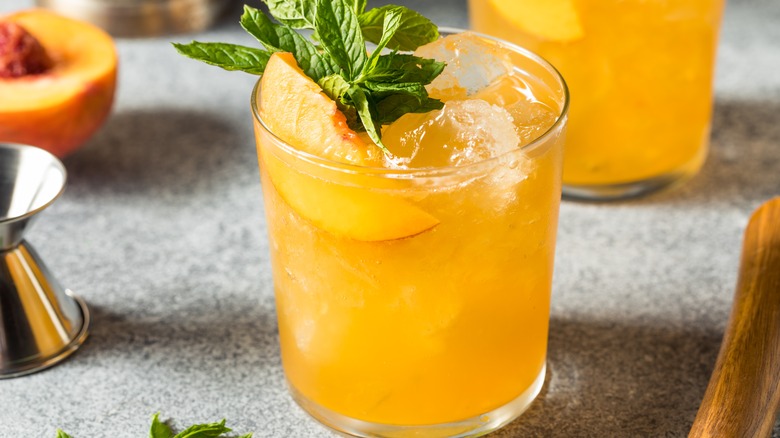 Brent Hofacker/Shutterstock
Enter the peach old-fashioned. Peaches are a perfect pair for whiskey (or even better, bourbon, as noted by home decor brand Crate & Barrel). Their sweet flavor is surprisingly assertive and complements the caramel and vanilla notes often found in bourbon, neither disguising the spirit nor being overwhelmed by it.
There are several different ways of making a peach old-fashioned: with peach simple syrup (as Cocktail Contessa prefers it); with slices of peach which you've muddled into your sugar and bitters (per The Crumby Kitchen);  or even with Peach Schnapps as mixed by The Cocktail Project (for a sweeter cocktail). You can add garnishes of orange slices, cherries, additional peach slices, or even mint to give it some extra swag and style. But however you like it, it's good enough to drink all season long, and might just warrant a new name: the Summer Old Fashioned (at least as long as the peaches stick around!).