Classic Peach Bellini Recipe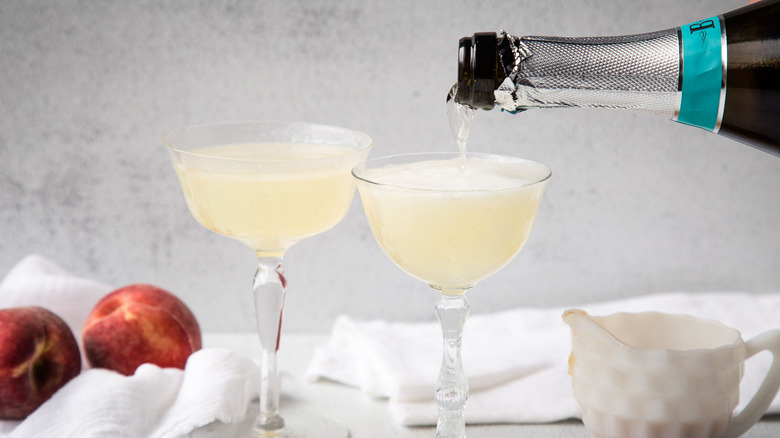 Kate Shungu/Mashed
What's a leisurely Sunday brunch without a sparkling cocktail to help liven things up? While mimosas may hold the title of the quintessential brunch cocktail, if you want to try something different, you can't go wrong with a classic peach bellini. Mimosas and bellinis each feature sparkling wine as a main ingredient, but where mimosas are served with orange juice, bellinis are made with fresh peach puree, offering a softer, sweeter flavor. "I used white peaches for this recipe, which are traditional for a bellini," notes recipe developer Kate Shungu. "They add a slightly floral flavor to the finished beverage that really makes it worth finding white peaches, if you can!" 
Peach bellinis also win points for being simple and easy to prepare, requiring just four ingredients and about 10 minutes to whip up a batch. Shungu says you can even prepare the peach puree the day before and store it in the fridge until you're ready to mix your cocktails. 
Gather your ingredients for a classic peach bellini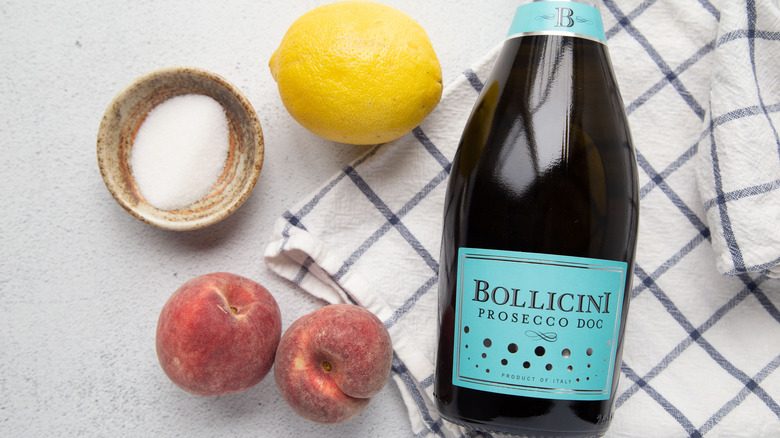 Kate Shungu/Mashed
To make six classic peach bellinis, you'll need two large white peaches, 1 tablespoon of lemon juice, 1 tablespoon of sugar, and a bottle of prosecco. You may also want an extra peach you can slice into thin pieces as a garnish. 
And if fresh peaches aren't in season, Shungu assures us that this conflict shouldn't stop you from making the cocktail. "Use 2 cups defrosted frozen peaches instead of fresh peaches," she says, adding, "[You can] substitute other stone fruits for the peaches, such as plums, apricots, or nectarines." 
One other fun way to liven up your bellini is to give it a blush pink color. Shungu says if you add a handful of raspberries to the food processor when making your peach puree, they'll end up turning your cocktails pink!
Prep the peaches and make the puree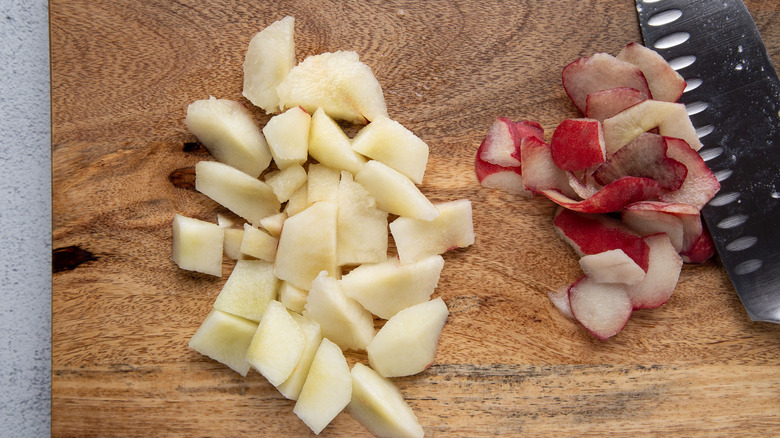 Kate Shungu/Mashed
You don't want fuzzy peach skins in your bellini! Start the prep work by peeling, then chopping your peaches. You don't have to worry about uniformity here, just making smaller chunks to put into the food processor. 
When your peaches are chopped, place them in a food processor or a high-speed blender along with the lemon juice and sugar. Blend until the mixture is smooth. 
Strain the peach puree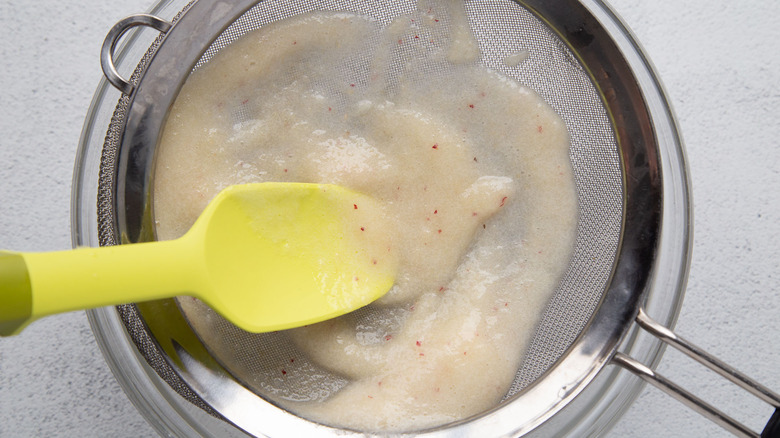 Kate Shungu/Mashed
You want your puree to be as smooth as possible so it mixes well with the prosecco. To get this super-smooth effect, you need to strain the peach puree to remove any grainy parts or remaining skin. To do so, transfer the puree into a fine mesh strainer and strain it over a glass or bowl to collect the smooth puree. 
Pour your peach bellinis and serve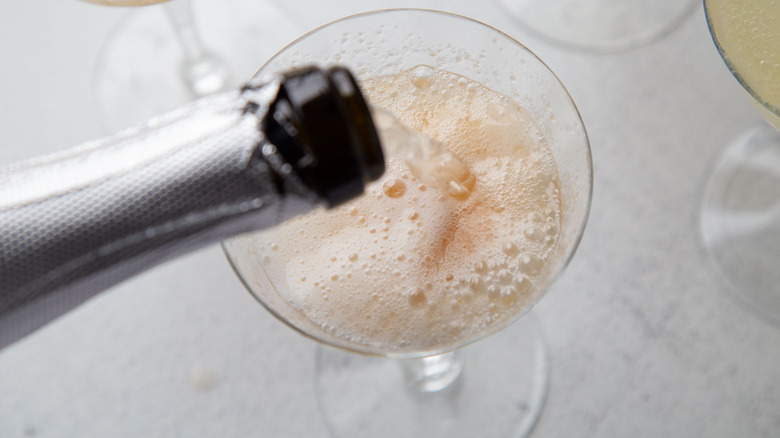 Kate Shungu/Mashed
When you're ready to imbibe, spoon 1 to 2 tablespoons of the strained peach puree into six champagne or cocktail glasses, then top off each glass with prosecco. If you'd like, garnish the drinks with thin slices of peach before serving. 
Shungu also notes that the type of prosecco you choose isn't overly important, but as prosecco is typically dry, you may want to think about ways to sweeten your drinks a bit more. "If you want a sweeter cocktail, add another tablespoon or two of sugar to the puree," she recommends. That's the beauty of making cocktails at home — you can customize them to perfectly fit your taste.
Classic Peach Bellini Recipe
These peach bellinis are easy to make and have the perfect touch of both bubbles and sweetness.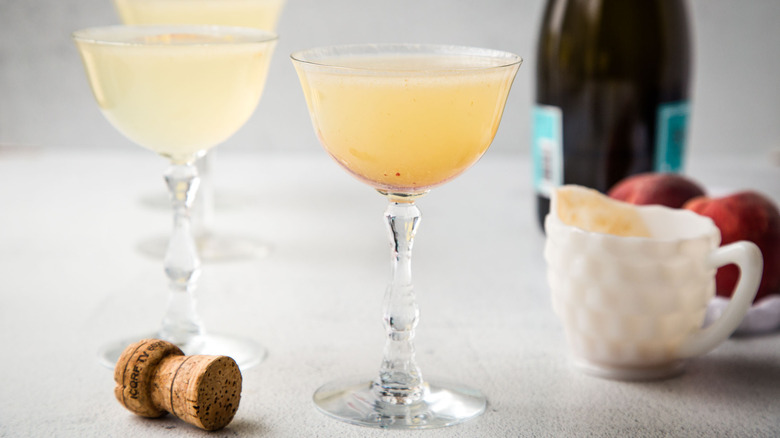 Ingredients
2 large, ripe white peaches
1 tablespoon lemon juice
1 tablespoon sugar
1 bottle prosecco
Optional Ingredients
thinly sliced peaches, for garnish
Directions
Peel and chop the peaches.
Place the peach chunks in a food processor or high-speed blender along with the lemon juice and sugar. Blend until smooth.
Transfer the mixture to a fine mesh strainer, and strain.
Spoon 1 to 2 tablespoons of the strained peach mixture into a glass, and top with the prosecco.
Nutrition
| | |
| --- | --- |
| Calories per Serving | 133 |
| Total Fat | 0.2 g |
| Saturated Fat | 0.0 g |
| Trans Fat | 0.0 g |
| Cholesterol | 0.0 mg |
| | |
| --- | --- |
| Total Carbohydrates | 11.1 g |
| Dietary Fiber | 0.9 g |
| Total Sugars | 8.2 g |
| Sodium | 6.3 mg |
| Protein | 0.6 g |