Marshmello Brings A Fizzy Beat To His New Coca-Cola Beverage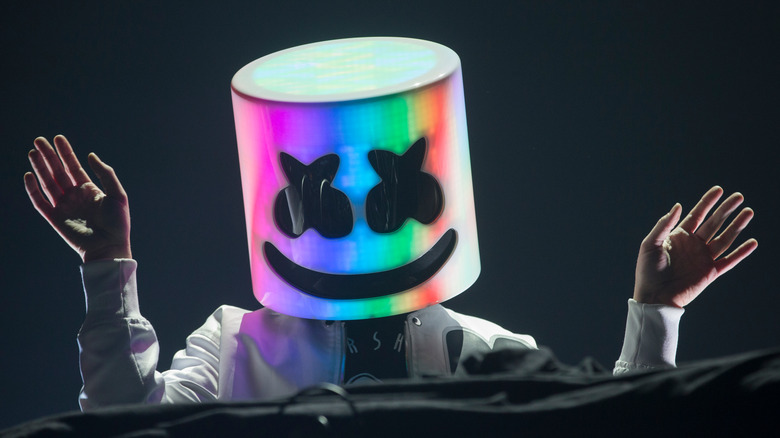 Sterling Munksgard/Shutterstock
When Coke debuted its Creations line in February, it was clear that the brand was looking to recapture the attention of a young, technologically adept market. The most recent drop boasted an unusual flavor called Coke Byte, meant to "transcend the digital and physical worlds" by evoking the taste of pixels (via The Coca-Cola Company). The flavor was preceded by Coke Starlight, which was meant to taste like the galaxy but instead tasted like a sweeter version of the original soda, per CNN. 
In keeping with its curious web colony of refreshments, the brand unveiled a new offshoot website called The Hub to house its Creations drinks, which we can't help but link to the name of the augmented universe in the HBO sci-fi comedy "Made for Love." Coke announced in a Wednesday press release that The Hub will soon make way for a new limited-edition flavor, courtesy of the chart-topping electronic producer and DJ Marshmello. Oddly enough, it will not taste like marshmallows.
Marshmello Limited Edition Coke hits stores (and the metaverse) July 11
The Coke Creations Hub cryptically warned fans that "the beat is about to drop" in a June 30 post signaling the new Marshmello Limited Edition Coke. According to a Wednesday press release relayed by CNET, the "strawberry and watermelon fusion" flavor will be released in stores in slender 12-ounce cans starting July 11. the product will also be available in a Zero Sugar variety. The multi-platinum artist said in the press release that the drink is a "vibey blend" of his favorite flavors. "I think it tastes amazing and I hope fans love it too," he said. Despite its fruitiness, the brand assures that its new flavor will still have the flavor you expect from Coca-Cola.
Like Coke Byte and Coke Starlight, the Marshmello drop will be met with some additional treats in the metaverse. Ahead of its official release, the Creation will debut on Marshmello's Twitch channel on July 9, where fans can hang out and "participate in an adventure" to gain early access to "meta-merch" designed by the avatar app Zepeto, per CNET. On July 25, fans can also head to The Hub to hear a new Marshmello track to dance to while they drink their special soda.