How Giada De Laurentiis' Daughter Inspired Her To Write Children's Books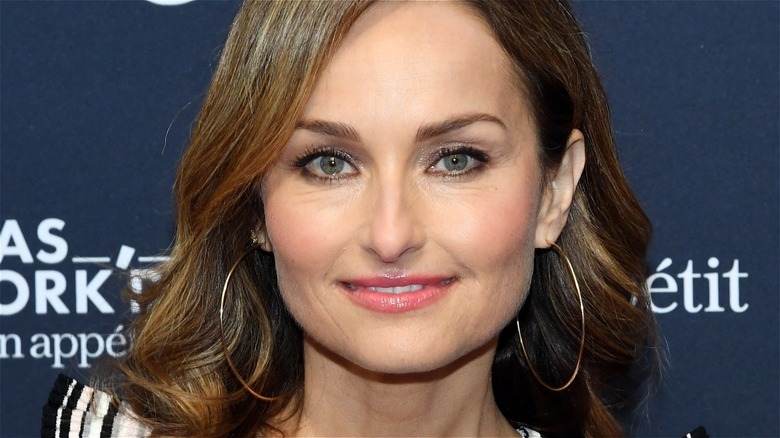 Ethan Miller/Getty
You're familiar with Giada De Laurentiis, aren't you? You've seen her drinking "healthy coke" on TikTok, and you know what weird things lurk in the back of her fridge. You probably know that in addition to being a Food Network star, she's penned a number of cookbooks, including "Giada's Italy" and "Eat Better, Feel Better," per De Laurentiis' official website. But unless you're between the ages of 7 and 10-year-old (or you've got whippersnappers at home in the same age range) you might have missed the fact that De Laurentiis is also a published author of the children's literature variety. 
In fact, De Laurentiis has written an entire series of chapter books for kids, something she told Today was just the tiniest bit about her own experience of moving from Italy to America as a child. "... For a long time, I just felt different, and I struggled with fitting in. To escape, I would immerse myself in books and let them just carry me away," De Laurentiis told Today in 2013. 
Now that this bookworm is all grown up, she's got her degree from Le Cordon Bleu, her New York Times bestselling cookbooks, and her Emmy award-winning programs to remind her of how far she's come since then. But De Laurentiis has another thing, too: a daughter named Jade, who served as inspiration for the author when she decided to write something a little different than just recipes.
Getting Jaded by storytelling
As she told Parade in 2013, having kids wasn't necessarily inevitable for Giada De Laurentiis, who at the time had been with her then-husband for over 20 years. Having lost a brother to cancer when he was young, De Laurentiis says she was hesitant to open herself up to the vulnerability that accompanies the transition to motherhood. But then? "[Jade is] probably the best thing I've ever done in my life and she's also opened my eyes up to really enjoying every day and not taking things too seriously," she said to the outlet.
In addition to being inspirational, Jade has also proved to be an excellent test audience for De Laurentiis' children's series, "Recipe for Adventure;" a set of stories in which globetrotting siblings Alfie and Emilia bop around the world's best food cities, according to Today. "Jade loves nothing more than when I tell her of my own tales of where I have been and what I have tasted along the way. She is a huge inspiration as to why I wanted to write a series," the chef told Today in 2013.
To date, Penguin Random House lists eight chapter books in the "Recipe for Adventure" series; one can only hope that even as Jade ages out of the stories, De Laurentiis won't age out of writing them.