Easy Chicken Gravy Recipe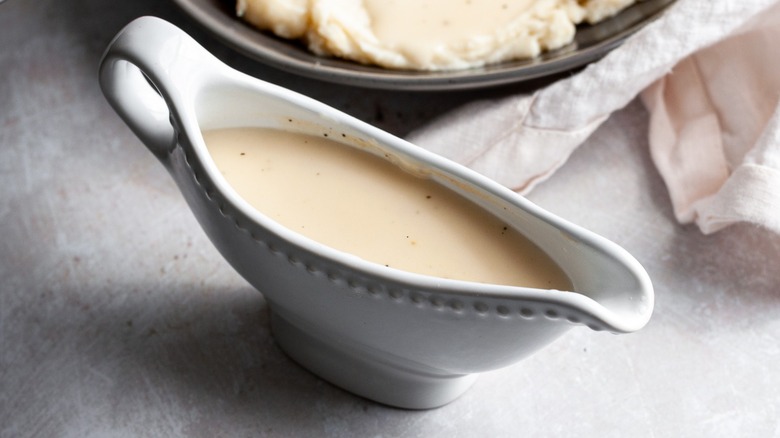 Christina Musgrave/Mashed
This classic and indeed, easy chicken gravy recipe, which comes to us care of recipe developer Christina Musgrave of Tasting with Tina, is (as expected) delicious when used with chicken. But don't let the name make you think that's the only thing you can pour it on. This gravy is perfect on potatoes, it's a beaut on biscuits, and it's a champ on chicken fried steak. You can slather the stuff on veggies, on fish, on rice, and really on any food you want to enhance with a rich, savory flavor. 
Not only is it versatile, but it's also simple. This sauce comes together with just a few basic ingredients. In fact, you probably have everything you need to prep a batch of this chicken gravy in your kitchen right now, so let's stop the chatting and get to the simmering, because we're only about 20 minutes from finished gravy.
Gather your chicken gravy ingredients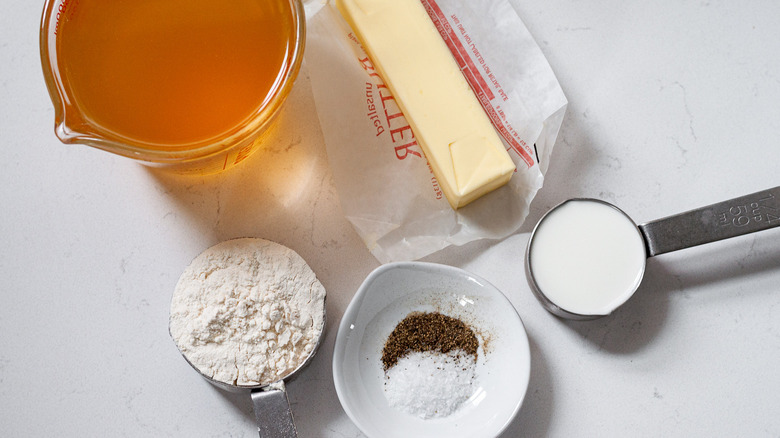 Christina Musgrave/Mashed
Remember how we said this gravy uses basic ingredients? We meant it, and just six of them, at that. All you need for a 10-serving batch is a stick of unsalted butter, some flour, chicken broth, salt, pepper, and as a finishing touch, heavy cream. That last ingredient isn't in many chicken gravy recipes, but Musgrave treats it as a special addition: "It makes the gravy super creamy and silky."
Make the roux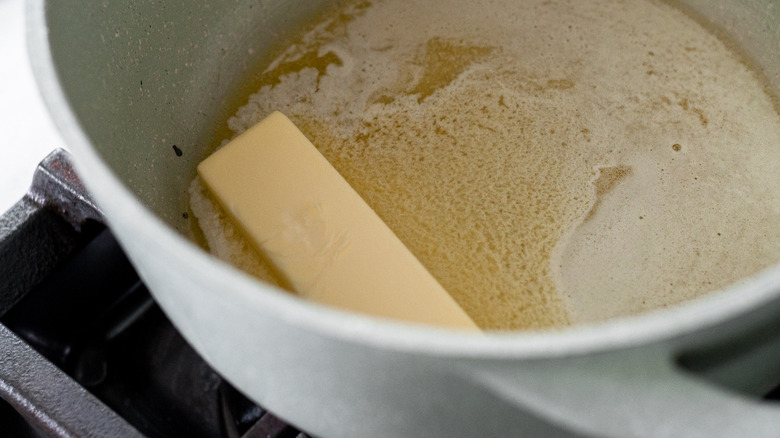 Christina Musgrave/Mashed
Melt the stick of unsalted butter in a saucepan over medium heat. Once the butter has melted, whisk in half a cup of flour, and continue whisking until the flour and butter are fully combined and the mixture (known as a roux) is turning golden. This will take about 8 to 10 minutes. Take your time and resist the urge to crank up the heat; you don't want the flour to burn!
Simmer the gravy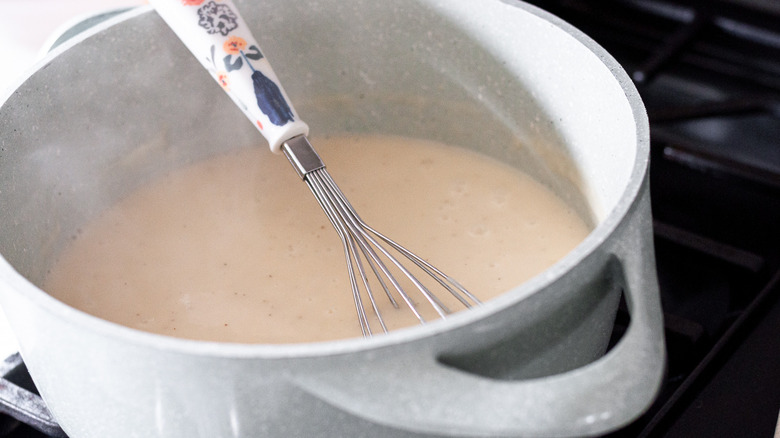 Christina Musgrave/Mashed
Next, slowly pour in the chicken broth; whisk until the gravy is smooth. Now cook it on low for 5 to 10 minutes, or until the gravy reaches your desired consistency.
Once you're there, remove the pot from the heat and add the salt, black pepper, and heavy cream. Stir to combine these, then serve the gravy hot and fresh.
Enjoying and saving your gravy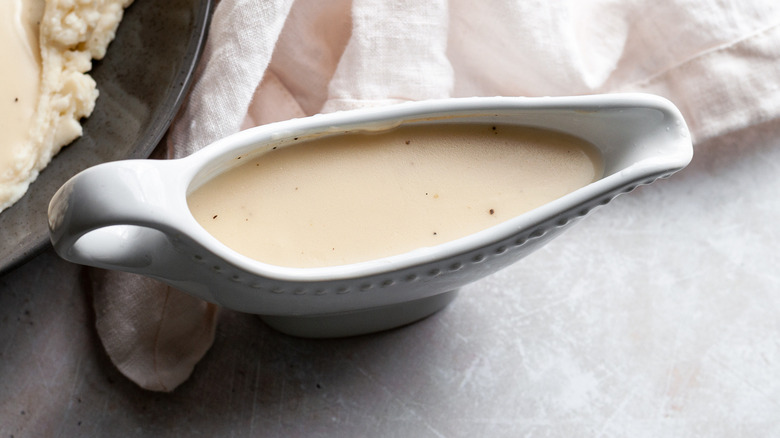 Christina Musgrave/Mashed
As we've noted, this gravy is great on anything from biscuits to mashed potatoes to cooked carrots to, of course, chicken. But what should you do when you don't use all of it up? Save it for later, of course. To preserve this easy chicken gravy, Musgrave says to keep it in a closed container in the fridge for a few days, and "just reheat it in a saucepan until it's warmed."
Easy Chicken Gravy Recipe
Don't let the name fool you: this gravy is good on much more than chicken. Try it with potatoes, biscuits, and anything that would benefit from a savory kick.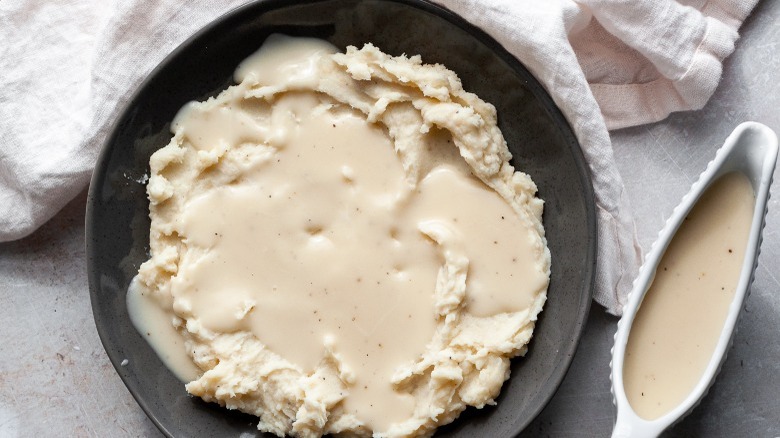 Ingredients
1 stick (½ cup) unsalted butter
½ cup flour
4 cups chicken broth
½ teaspoon salt
½ teaspoon black pepper
¼ cup heavy cream
Directions
Melt butter in a saucepan over medium heat. Whisk in the flour. Continue whisking until the roux is slightly golden, about 8 to 10 minutes.
Slowly pour in chicken broth and whisk until smooth.
Cook on low for 5 to 10 minutes, until gravy reaches the desired consistency.
Remove saucepan from heat. Add salt, black pepper, and heavy cream. Stir to combine.
Serve immediately; keep leftovers in an airtight container in the fridge.
Nutrition
| | |
| --- | --- |
| Calories per Serving | 160 |
| Total Fat | 12.6 g |
| Saturated Fat | 7.5 g |
| Trans Fat | 0.4 g |
| Cholesterol | 35.4 mg |
| | |
| --- | --- |
| Total Carbohydrates | 8.4 g |
| Dietary Fiber | 0.2 g |
| Total Sugars | 1.7 g |
| Sodium | 257.2 mg |
| Protein | 3.3 g |