Instant Pot Boiled Peanuts Recipe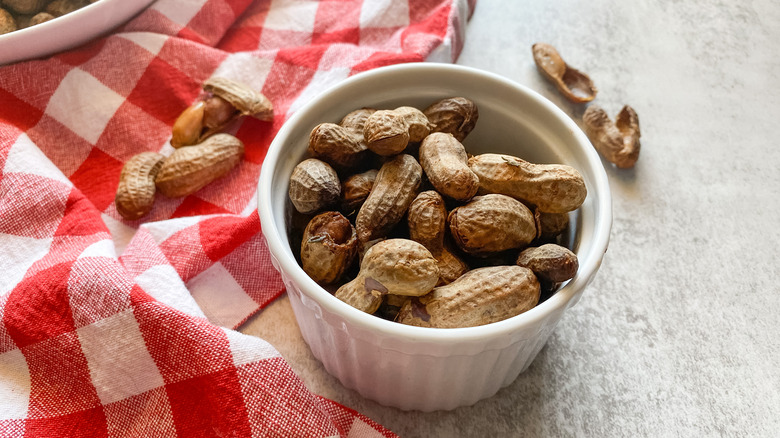 Kristen Carli/Mashed
Have you ever tried boiled peanuts? If not, it may be because you're from the wrong region of the U.S. These salty snacks hail from the southern states, and they're typically enjoyed on road trips as they're often sold at roadside stands. While chowing down on soft, boiled peanuts may sound odd, you may be hooked when you give them a try.
Recipe developer and registered dietitian nutritionist, Kristen Carli, MS, RD, recommends these boiled peanuts as the ideal afternoon snack. Because of their high level of plant-based protein, fiber, and vitamin content, these peanuts are a much healthier choice than the typical afternoon snack. And luckily, they're easy to make, too!
Typically, boiled peanuts can take up to 4 hours to make when cooked on the stovetop; however, this recipe utilizes an Instant Pot to cut down on the cooking time. In fact, you can have this tasty treat ready to eat in under an hour and a half.
Gather your ingredients for Instant Pot boiled peanuts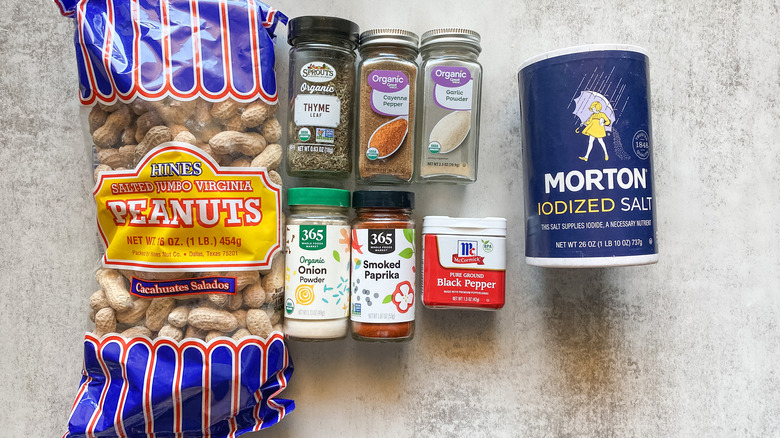 Kristen Carli/Mashed
To make these boiled peanuts, you can start by gathering your ingredients. For this recipe you need whole salted peanuts, water, salt, pepper, cayenne pepper, garlic powder, onion powder, dried thyme, and smoked paprika.
Add peanuts and water to the Instant Pot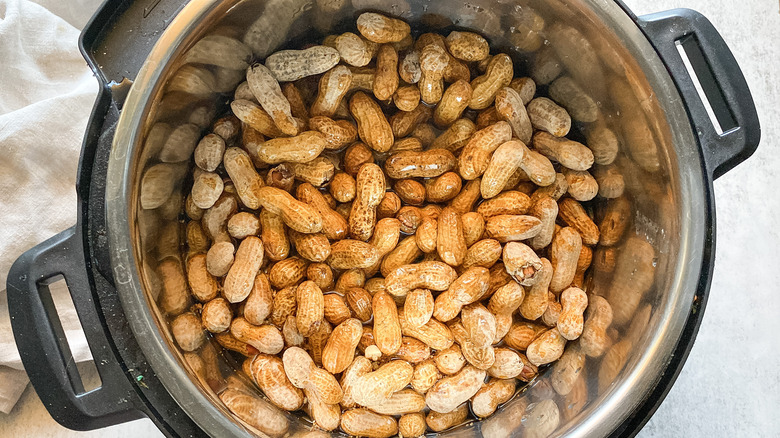 Kristen Carli/Mashed
First things first, start by adding the peanuts to the Instant Pot. Then, cover the peanuts with water. The peanuts will float, but aim to add enough liquid to cover them when they're submerged. This comes out to roughly 8 cups of water.
Add all the Cajun spices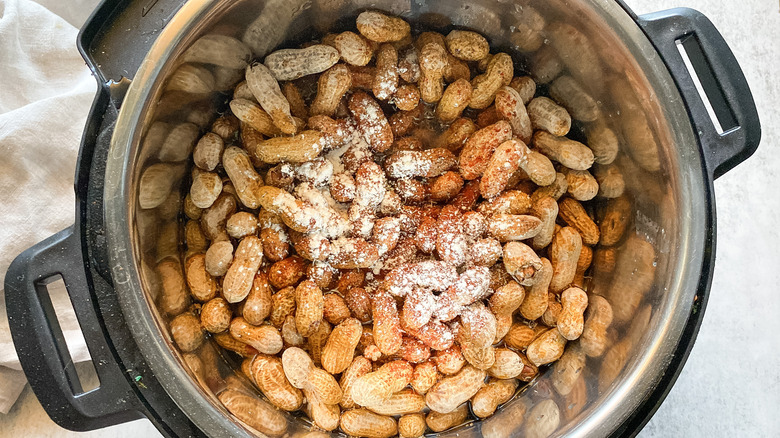 Kristen Carli/Mashed
Next, add the spices to the Instant Pot. This recipe calls for a medley of Cajun seasonings including garlic powder, onion powder, dried thyme, smoked paprika, cayenne pepper, salt, and pepper. Since you started with salted peanuts, be careful not to oversalt the nuts. That said, you should feel free to add more of the other spices, if you want a more potent flavor. 
Also, feel free to go ahead and switch out the spices if you want to try different flavor combinations. Simple salt and pepper are great, as is a store-bought Cajun seasoning such as Tony Chachere's.
Once you've added your preferred seasonings to the Instant Pot, give the whole thing a stir. 
Cover with the Instant Pot trivet, cook, and drain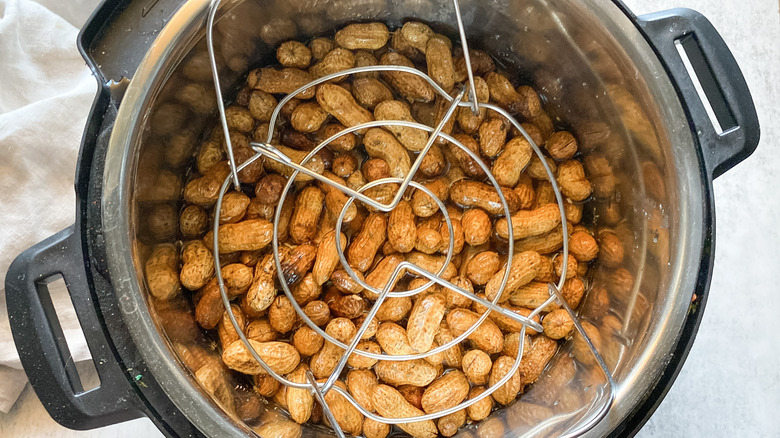 Kristen Carli/Mashed
Place the Instant Pot trivet over the peanuts. This will help keep them submerged in the water while cooking. Then, close the lid of the Instant Pot, turn the pressure cook setting on high, and set the timer for 80 minutes. When the time is up, allow the Instant Pot to naturally release its steam. Drain the peanuts in a colander before serving.
Instant Pot Boiled Peanuts Recipe
If you haven't tried boiled peanuts before, this Southern treat may just be the healthy afternoon snack you've been looking for.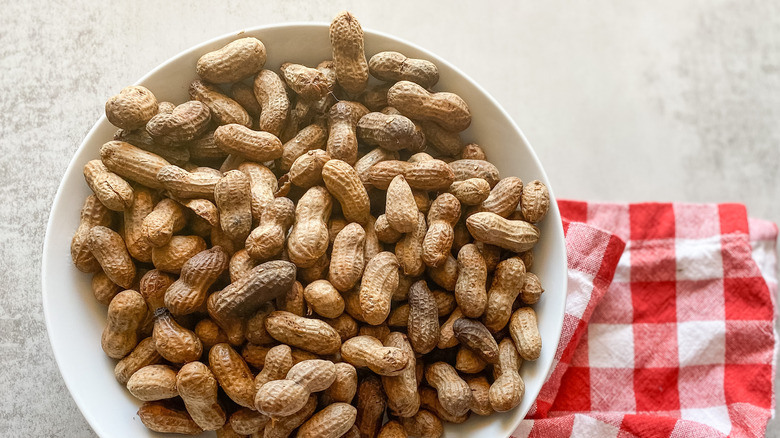 Ingredients
16 ounces whole salted peanuts (in shells)
8 cups water
¼ teaspoon salt
¼ teaspoon pepper
¼ teaspoon cayenne pepper
¼ teaspoon garlic powder
¼ teaspoon onion powder
¼ teaspoon dried thyme
¼ teaspoon smoked paprika
Directions
Add the peanuts to the bowl of the Instant Pot. Cover with water.
Add the salt, pepper, cayenne pepper, garlic powder, onion powder, dried thyme, and smoked paprika. Stir well. Feel free to add more spices, as desired.
Place the Instant Pot trivet on top of the peanuts to help keep them immersed in the water.
Close the Instant Pot lid. Pressure cook for 80 minutes. Allow the steam to naturally release.
Open the lid and drain the peanuts before serving.
Nutrition
| | |
| --- | --- |
| Calories per Serving | 267 |
| Total Fat | 22.5 g |
| Saturated Fat | 3.5 g |
| Trans Fat | 0.0 g |
| Cholesterol | 0.0 mg |
| | |
| --- | --- |
| Total Carbohydrates | 9.9 g |
| Dietary Fiber | 3.9 g |
| Total Sugars | 2.2 g |
| Sodium | 251.9 mg |
| Protein | 11.1 g |