The Best BBQ Tool Sets Of 2022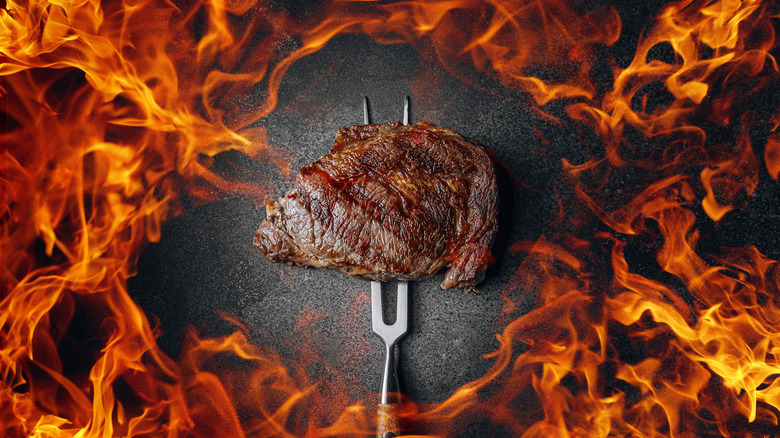 Mikhaylovskiy/Shutterstock
We may receive a commission on purchases made from links.
Grilling up some delicious grub for friends and family on a beautiful day is one of life's greatest joys. Between the mouthwatering scent of fire-kissed food in the air, the flowing breeze, and the warm sunshine on your shoulders, there's no doubt that cooking outside has some serious charms. All you really need to make this dream come true is a great recipe, a good grill, and some basic tools to make sure that you can easily prepare and handle your food. Yet, as anyone who's used a flimsy pair of tongs will tell you, it's vital have good quality tools that you can count on.
For a proper BBQ set up, you'll need more than just a good pair of tongs. Basting brushes, spatulas, skewers, meat injectors, and thermometers are just some of the basic tools you should have on hand to get the most out of your grill. You'll need to select tools that are versatile, durable, and easy to clean. Rather than buying tools one at a time, it's much more convenient (and often more affordable) to just buy a whole set of BBQ tools all together at once.
How we selected products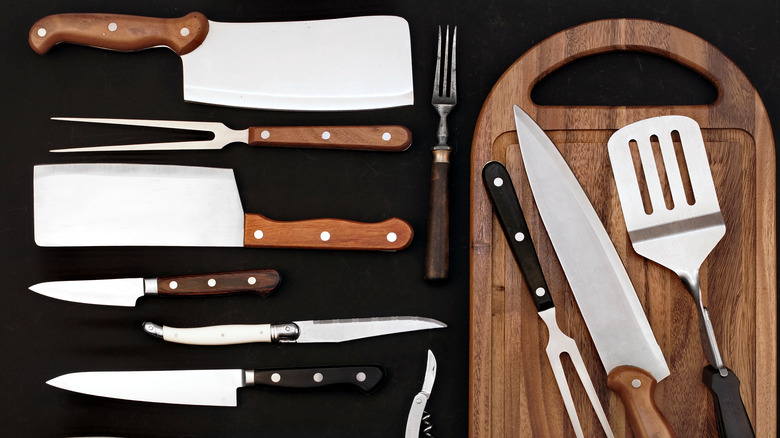 AVN Photo Lab/Shutterstock
One key factor we considered was the BBQ tool set's affordability. So, we made sure to include a wide range of price points so that everyone can find a BBQ tool set regardless of their budget. Another crucial element that weighed on our choices was the popularity of a set, which we closely analyzed by examining user reviews and press coverage, both critical and complimentary.
There are a lot of things to consider when you're in the market for a new BBQ tool set. Do you want it to come with a bag for better portability? What are some essential tools that you know you need? How many pieces are you looking for? Luckily for you, we've curated this list with plenty of solid options. No matter your needs or budget, rest assured that there is a high-quality BBQ tool set on this list that will elevate your grilling game. These are the best BBQ tool sets of 2022.
Best overall BBQ tool set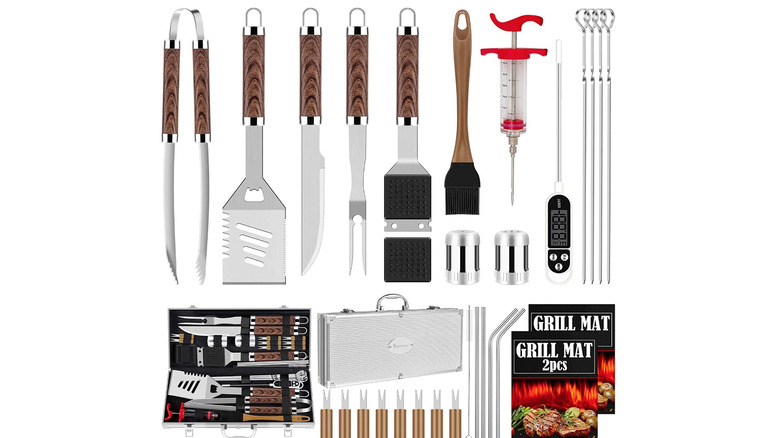 Amazon
The beauty of a good BBQ tool set is that it contains just about everything you need to be a grill master all in one place. Some sets offer smaller collections of tools, others offer more, and the price tends to fluctuate accordingly. But this BBQ tool set from Romanticist offers an exceptionally impressive spread of high-quality tools for a great deal.
This versatile BBQ tool set comes with 31 tools made with durable stainless steel. Some of the items include a pair of tongs with an extra-strong grip, a slotted spatula with double-sided serrated edges, and a BBQ fork. What really sets this set apart is the inclusion of two grill mats – a generous offering that doesn't typically come with BBQ tool sets. Using a barbecue grill mat can be a game-changer because it allows you to cook food on a smooth non-stick surface (via Oven Clean). This set also comes with a meat injector, grill brush, metal skewers, a digital thermometer, and a razor-sharp knife. Moreover, everything comes in a high-grade aluminum case.
You can buy the Romanticist BBQ tool set on Amazon for $40.
Best budget BBQ tool set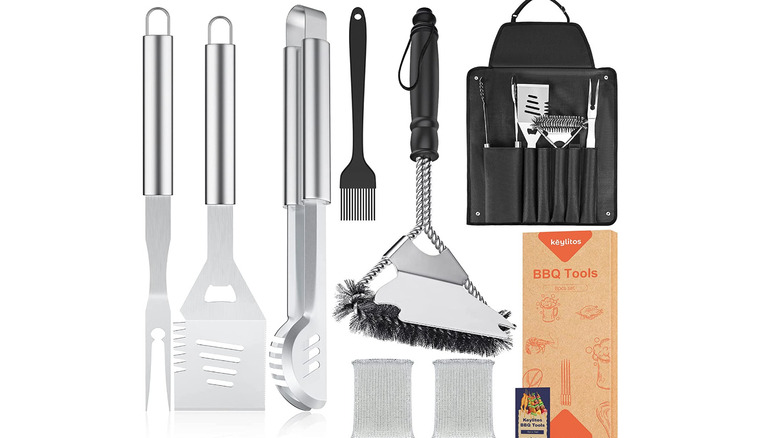 Amazon
Finding high-quality tools for a good price can be a challenge. For those on a tight budget, cost is obviously a major obstacle, so hunting down affordable deals is the only way to go. The good news is that we've found some amazing deals out there, including this set from Keylitos.
The Keylitos BBQ tool set comes with eight different tools that come in a storage apron (with an adjustable neck strap, too). The grill brush is made with steel wire and also has a heavy-duty metal scraper so that you can properly clean your grill with ease. It also comes with a pair of tongs, a spatula, meat fork, silicone basting brush, and two scrub sponges. The spatula has an innovative design that includes a bottle opener so you can easily pop open a cold beer. Even better, the silicone brush is heat-resistant, so you can gently baste your food on the grill. All things considered, this BBQ tool set is a great value with a lot to offer at a very reasonable price.
The Keylitos BBQ tool set is available on Amazon for $21.
Best portable BBQ set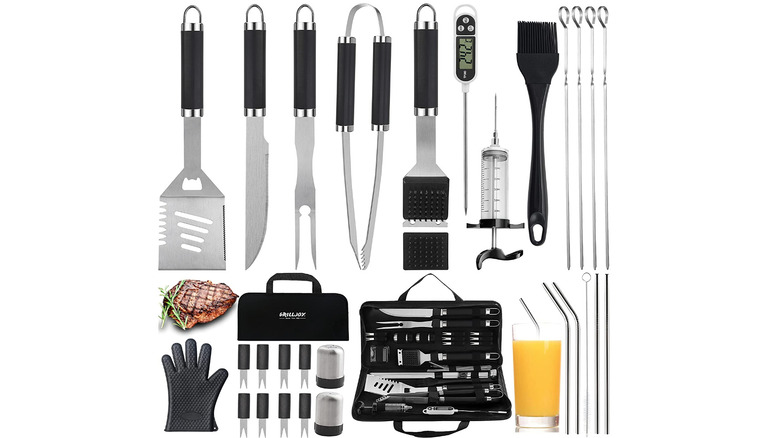 Amazon
Being able to easily take your BBQ tools with you has its advantages. Whether you're camping, tailgating, or grilling at a picnic, there are occasions where bringing all of your tools along for the ride is necessary. Having a bag that's specifically designed to store your gear makes portability a breeze. This BBQ tool set from Grilljoy comes with a lightweight bag that can perfectly store all of its 30 pieces. It also has three different handle styles to choose from.
The grill tongs in this set are extra long to give you more distance from the heat and have serrated edges at the tips for a stronger grip. It also comes with a food-grade silicone glove. The meat injector can hold up to an ounce of fluid so that you can infuse more flavor into your grilled meats from the inside. According to Modernist Cuisine, injecting the breast meat of your chicken with brine can help the chicken become more tender and succulent (just remember not to go the other direction and overbrine meat). This set even comes with mini salt and pepper shakers so that you can store seasonings along with your tools in the bag. All in all, this BBQ tool set is primed for portability.
You can buy the Grilljoy BBQ tool set on Amazon for $37.
Best hard-shell BBQ tool set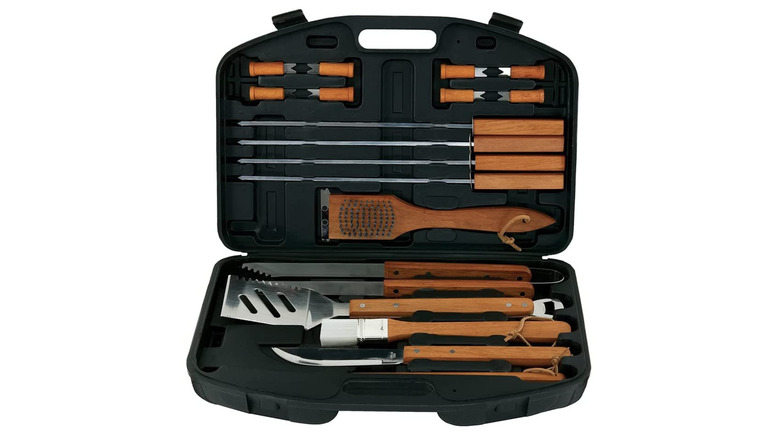 Amazon
Let's face it: accidents happen. There's no doubt that having a BBQ tool set with the structural integrity to withstand a few bumps here and there without damaging any of the tools inside can prove quite useful. The good news here is that we sifted through our options on the market and found one with a great value.
This 18-piece set by Mr. Bar-B-Q comes in a premium hard-shell plastic case that's lightweight, easy to clean, and protective enough to insulate your tools from harm. Each tool is made with stainless steel and has wooden handles with a comfortable grip that are firmly attached with metal pins. Between the spatula, meat fork, tongs, basting brush, skewers, knife, and corn holders, this BBQ tool set is ready to hook you up with the essentials — along with a solid, durable case to contain them.
The Mr. Bar-B-Q hard-shell BBQ tool set is available on Amazon for $39.
Best mini BBQ tool set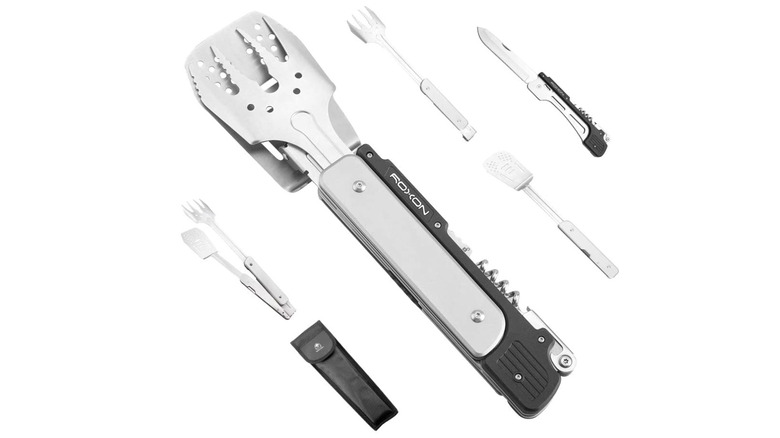 Amazon
Ever see a Swiss Army knife? This BBQ tool set from Roxon applies the same concept to its foldable grilling utensil kit. The stainless steel barbecue fork and spatula snap together and can be easily unlocked with the push of a button to use each tool separately. But the real genius of this set is how it transforms into a pair of tongs when the fork and spatula are snapped together.
This set is ideal for campers and hikers who love to explore the great outdoors, since it's foldable, lightweight, and can easily slip into a backpack without taking up much space. Convenient and smartly-designed, you'll be hard-pressed to find a basic BBQ tool set that's more compact than this one. Between the bottle opener and the corkscrew, not only is this set practical, but it can also get the party started. Hundreds of positive reviews from satisfied customers prove this sweet deal is worth every penny.
You can buy the Roxon foldable grill utensil set on Amazon for $24.
Best midrange BBQ tool set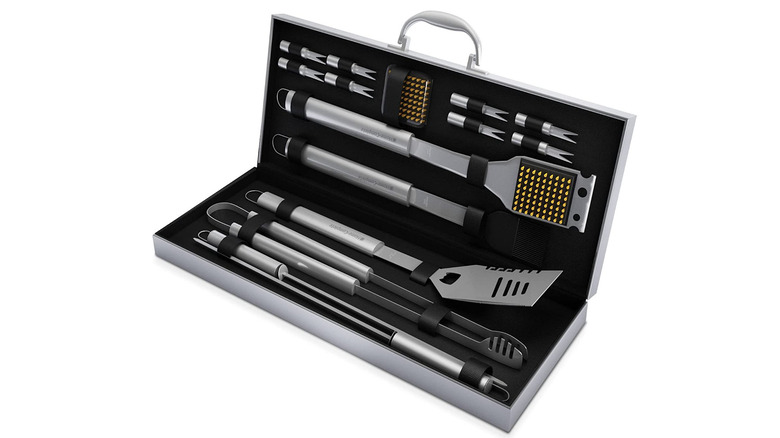 Amazon
When it comes to cost, sometimes it's best to aim somewhere right in the middle. The cheapest products tend to have the worst quality and fall apart right away, while the most expensive ones can be just plain overpriced. This 16-piece BBQ tool set by Home-Complete lands pretty much dead center on the price spectrum for similar products and offers top-notch quality for a great value.
This set comes with a stainless steel spatula, tongs, basting brush, skewers, corn holders, a wire cleaning brush, and a sleek yet heavy-duty aluminum case that has a professional aesthetic. Better yet, all of these stainless steel tools are rust-resistant, ensuring that they will last long-term. All of the handles are heat- and dishwasher-safe, which makes clean-up nice and easy. A collection of sturdy and beautiful tools for a price like this doesn't come around often. If you need some motivation, just think about all of the delicious kebabs you can make with those skewers.
The Home-Complete 16-piece BBQ tool set is available on Amazon for $33.
Best variety BBQ tool set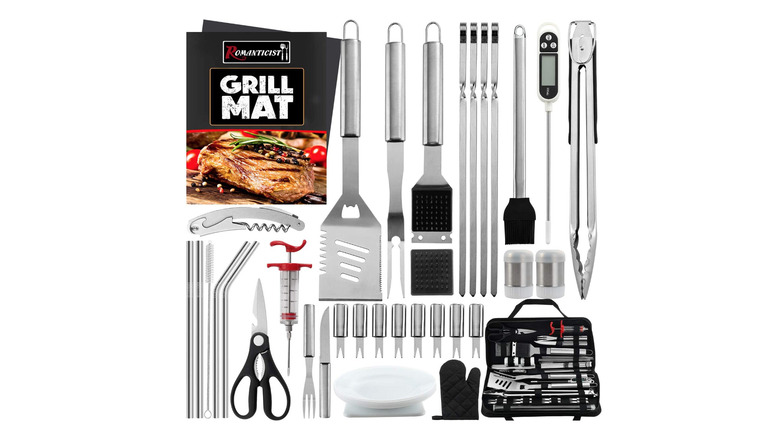 Amazon
Variety is the spice of life, they say, and that's especially true in the kitchen. When you're shopping around for a BBQ tool set, one of the first things you should be analyzing is the assortment of tools it offers. While some BBQ tool sets will provide you with just the basics, others are more generous. This 40-piece set from Romanticist does an exceptional job of not just covering the basics, but going above and beyond to supply you with some unexpected extras.
Not only does this BBQ tool set hook you up with a steak knife, grill mats, spatula, tongs, basting brush, and a thermometer, it even comes with a cutting board, four plates, metal straws, and kitchen scissors. For what it's worth, celebrity chef Giada De Laurentiis says that kitchen scissors are the most underrated tool in the kitchen. This set also has skewers, corn holders, a meat injector, a grill fork, a grill brush with an extra replacement head, and salt and pepper shakers. What more could you ask for?
You can buy the Romanticist 40-piece BBQ tool set on Amazon for $37.
Best practical BBQ tool set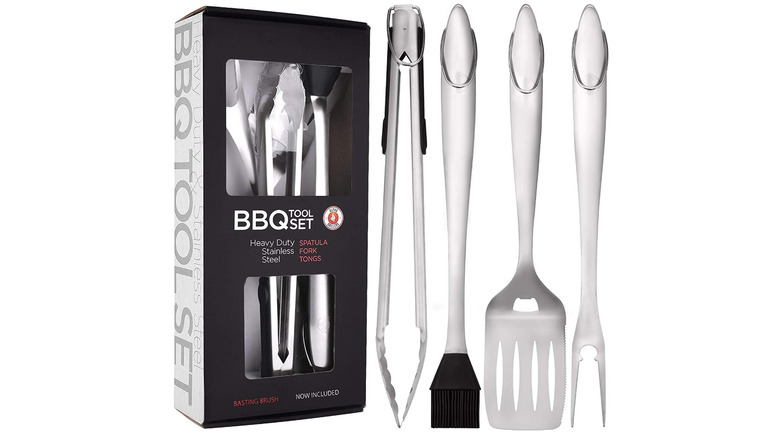 Amazon
Sometimes you don't need all the bells and whistles. When the basics are well-constructed and made of high-quality materials, that can be more than enough to satisfy your grilling needs. That's where this Alpha Grillers BBQ tool set steps in.
These tools were designed to be extra long, so you can safely handle food without worrying about the heat singing your arms. These tools are also made with thick stainless steel for durability and easy handling. These tools are dishwasher-safe, easy to store, and highly useful for any grill master. 
While this set only offers four tools, they are all impressively sturdy and well-designed. An excellent pair of locking tongs with amazing grip, rust-resistant spatula, grill fork, and basting brush await you — all with ergonomically-designed handles that come with metal hanging loops for easy storage.
The Alpha Grillers BBQ tool set is available on Amazon for $32.
Best wooden handle BBQ tool set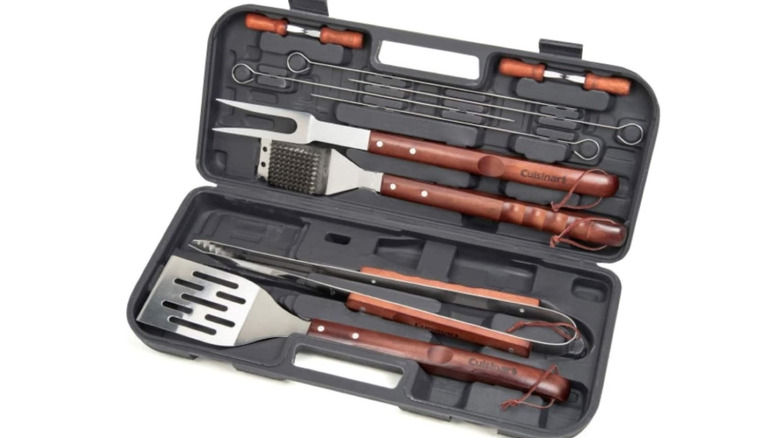 Amazon
Barbecue tools with wooden handles have their perks. Wooden handles tend to stay cooler than metal for obvious reasons, but beyond that, the feel of wood is often much more comfortable compared to metal. It also has a certain aesthetic appeal. With that in mind, know that this 13-piece BBQ tool set from Cuisinart comes with wooden handles and a durable carrying case made of recycled plastic.
All of these tools have a long reach, while the wooden grips also have smooth indentations to comfortably accommodate your fingers and allow for a stronger grip. These tools also come with leather straps for storage, which also compliments the warm color of these beautiful wooden handles. Beyond all of this, this BBQ tool set is priced very reasonably considering it's so stylish and comes with so many pieces. Once you score these tools, you'll be officially set up for some seriously smooth grilling sessions.
You can buy the Cuisinart BBQ wooden handle tool set on Amazon for $27.
Best heavy-duty BBQ tool set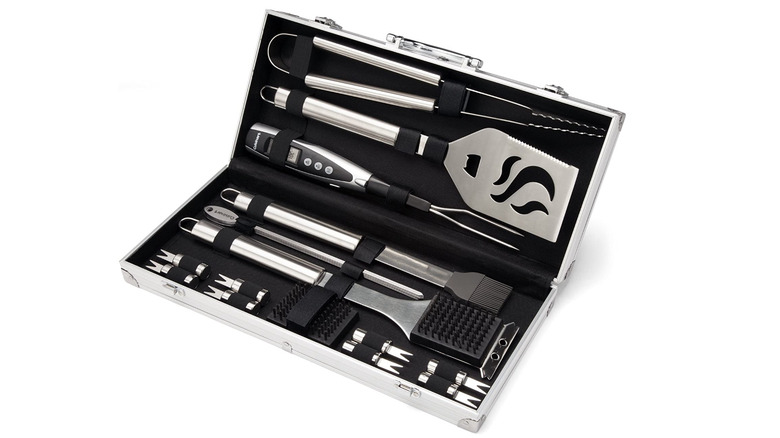 Amazon
When it comes to any tool you purchase, one of the most important qualities to consider is durability. No one wants to buy cheap tools only to watch them break right away. Not only is it inconvenient, but it's a waste of time, money, and energy that will leave you seriously frustrated. That's why buying a set of BBQ tools that are built to last is so important, especially considering that these tools will often be exposed to extreme heat and other rough conditions that could easily wear down cheaper, more poorly-designed products. Unlike some other models, this deluxe 20-piece BBQ tool set from Cuisinart won't let you down.
Made with stainless steel, these tools are strong and dependable, ensuring that you can properly and efficiently handle your food with maximum control and comfort. Another cool feature: the digital temperature fork has an innovative LED display to help you check the doneness of our food, as well as a built-in timer. The set also comes secured in an aluminum case for maximum durability. Once you feel these sturdy, high-quality tools in your hands, you'll know that you made a good decision.
The Cuisinart deluxe BBQ tool set is available on Amazon for $50.
Best professional BBQ tool set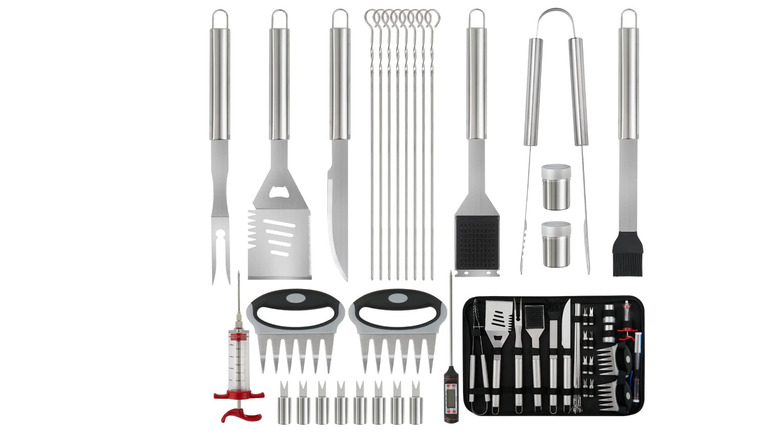 Amazon
For all of the BBQ pros out there looking for some new tools, this 29-piece set by JEAA is a solid choice to take your grill game up a level. Not only does it come with all of the essentials you'd expect from a BBQ tool set, but it also comes with a pair of professional-grade stainless steel meat claws. For those unaware, meat claws are exactly what they sound like — these are metal claws designed to fit in your hands so that you can shred freshly-grilled meat apart with the voracity of a grizzly bear. It's useful and also fun in a primal way.
This set also comes with eight metal skewers, making this a great choice for cooks who love to make kebabs for dinner. As if all of that weren't enough, each of these tools is lightweight, non-stick, non-toxic, and made with premium food-grade material. Furthermore, these tools are extremely durable, considering they are resistant to heat and rust and also made with thick stainless steel.
You can buy the JEAA BBQ tool set on Amazon for $45.
Best BBQ tool set combo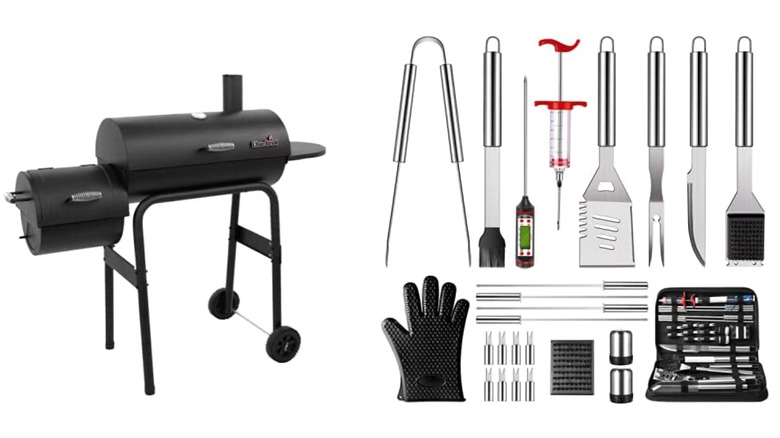 Amazon
All of these BBQ tool sets have their own unique advantages. That said, some of them come with tools or extra items that may be more or less useful, all naturally depending on your needs and circumstances. But is there one to rule them all? It's possible, given that this Char-Broil BBQ tool set comes with absolutely everything you need to get grilling — including the grill itself!
This set comes equipped with 25 pieces that include a pair of tongs, spatula, basting brushes, meat injector, digital thermometer, and a steak knife. It also comes with a silicone glove for handling food, skewers, corn holders, salt and pepper shakers, and a meat fork. 
That's all nice, but the real crown jewel of this package is the charcoal grill and smoker that comes with the tool set. With nearly 300 square feet of cooking surface and an adjustable steel fire grate, this grill can work wonders on anything you want to cook. This grill works very well indeed, especially considering its low price tag. Between the wheels for easy mobility and the solid steel it's made of, not only is this charcoal grill practical, it's also one of the most affordable on the market. This deal is easily one of the best out there right now, especially if you're looking for the whole package.
The Char-Broil BBQ tool set and grill combo is available on Amazon for $167.