The Ear-Shaped Food Giada De Laurentiis Made On The Streets Of Italy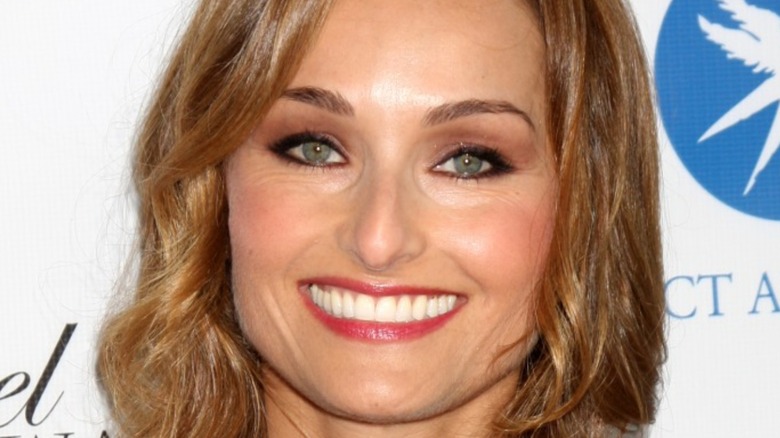 Kathy Hutchins/Shutterstock
Giada De Laurentiis loves her pasta and makes us love it too. When the host of "Everyday Italian" demonstrated how to make her tasty spaghetti with chianti water and fava beans, it had our mouths salivating (via YouTube). EatingWell called her Pasta Alla Gricia a "hug in a bowl." And the cookbook author's Ravioli alla Caprese arguably shows off her skills at making what she calls a "quintessential" Capri dish (via Giadzy). De Laurentiis definitely has a feel for this culinary staple and is true to her Italian roots when cooking it. And doesn't it feel like you've just had a short Italian lesson after watching the chef in action?
Well, De Laurentiis is vacationing in the boot-shaped country of her ancestors (via People). She is sharing her excursions on social media and giving us a little cultural education from afar. Among her posts is a special moment involving a food that is shaped like ears. The co-host of "Bobby and Giada in Italy" took to Instagram to share a video of herself in Bari, Italy, walking along an old street paved with white stones in search of a pasta called orecchiette, which, per Educalingo, translates to "little ears."
They should be pinkie-sized
Clad in a white dress and tennis shoes, Giada De Laurentiis is not alone in the Instagram video. She says, "I'm in search of the ladies that make the orecchiette on the streets of Bari by hand." The camera pans to her daughter Jade before De Laurentiis continues, "They do it on the street somewhere, and I want to buy some if I can find them. So that's what I'm in search for." When she stumbles upon a lady sitting at a table creating these "little ears," she is ecstatic and says, "I am so excited. I found the lady!" She's invited to sit down and makes her own little ear, receiving a "brava" for her effort.
De Laurentiis ends the video with photos of her purchasing some orecchiette from the lady. The post has received over 51,000 likes and lots of comments. De Laurentiis called the experience a "dream day." Her fans agreed. One wrote of this pasta shape, "I LOVE them and the way they hold gravy, oil, peas, cheese & anything you cook with them. THX 4 sharing." Another asked the celebrity chef to "show us when you cook it please!"
According to Italy Bite, orecchiette is the traditional pasta of Bari and is often served with turnip greens. The site goes on to explain a skilled orecchiette maker will ensure these little ears are no larger than "the tip of a pinkie."