The Best Hand Mixers In 2022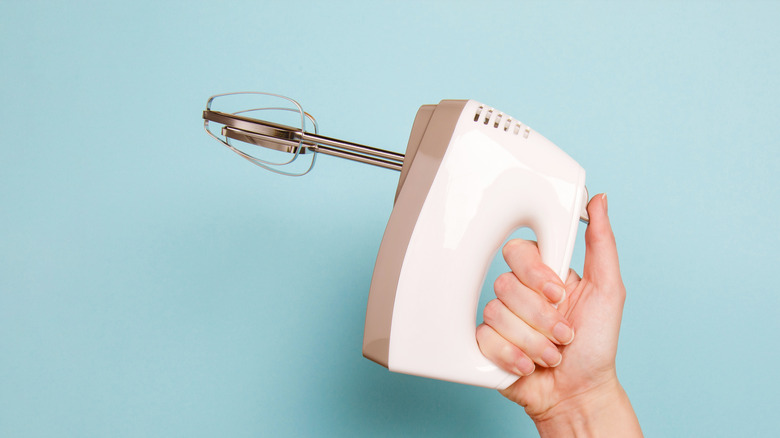 Jasminka M/Shutterstock
We may receive a commission on purchases made from links.
We sure have come a long way since the times when old-fashioned manual hand mixers were common. Gone are the days of hand whisking and beating our way to perfectly peaked meringues and creamed butter. Instead, technology has made it so much easier to achieve impeccable results every time. And while we love a good stand mixer, sometimes you just don't need the whole contraption to complete your task. In those cases, hand mixers are the answer.
The hand mixers of today come in multiple colors and styles with more features than you may know how to use. With so many choices on the market, it can be almost impossible to sift through all the options to find the one that is best for you and your needs. To facilitate the task, we have gone through all of the hand mixers available to find the best ones of the year.
How we selected our hand mixers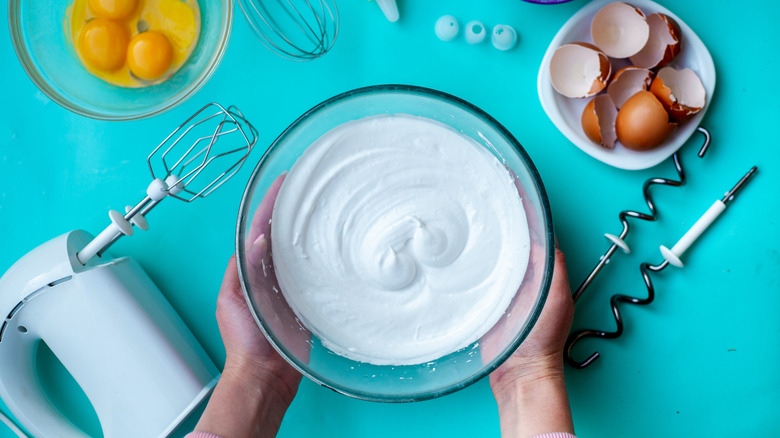 Olgard 77/Shutterstock
When deciding on the best hand mixers by category, we looked at some essential qualities that would make an appliance appealing and helpful in everyday settings. For one, whether or not the various components were dishwasher safe was an important consideration. We also looked at additional features such as timers, fans, and blade attachments. There are so many options when it comes to hand mixer attachments, so we investigated which products offered the best ones.
Finally, we looked at affordability and power. While there are some lovely high-end options on the market today, it is hard to say something is the best of the best if it is not within the average consumer's purchasing power. Similarly, the machine's aesthetics or extra attachments don't matter if it doesn't have enough power behind it. Kneading bread, for example, requires a lot of power and it's best to avoid burning out a brand new motor.
Best overall hand mixer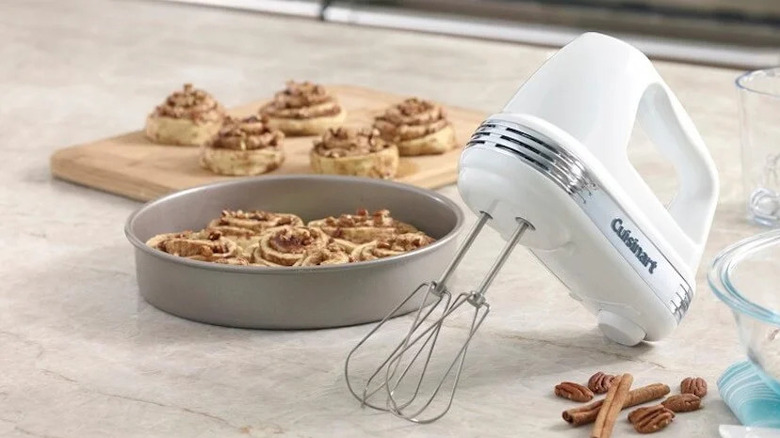 Cuisinart
Let's start with the best of the best. The top pick for our overall favorite hand mixer is the 9-speed Cuisinart Power Advantage which comes with its own storage case. Cuisinart is definitely one of the big names among food appliance companies, and that reputation comes with an expectation of quality. The brand absolutely delivers with this hand-mixer.
The mixer has intuitive easy-to-use controls that allow you to turn the machine on and adjust the speed, including a trigger-like control to release the beaters. Additionally, the nine speeds give you greater control over how much you are beating. Consumer comments on the company's website explicitly mention that the mixer's low speed is gentle enough to avoid food spatters.
Just because it has a light touch, it doesn't mean it is not powerful. At 220 watts, this mixer can beat through any baking project. We especially love the cord lock feature which prevents it from getting in the way while baking. With its many attachments (all dishwasher safe), convenient snap-on storage, and reasonable price, this is truly the best overall hand mixer of 2022.
Purchase the Cuisinart Power Advantage Plus 9 Speed Hand Mixer with Storage Case from Cuisinart starting at $79.95.
Best budget hand mixer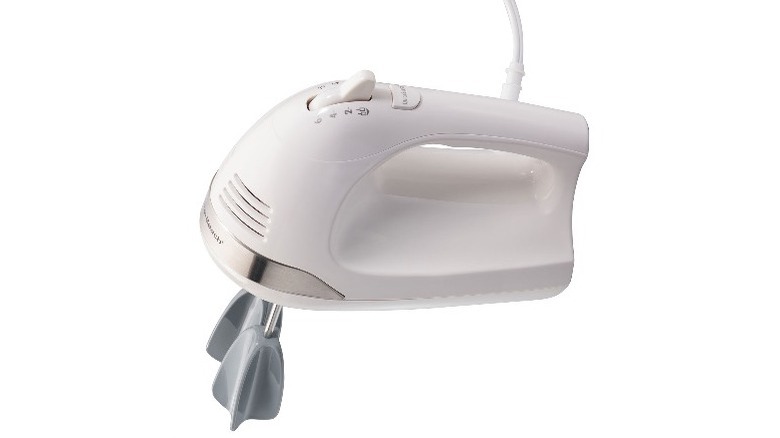 Hamilton Beach
Sometimes simplicity is best. For those looking for a no-frills appliance that gets the job done and fits almost any budget, the Hamilton Beach six-speed hand mixer is the one. Don't shut it down just because it is basic. In fact, this is one of the most straightforward hand mixers to use thanks to a simple switch that controls the power. The tactile raised switch may even make it easier to use for many than the soft-touch buttons of other options.
This hand mixer comes with a snap-on carrying case, which is good news because despite its low price, this mixer comes with seven attachments. This includes a unique set of Hamilton Beach SoftScrape beaters which are solid and rubbery, making them easier to clean than traditional beaters. Additionally, they won't scrape your metal bowls. A reviewer on Target referred to the SoftScrape beaters as "a game changer." All this and the attachments are even dishwasher-safe for easy clean-up. We call that a pretty sweet deal.
Purchase the Hamilton Beach 6 Speed Hand Mixer with Snap on Case from Amazon starting at $23.99.
Best splurge hand mixer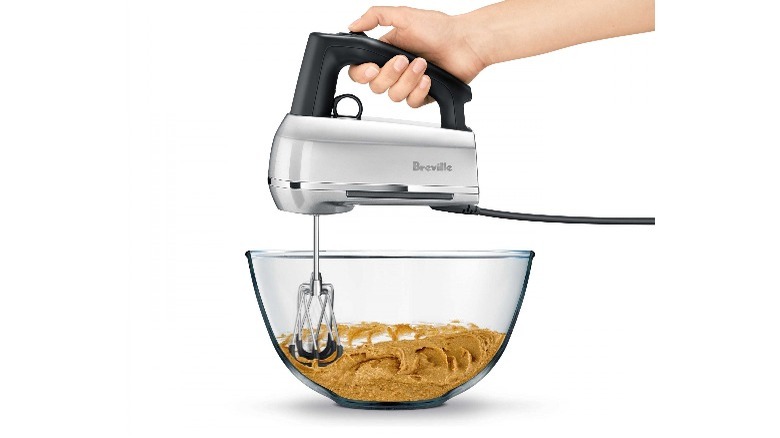 Breville
Breville is known for its high-end, impressive, and, yes, expensive products. But if there is room in the budget for this pricey hand mixer, it is absolutely worth it as there's not much this little appliance can't do.
This mixer offers nine speeds, a trigger-controlled release, and a snap-on storage case. But Breville doesn't stop there and this appliance also has a timer and a pause button. No more having to guess if it has been three or five minutes since you started creaming your ingredients! There is also a light to help you see what you are mixing. While you may think this is unnecessary, one reviewer shares that they first did too but now realize its usefulness.
What really sets Breville's appliance apart though is its Beater IQ technology which can identify which attachment is plugged in and recalibrate accordingly, so you get the perfect mix every time. As attachments go, it comes with whiskers, dough hooks, and beaters. These may feel standard but Breville's beaters are anything but ordinary, with rubber-edged that are much quieter than traditional metal beaters and won't scrape up your metal bowls. So while this mixer may be expensive, it really has it all.
Purchase the Breville Handy Mix Scraper from Breville starting at $139.95.
Most versatile hand mixer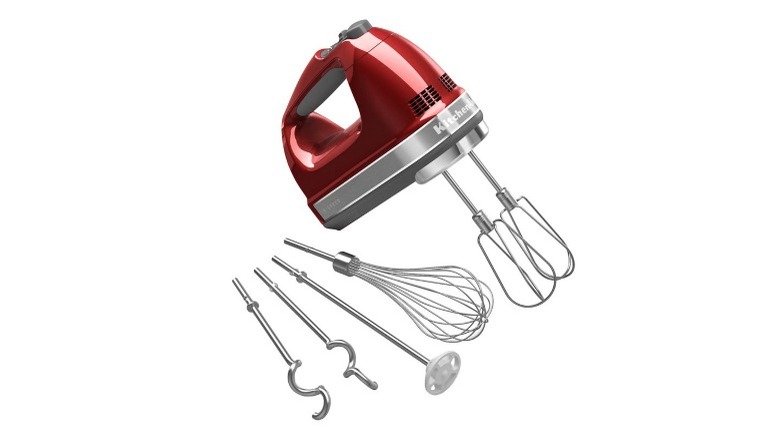 KitchenAid
KitchenAid is perhaps best known for its classic stand mixer with numerous attachments and a reputation for being a powerhouse. It is no surprise then that KitchenAid also makes a solid hand mixer that is both stylish and versatile.
This appliance comes with nine different speed settings, which the company notes make it capable of mixing large items like nuts and chocolate chips into a batter or kneading dough. While it might not come with IQ technology, it does include more types of attachments than most of its competitors. The most unusual is the blending rod. The small thin rod has a flat circle on the end that is perfect for making smoothies or milkshakes without using a blender, or for emulsifying dressings. This single mixer easily takes the place of three appliances. With a 4.8-star rating and over 700 reviews, this is the best mixer for versatility.
Purchase the KitchenAid 9 Speed Hand Mixer from KitchenAid starting at $109.99.
Most stylish hand mixer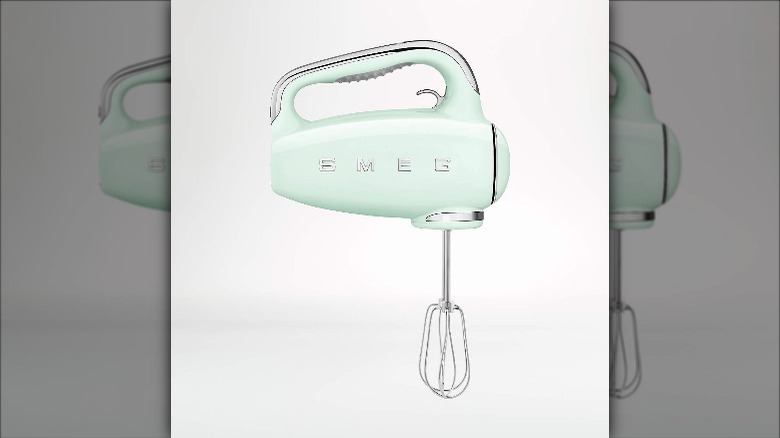 Smeg
Looks are not everything but they sure are a nice extra. Smeg is no stranger to exquisite kitchen designs — you may have even seen the company's stunning retro refrigerators gracing the Great British Baking Show kitchens. Smeg is known for its jaw-dropping vintage designs with modern conveniences, which it describes as "technology with style."
This hand mixer hits every style mark with a curving retro design accentuated by sharp chrome finishes. It comes in six different colors, from safe neutrals to bold color statements like pink and pastel green. However, what the Smeg mixer has in style, it does not lack in features — this is a high-end brand, after all. The mixer offers nine-speed functions that are displayed on a backlit chrome screen, a rapid release trigger, and an ergonomic grip design. 
All these features do not come cheap, though. Smeg's is easily the most expensive mixer on this list, and while it is beautifully designed, it does not include some of the attachments or features of more practical options. Plus, keep in mind that the attachments need to be hand washed. All the same, it sure is nice to look at!
Purchase the Smeg 9 Speed Hand Mixer from Amazon for $179.95.
Best cordless hand mixer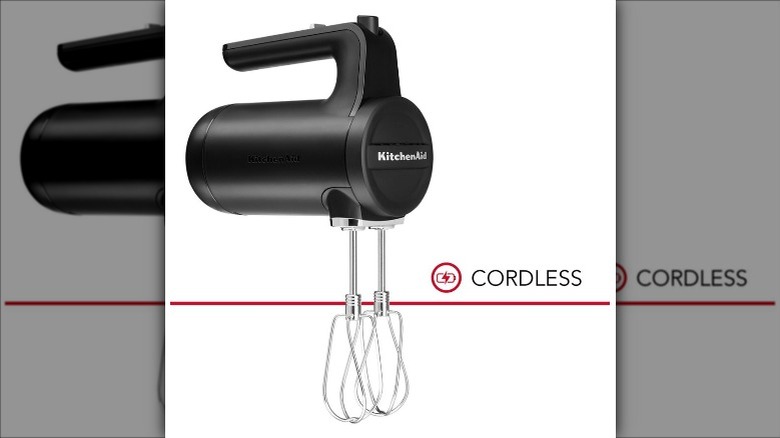 KitchenAid
Cords can be cumbersome and make moving around a kitchen more complicated than necessary. Thankfully, KitchenAid has come out with a truly spectacular cordless hand mixer. This mixer's design is markedly different from the other KitchenAid mixers as it has a cylindrical body with flat ends that allow it to stand easily on its side. The main downside is it only comes with basic mixing beaters and nothing else — but at least they are machine washable.
You don't have to worry about how long the charge lasts; the company claims the mixer can make 200 cookies on a single charge. Of course, a cookie is an odd unit of time, but reviewers on Amazon backed up the claim by commenting on the impressive battery life duration and the speed of recharge. Overall, people love this mixer, so if you are ready to cut the cord in the kitchen, reach for KitchenAid's 7 Speed Hand Mixer.
Purchase the KitchenAid Cordless 7 Speed Hand Mixer from KitchenAid starting at $99.99.
Best hand mixer for dough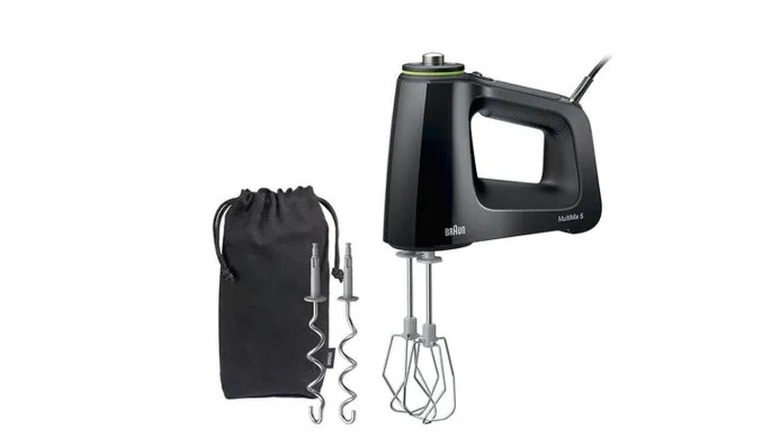 Braun
Kneading dough by hand is challenging work that does not always transfer well to electric equipment. Even if mixers are equipped with dough hooks, they often don't have the power to back them up and burn out after just a few uses. This Braun mixer is different and it was undoubtedly made for tough mixing jobs.
There are no whisk attachments included, and instead, it comes with standard beaters and dough hooks. The machine packs in a whopping 350 watts of power and via the company's specs, it delivers 50% more power than competitors. Regarding durability, one Amazon reviewer commented that in the past they had burned up their fair share of hand mixers kneading dough, but this Braun mixer showed no signs of giving up. Cleanup is also a breeze as the attachments are dishwasher safe. If you have a tough job to do, this is the hand mixer for you.
Purchase the Braun MultiMix 5 Hand Mixer from Braun starting at $84.95.
Best hand mixer for small kitchens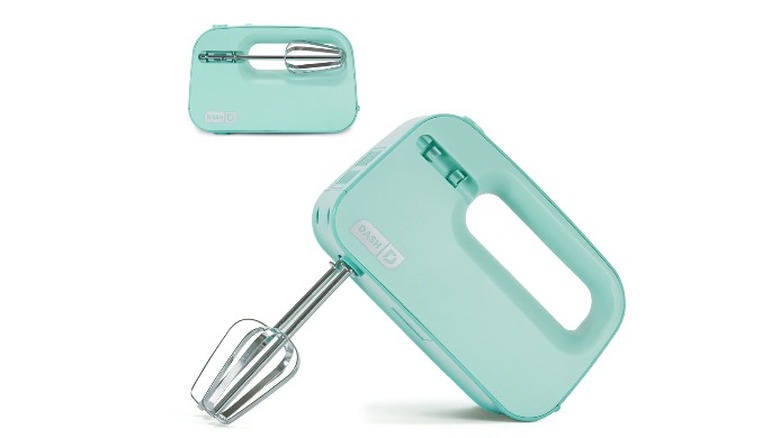 Dash
Not everyone has room for a bunch of appliances. When drawer and cabinet space are limited, anything that comes into the kitchen must take up as little of it as possible. This is where the Dash SmartStore comes in.
Not only is it adorable in blue, red, or gray versions, but this little mixer takes up minimal space with its convenient snap-in attachment holders. The handle area where you grip on to the appliance doubles as storage for the wide ends of the mixing blades, while the cord wraps up snuggly around the mixer making it compact and easy to store. The comments on Amazon are overwhelmingly positive, with nearly 9,000 reviews and a 4.5-star rating. The device is relatively low-powered coming in at just 150 watts, but it will get the job done in a pinch.
Purchase the Dash SmartStore Compact Hand Mixer from Amazon starting at $29.99.
Best hand mixer for quick bakes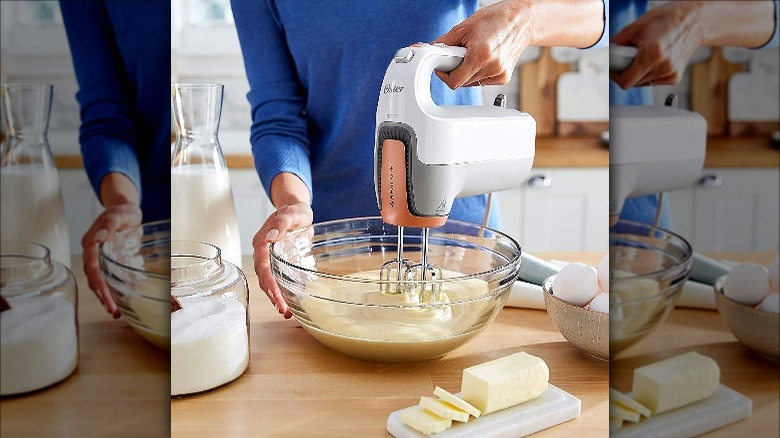 Oster
This hand mixer is truly unique and offers a feature we have not seen on other hand mixers: a warm air fan. We have all been about to make a recipe with our ingredients gathered and ready to go, only to discover they aren't at the right temperature. Or maybe you spontaneously want to bake a cake and come to the same realization. Either way, you are met with hard butter and cold eggs. This could spell the end of the baking project. 
With the Oster HeatSoft Hand Mixer, this will no longer be a problem. Just pop your ingredients in and turn on the mixer, which uses heat to bring your ingredients to room temperature. The company claims it can soften butter 12 times faster than leaving it on the counter. Perfect for impromptu bakes!
This mixer is pretty great and comes in at a reasonable price. The only major downside according to one Amazon customer is that the blades themselves are fairly short. Other than that, people love the power and the warming setting.
Purchase the Oster HeatSoft Hand Mixer from Amazon starting at $60.