The Ice Cream-Inspired Dress That's Made Of Cocoa Beans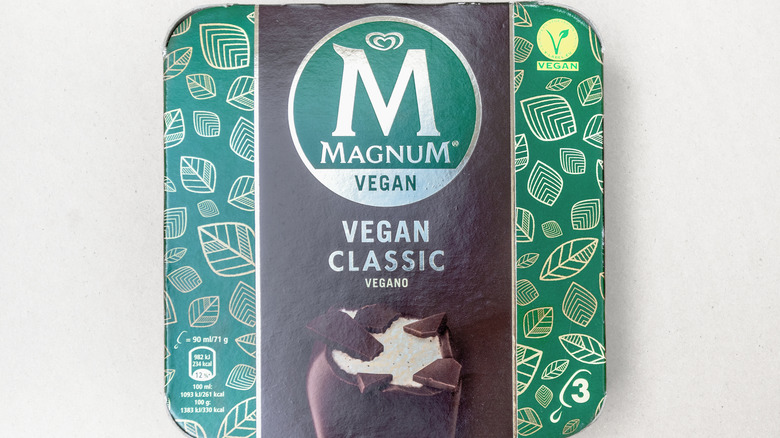 Maddie Red/Shutterstock
There has been a surprising amount of food-based clothing over the years. Lady Gaga's meat dress, which was "a statement against the governmental restrictions placed on the rights of gay soldiers," per Billboard, made international headlines when she wore it in 2010. Then there was the Nike Air Max 90 Burger Sneaker made from — you guessed it — hamburger ingredients, like beef patties, sesame baguettes, cheese, pickles, and tomatoes (per Delish). And in a decidedly vegetarian turn, actress Cloris Leachman sported a frock made entirely of lettuce and red cabbage in an effort with PETA to encourage meatless meals.
Now, Magnum ice cream has gotten in on the food-as-clothing trend, just in time to promote their line of vegan ice creams. All this comes as Magnum continues its charge toward a "fully sustainable production chain," according to PR Newswire. So it only makes sense that the decadent company has partnered with a fashion house with the same ideals.
Here's what Magnum's vegan dress looks like
Although this is not the first designer brand to collaborate with Magnum, it might be the most visually pleasing. The vegan dress is the lovechild of Magnum ice cream and the equally decadent fashion design house Iris van Herpen. Although their choice of the word "dress" is debatable, as there is no skirt to be seen, the pair nonetheless are quite proud of the frock, as it's the "first haute couture dress made from cocoa bean husks," per an announcement obtained by Mashed.
Model Cindy Bruna was the lucky fashionista to walk the dress down the runway at Paris Fashion Week on July 4th. The dress is billed as a "celebration of Magnum ice cream's vegan range," per PR Newswire. Certainly, this line of indulgent ice cream flavors is a welcome addition to any vegan's palate, even if they aren't likely to find the dress on store shelves anytime soon.
Indeed, the dress is a work of art, as it's made using sustainable materials relevant to Magnum's vegan ice cream ingredients. The designers actually used 3-D printing technology to generate the dress made from cocoa bean husks. The dress gets much of its dynamic nature from copper-coated, plantlike "body embellishments," along with other laser-printed 3-D elements. How tasty is that?