This Designer Brand Wants You To Store Ice Cream In Its Limited-Edition Leather Handbag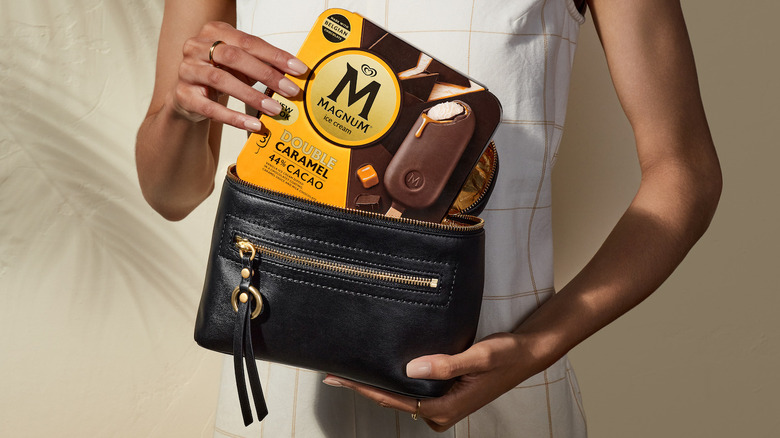 Magnum/Rebecca Minkoff
Those of us who love our food but also enjoy luxury fashion might not see a natural fit between the two, but that isn't a problem for ice cream manufacturer Magnum. The frozen dessert brand regularly teams up with some of the world's trendiest models and designers to come up with show-stopping collaborations. 
Among Magnum's fashion partnership highlights: A 2011 collaboration with designer Karl Lagerfeld to create a luxe hotel room made entirely out of chocolate. It was a design that Lagerfeld said was inspired by the flirtation "of modern and traditional French influences to create something remarkable," according to Marie Clarie. The room was designed to mark the launch of Magnum Ecuador and Ghana — a product line involving beans from Rainforest Alliance Certified farms. 
Then there was the time the ice cream maker got together with Moschino for an "Unleash Your Wild Side" campaign to mark the release of Magnum Double. That 2017 partnership saw the release of seven limited-edition bags that retailed for an eyewatering $375 each (via Forbes).
Magnum's latest collaboration features Rebecca Minkoff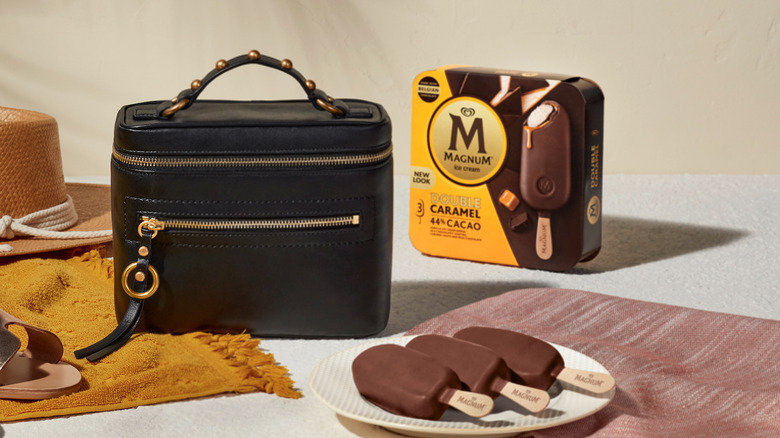 Magnum/Rebecca Minkoff
Magnum's latest partnership is a limited-edition collaboration with high-end handbag designer Rebecca Minkoff to create a beat-the-heat luxury ice cream cooler that you can use to take your ice cream bars with you, according to a press release received by Mashed. The bag features a Rebecca Minkoff original design in a luxurious black leather with the distinctive hardware and handle that Minkoff fans will recognize. The design is practical as it is show-stopping because this bag is lined with thermal foil to keep your ice creams bars shielded from the summer sun. And when the purse isn't being used to carry your favorite Magnum bars, we can easily see it doubling as a grownup lunch box.
Unlike the Moschino collaboration, these bags are available to Magnum/Rebecca Minkoff fans if they visit a dedicated page on the Magnum Ice Cream site and fill out an entry form between August 9 and 23. Lucky winners will be selected at random, and their special designer ice cream cooler will be sent directly to them. 
The Magnum-Rebecca Minkoff collaboration is expected to be a hit with fans of both the ice cream and the fashion designer, and it offers up those who missed a similar Magnum collaboration with designer Alexander Wang a chance to snag the ice cream maker's latest luxe, limited-edition cooler bag (via Magnum).
Honestly, we can't think of a better way for food and fashion to come together.