Quick Thin-Crust Pizza Dough Recipe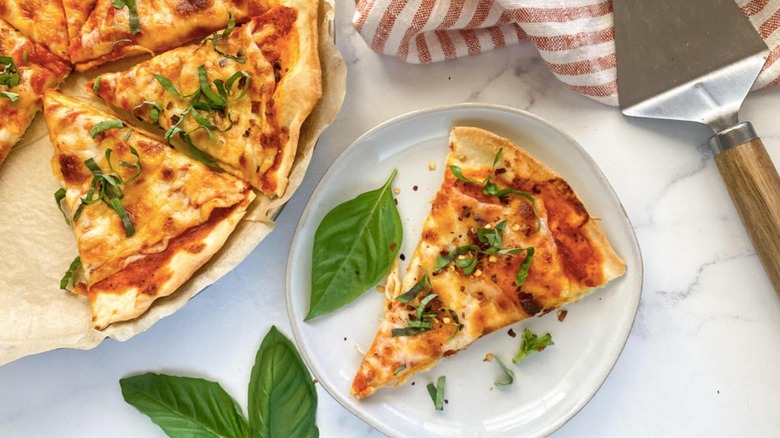 Miriam Hahn/Mashed
So, you want to make your own pizza dough, but you need it to be extra speedy? While store-bought pizza dough is the ultimate quick dinner hack, this recipe for thin crust pizza dough comes together in less than 25 minutes. So, you can enjoy both freshness and quickness without the hassle.
Recipe developer and health coach Miriam Hahn brings us this super quick recipe for thin crust pizza dough. The secret? Hahn likes using both instant yeast and baking powder as the "combination speeds up the knead time and the rest time of the dough, making this a really quick recipe!"
If you need some ideas on how to top your pizza, Hahn has all the tips. It's no surprise that she likes all the healthy toppings, as she is a health coach. "My favorite pizza toppings are all kinds of veggies," Hahn says. "I like to sauté mushrooms and red pepper slices and use that on top of a red sauce or even a layer of pesto." She also likes "a Mediterranean style...with tomatoes, artichoke hearts and Kalamata olives." Of course, you can add whatever you'd like — cheese, pepperoni, even pineapple!
Gather your ingredients for quick thin-crust pizza dough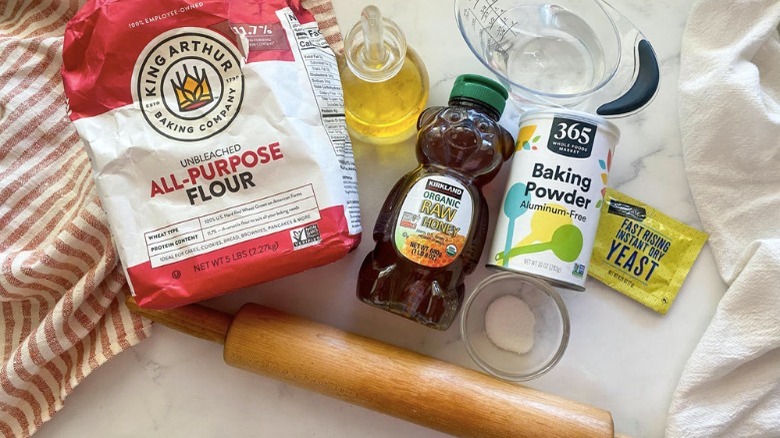 Miriam Hahn/Mashed
To make this thin crust pizza dough, you can start by gathering your ingredients. For this recipe, you will need instant yeast, water, all-purpose flour, olive oil, honey, baking powder, and salt. While honey may seem a bit nontraditional, Hahn likes adding it to this recipe as it "helps the dough retain its moisture which avoids the possibility of the dough tasting dried out."
Mix up the dough ingredients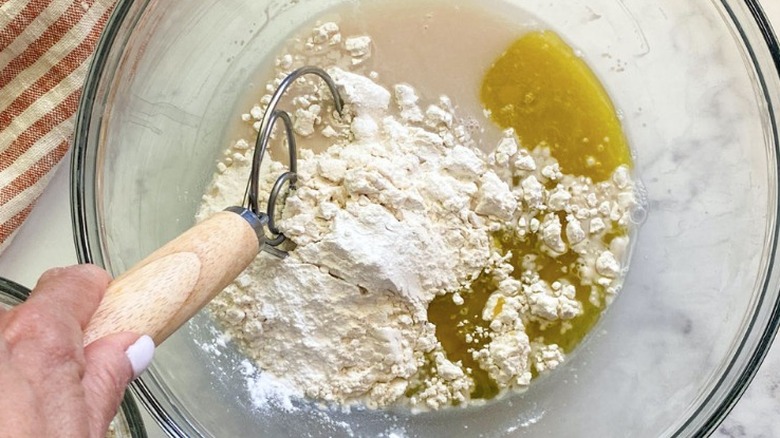 Miriam Hahn/Mashed
You can begin by assembling the dough. In a large bowl, add the yeast and the warm water. Use a whisk to break apart any clumps of yeast. Add the remaining ingredients of flour, honey, olive oil, baking powder and salt to the bowl. Stir together this mixture until a rough dough begins to form.
Knead the dough and allow to rest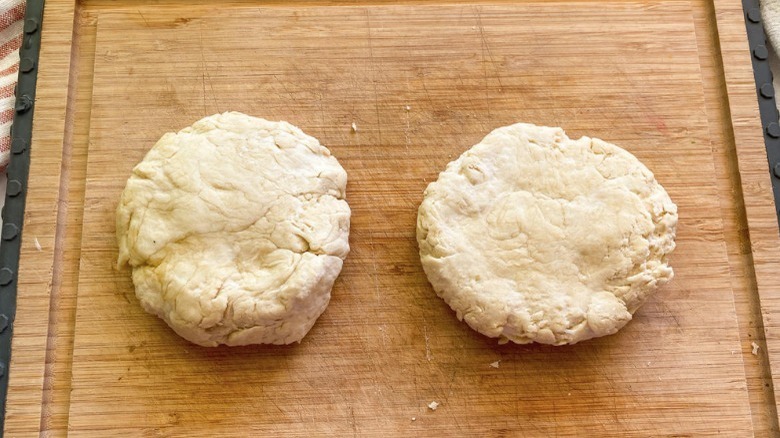 Miriam Hahn/Mashed
Now, remove the dough from the bowl and knead it for about 2 minutes. Divide the dough in half and place each half on a large piece of parchment paper. Cover the dough with a damp dish towel to keep the dough moist while resting. Allow the dough to rest for at least 15 minutes. If you are making this dough ahead of time, Hahn notes you can stop at this point and "keep it in the fridge for a few days before making it." "This is especially great if you are entertaining and want to roll it out right before guests arrive," she adds.
Roll out the dough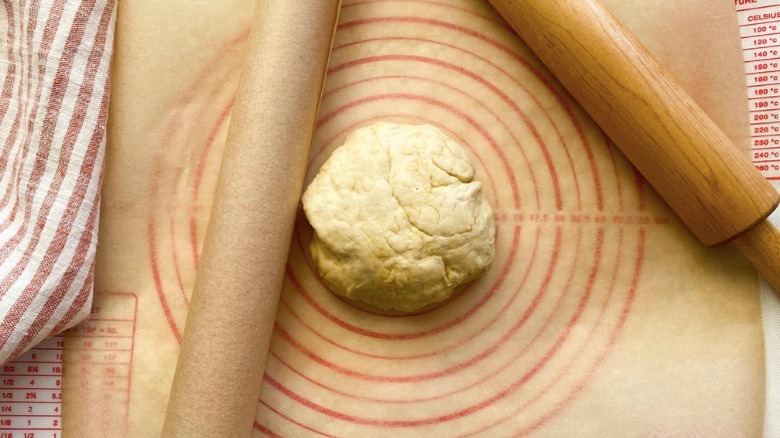 Miriam Hahn/Mashed
When you're ready to make a pizza, preheat your oven to 400 F. Then, roll out the pizza dough between two pieces of parchment paper. This helps to prevent the dough sticking to your rolling pin. Hahn also likes using a pizza mat for this process. "Since I like to create different pizza sizes, the mat has different circle sizes for you to follow as a guide," Hahn says. "I always roll on parchment paper which is thin enough to see the markings through."
Add your favorite toppings and bake the pizza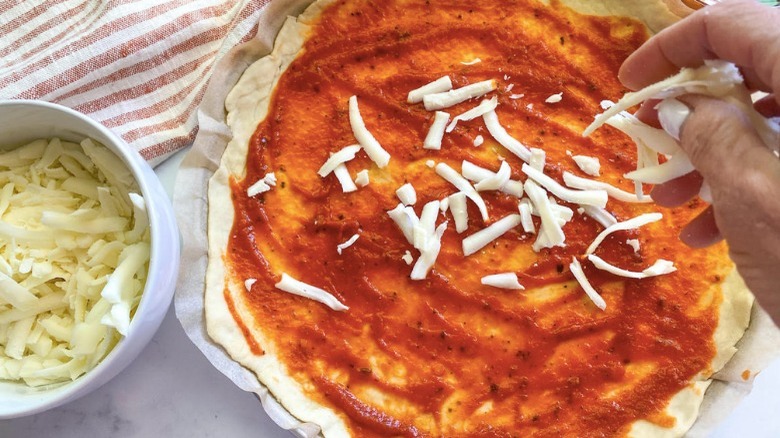 Miriam Hahn/Mashed
Once the dough is rolled out to the size of your choosing, you can add your toppings. Place the bottom piece of parchment paper and the dough on a circular baking sheet. Add any sauce, cheese, and toppings you'd like. Then, bake the pizza for 12 to 14 minutes, until nice and crispy.
Quick Thin-Crust Pizza Dough Recipe
Believe it or not, with this quick thin-crust pizza dough recipe, you can make pizza dough at home in a jiffy, and with a fraction of the rise time.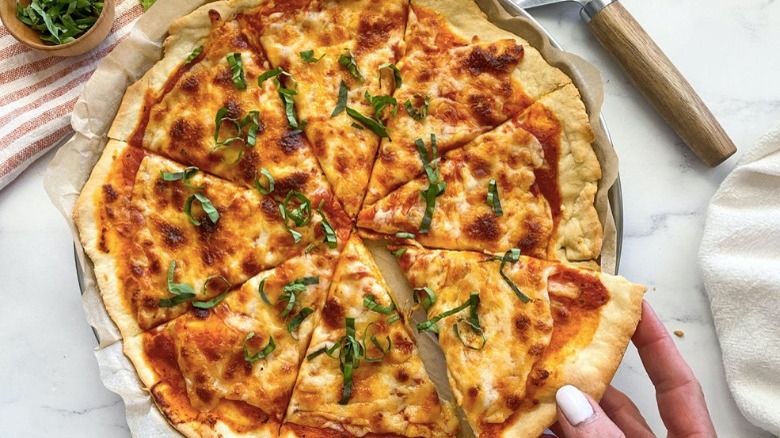 Ingredients
⅔ cup warm water
1 ½ teaspoons instant yeast
2 cups all-purpose flour
3 tablespoons olive oil
1 teaspoon honey
1 teaspoon baking powder
½ teaspoon salt
Directions
Preheat the oven to 400 F.
Combine the warm water with the instant yeast. Make sure the water is not hot or it will de-activate the yeast. Use a whisk to break down any clumps.
Add the flour, olive oil, honey, baking powder, and salt to the mixture. Use a whisk or wooden spoon to get it started, then continue to knead in the bowl with your hands for 1 to 2 minutes.
Divide the dough into 2 pieces and place them on a piece of parchment paper to rest for 15 to 20 minutes. Cover with a damp dish towel.
Set one of the dough pieces aside. Cover the one you will be rolling out with another piece of parchment paper (so you are rolling between both pieces) and roll into a 12-inch circle. Roll out the second ball of dough if you plan to cook both pizzas, or wrap it in saran wrap to make later.
Now, place the dough and the bottom layer of parchment paper onto a baking pan. If you are using a round pizza pan, trim the parchment paper so not too much paper hangs over.
Add sauce and toppings, keeping in mind that this is a thin crust, so it won't support too many heavy toppings.
Bake for 12 to 14 minutes, turning the pan around if your oven is stronger on the back end, so it cooks evenly.
Cut and serve the pizza.
Nutrition
| | |
| --- | --- |
| Calories per Serving | 219 |
| Total Fat | 7.2 g |
| Saturated Fat | 1.0 g |
| Trans Fat | 0.0 |
| Cholesterol | 0.0 mg |
| | |
| --- | --- |
| Total Carbohydrates | 33.4 g |
| Dietary Fiber | 1.4 g |
| Total Sugars | 1.1 g |
| Sodium | 180.7 mg |
| Protein | 4.7 g |