Quick No-Knead Pizza Dough Recipe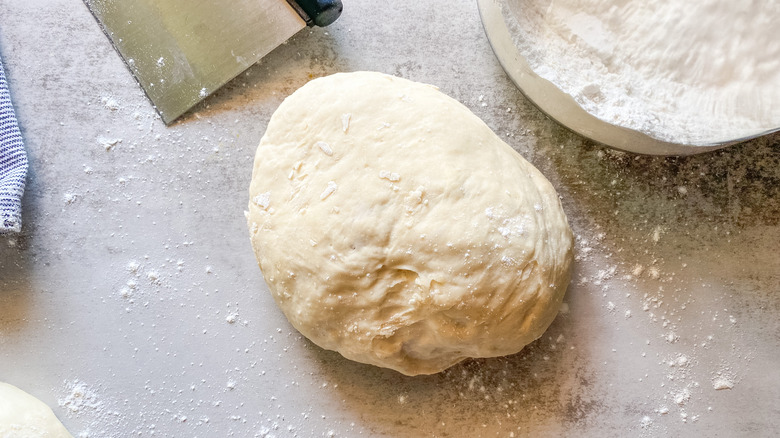 Kristen Carli/Mashed
When most people think about making pizza dough from scratch, they think of a long and grueling process that may not even be worth it ... especially if you can just order takeout instead of going through all of that hard work and effort. But what if we told you that there's a way to make pizza dough quickly and easily, say, in 20 minutes? This no-knead pizza dough is the perfect recipe to make with the family if you're craving homemade pizza. It's great because it's simple and tasty, and it's just a fun activity for all involved.
Recipe developer Kristen Carli is the mastermind behind this beautiful pizza dough, and she loves how easy it is to make. "I love how quickly it comes together! No extra-long rise time," Carli shares. We would have to agree wholeheartedly.
Whether you're a beginning cook or a seasoned pro, this recipe is excellent for all. Keep reading to find out how to make this delicious recipe! 
Gather the ingredients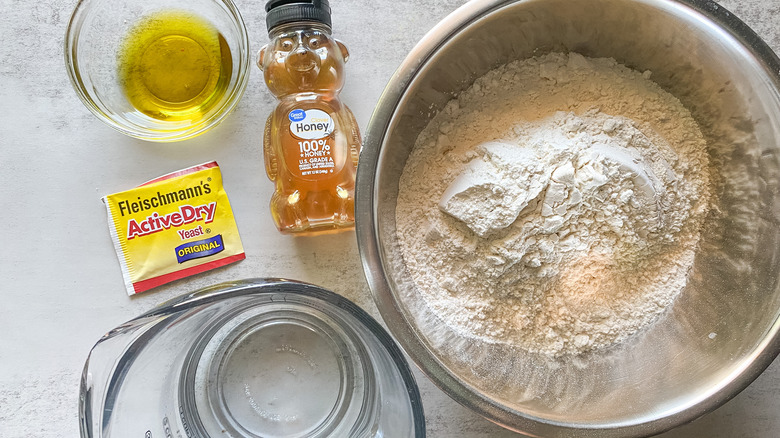 Kristen Carli/Mashed
Before you take any other steps, make sure you have the ingredients required to make this pizza dough. Luckily, it's a small list, so it shouldn't take long to shop and put it together. To start, you will need some active dry yeast and a little bit of warm water. In addition, grab some honey and olive oil. These items are pretty common in a lot of recipes, so be sure to check your pantry first to see if you have them at home.
The last two things that you will need to get at the store are salt and flour. Then, it's time to get started.
Add the honey and dry yeast to the water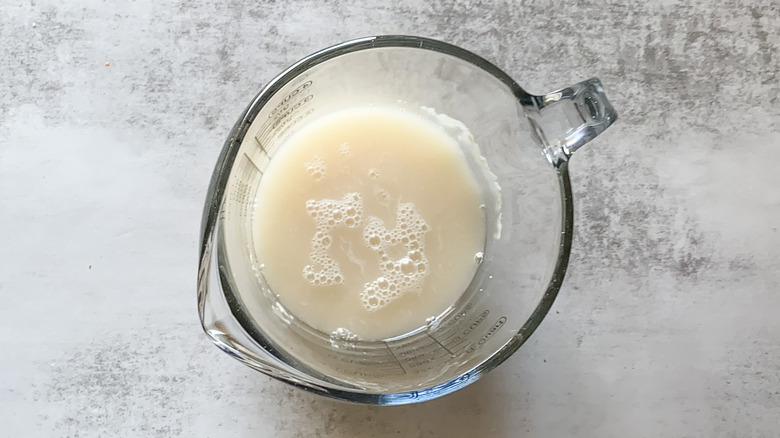 Kristen Carli/Mashed
Once you have all of your ingredients out in front of you, it's time to get the cooking party started. Grab a bowl and dump in the warm water first. Next, you can add the honey. Honey may seem like an odd choice for pizza dough, but trust us when we say there's a method to the madness. "Honey is an excellent source of sugar for the yeast to eat but also adds great flavor to the dough," Carli shares.
After you toss in the honey, you can add the active yeast. Gently stir everything together, and then allow it to sit for five minutes.
Add olive oil and salt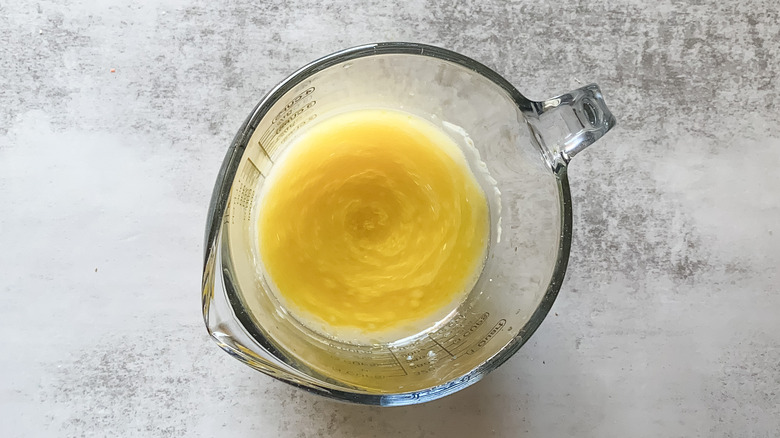 Kristen Carli/Mashed
Once your five-minute timer goes off, you need to add just a few more ingredients to the bowl with the water, honey, and active yeast. Throw in the olive oil and salt first, and then whisk everything together to combine it well. Now, you have your simple wet base. 
Next, pour the wet mixture over the flour and into a large bowl. Use a wooden spoon to mix everything together. As you mix, a rough dough should form. Now, we're making great progress!
Roll into a ball and let it sit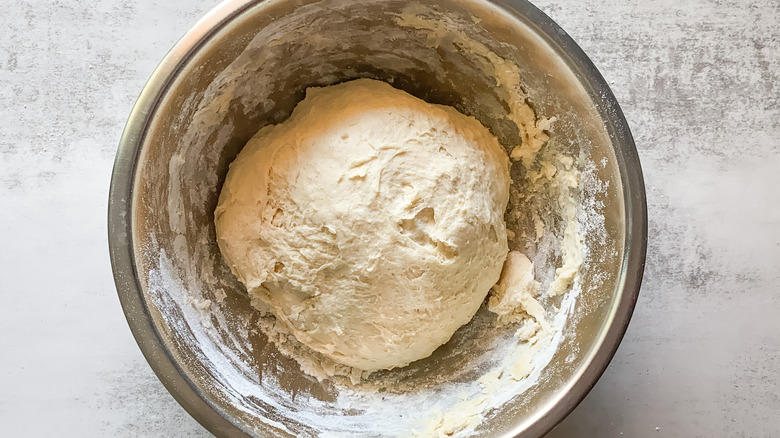 Kristen Carli/Mashed
Now let's try the fun part. Form the pizza dough into a big ball, and then place it back into the bowl. Cover the dough and let it sit for about 10 minutes. You can either keep an eye on the clock or set your timer to help keep track of time. 
Once the timer dings, uncover the dough and cut it in half. Then, form the dough into two separate balls. They don't need to be perfect, but try to make them as even as possible.
Cover and let sit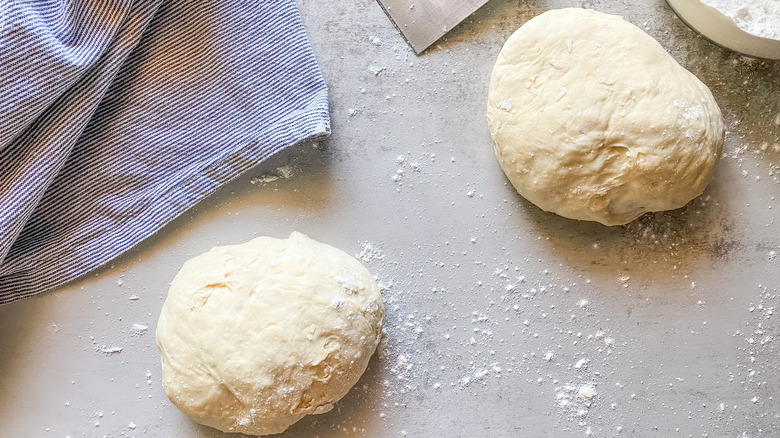 Kristen Carli/Mashed
Now that you have formed the pizza into two balls, put them back in a bowl or some sort of container and cover each piece of dough. Once again, the dough needs to sit for just a few minutes. Set your timer for 10 minutes, and once it goes off, you can move on to the next step.
While there's a little bit of waiting and patience involved in this recipe, it's still a lot easier to make than most doughs. "This saves you at least one hour of kneading/rise time," Carli shares.
Roll and serve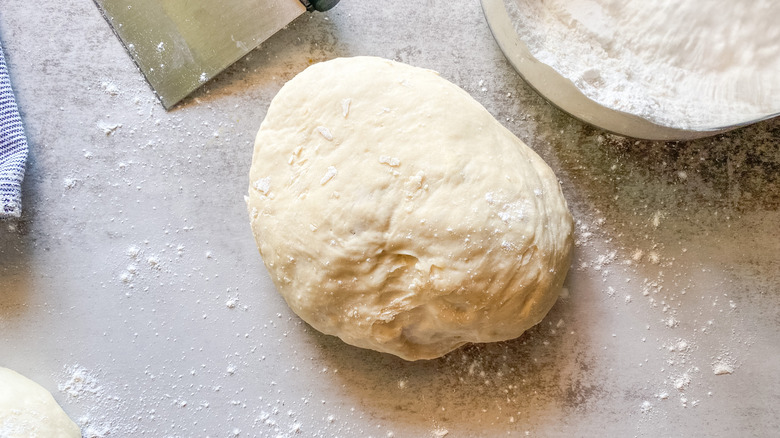 Kristen Carli/Mashed
After your second timer goes off, it's time to roll the dough. It's easiest to use a rolling pin to roll the dough out. Then, all that's left to do is to assemble the pizza how you would like it. "This is ideal for all pizza types, but I love a good veggie and cheese pizza," Carli suggests. We are personally fans of a classic pepperoni.
"You can also make it ahead of time. Yes, it freezes great too! I love to store in an airtight zip-top plastic bag in the freezer," Carli says. We hope you had fun making this dough and enjoy the end result!
Quick No-Knead Pizza Dough Recipe
This no-knead pizza dough is the perfect recipe to make with the family if you're craving homemade pizza. Give it a try tonight!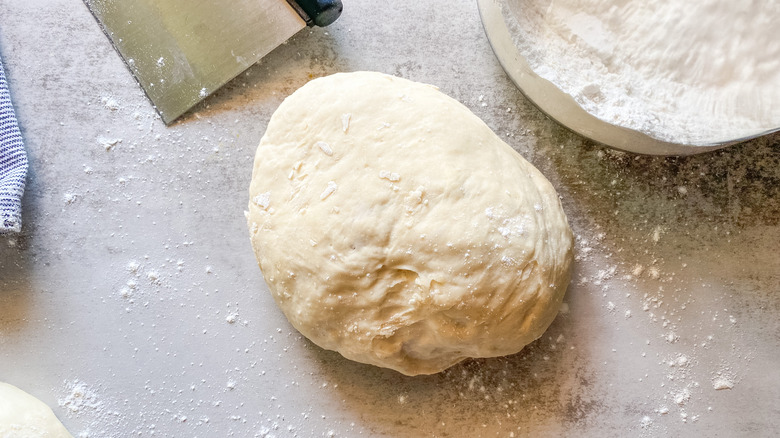 Ingredients
3 tablespoons honey
1 package active dry yeast
1 ½ cups warm water
2 tablespoons olive oil
1 teaspoon salt
4 cups flour
Directions
Add honey and active dry yeast to water. Stir gently and allow to sit for 5 minutes.
Add olive oil and salt. Whisk to combine.
Pour mixture over flour into a large bowl. Using a wooden spoon to mix until a rough dough is formed.
Form into a ball. Cover and let sit for 10 minutes.
Uncover and cut dough in half. Form into 2 balls.
Cover and let sit for 10 minutes.
Roll out and assemble pizza when ready to serve.
Nutrition
| | |
| --- | --- |
| Calories per Serving | 1,184 |
| Total Fat | 17.3 g |
| Saturated Fat | 2.4 g |
| Trans Fat | 0.0 |
| Cholesterol | 0.0 mg |
| | |
| --- | --- |
| Total Carbohydrates | 224.2 g |
| Dietary Fiber | 11.7 g |
| Total Sugars | 26.5 g |
| Sodium | 1,141.2 mg |
| Protein | 33.2 g |