Former NFL Star Anthony Spice Adams Brings The Heat With Modelo And Takis - Exclusive Interview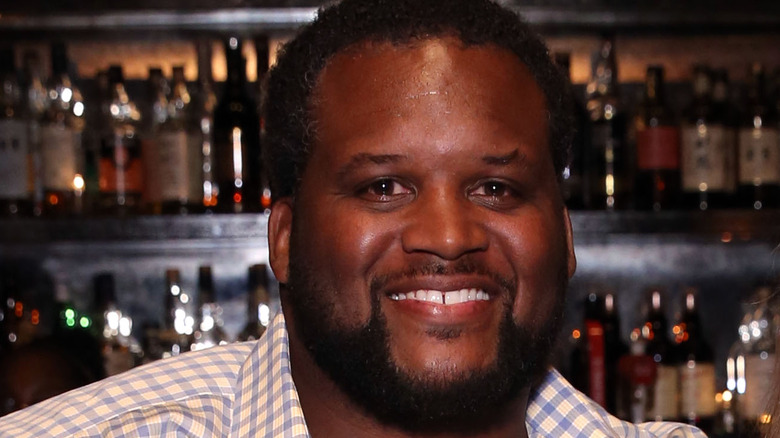 Robin Marchant/Getty Images
Anthony "Spice" Adams' career may have started on the football field, but now he is bringing the heat off the pitch and into the kitchen. Most recently, Spice has teamed up with Modelo and Takis for their first ever "Hand on a Hot Drop" event taking place during the iHeartRadio Block Party event on July 10th. Spice will be emceeing the competition, where the contestants must keep one hand on a special limited edition Modelo and Takis vending machine. The last remaining contestant touching the vending machine will win the machine, as well as a year's supply of Modelo and Takis.  As emcee, Spice will be bringing the same energy and charisma he was known for on the field, keeping the viewers, as well as the contestants, on their toes.
This is not Adams' first foray into the world of hosting. During his time as an NFL player, Adams hosted a number of football centered shows and he creates comedic videos on Instagram, many of which have gone viral. Spice also acted as host on the "Great American Baking Show," a spin-off of the "Great British Bake Off."  We sat down with him for an exclusive Mashed interview to find out how he is going to "spice" things up for the "Hand on a Hot Drop" event.
Hand on a Hot Drop Competition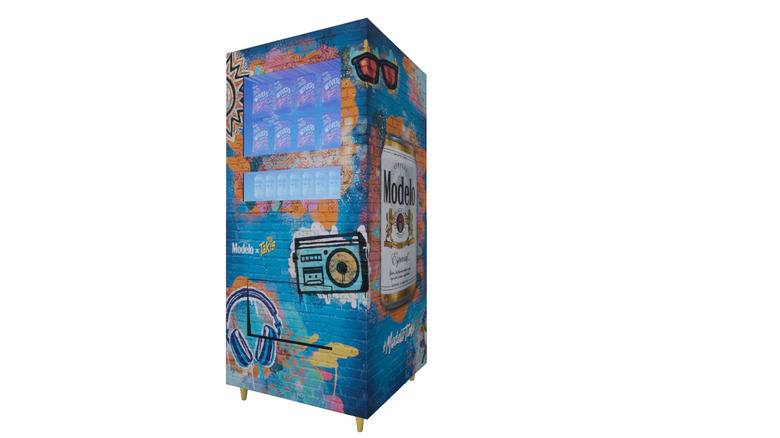 Modelo/Takis
You are hosting the" Hand on a Hot Drop" competition with Modelo and Takis. Can you tell us a little bit about what that competition's going to entail?
Contestants, which are already chosen, have to put their hands on this very cool vending machine that Modelo and Takis have made. Throughout this competition, there're going to be a lot of tricks and a lot of obstacles and distractions to try to keep their hands off of the vending machine. If their hands come off of the vending machine, then they lose, but if they are able to keep their hands on the vending machine and they win the whole competition, then they will win Modelos and Takis for a full year.
This is going to take place in New York at Pier 76 on Sunday, July 10th, from 2:00 to 6:00 p.m. It is our iHeart radio block party, and it's going to be a great time. I'm going to be seeing there. Everybody can join if they're 21 and older. Virtually, if you can't be there, I'm going to go live on my Instagram page and @ModeloUSA will be going live as well. It's going to be a good time.
Preparing for the competition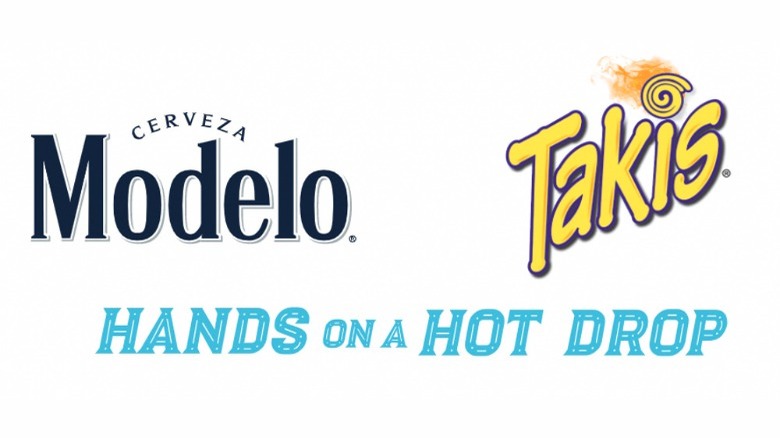 Modelo/Takis
Are there any ways that people will be able to prepare for these challenges during the competition?
The only way you can prepare is if you have the fighting spirit of Modelo and the intensity of Takis. That is the only way to prepare. You don't know what type of obstacles or tricks that I'm going to have up my sleeve. There's really no way to prepare. The only way you can do it is if you already have that fighting spirit inside of you.
With both the baking show and the "Hand on a Hot Drop," you're going to be emceeing and hosting these people. I assume tensions are going to be running high for all of the competitors. What strategies do you use to just keep things moving forward and getting the competition going?
Have a lot of fun with it and stay focused, because it's going to be a lot of moving parts. [There'] going to be a lot of people there. [There's] going to be a lot of people in New York at the time, if you're 21 and older. [There could be] a lot of things I'm going to say on the mic that could get you distracted. I got a lot of tricks up my sleeve, so stay focused, keep your hands on the vending machine and don't listen to me because I'm going to be a huge distraction. I promise.
Cooking with Modelo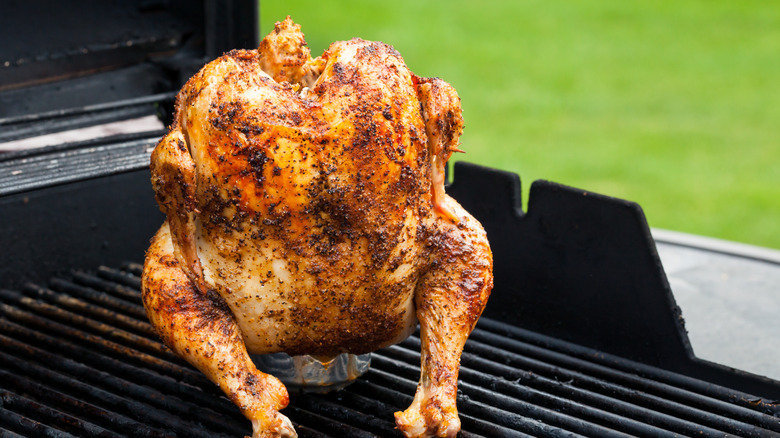 Brent Hofacker/Shutterstock
What other summer programming can we look forward to from Modelo this year?
I just had a conversation about different recipes that you can do with Modelos — you can put Modelo in cheese and you can do fondue, or you can put it on chicken or any other type of poultry or anything that you're going to be grilling with or anything like that. It's very tasty, and there's beer can chicken that you can do with Modelo. There's a whole bunch of options that you can explore this summer.
What's your favorite Modelo pairing?
I like the beer can chicken. That's awesome to do. It's a great way of grilling and it keeps ... a lot of times, if you put chicken on the grill for too long, then it dries out. If you pair it with Modelo, then it's not dry at all and it is very tasty. That's one thing that I'm looking forward to doing this summer. A lot of people like to do chicken wings and things like that, but to do a whole chicken, it is very rewarding.
Spice on spice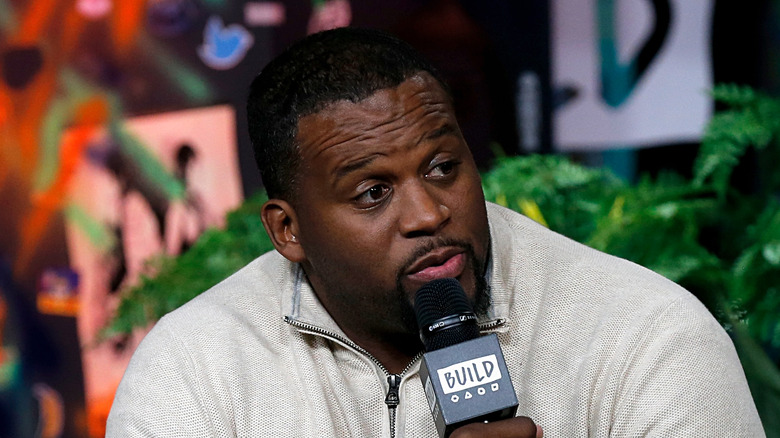 Dominik Bindl/Getty Images
What's your favorite Takis flavor?
I'm not going to lie to you. My nickname is "Spice," but I'm not a real spicy guy. I eat the Takis straight out of the bag. I really haven't explored with any of the recipes because you got to build up a tolerance for that type of spice. It's a lot of intensity in the chip. If you eat a couple of them, you're still going to need some water or some milk or something, [and] you got to build up a tolerance for those things. Right now, I'm eating them straight out the bag, and I really haven't explored any of the recipes with Takis as yet, because I got to get used to the chips first.
You mentioned that even though your name is "Spice," you're not big on a lot of spicy things. You have to adjust to it. When you are cooking or when you're grilling, what's one ingredient that you can't live without?
One ingredient I can't live without is probably the different type of salts. You can use sea salt, you can use pink Himalayan salt, seasoning salt, there's all different ... You can use smoked salt. It's all types of salts that you can use. I will never not put salt on anything that I'm grilling.
Keep it nice and flavorful.
Yes, then you can add everything else after that, like lemon or lime or pineapple.
I'm going to switch to a little bit, because you've been on the "Great American Baking Show," and I see there's a new season coming out. They haven't released a lot of details. Will you be returning as host?
I'm really not sure. As of now, everything is too early to tell, and there were some complications going on with the pandemic and things like that. I don't know, but I'm always working. I'm always looking to have a good time and I'm excited about July 10th with Modelo and Takis. That's pretty much all I can speak on right now, but I always like to have a good time. I always like people around me to have a great time, so that's all I'm focused on right now.
Spice Adams favorites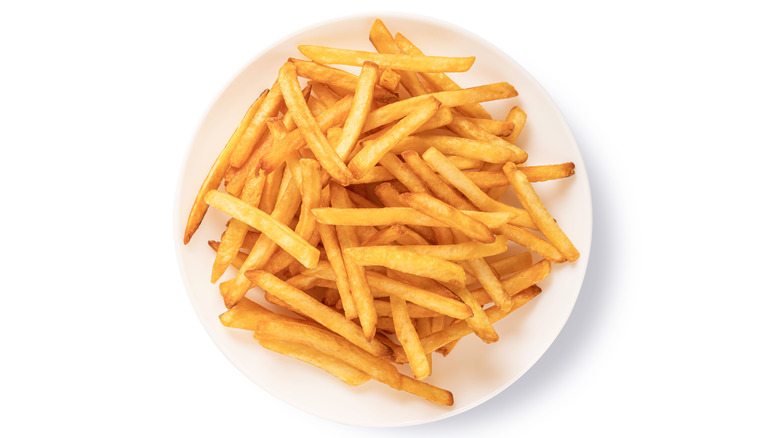 Jr images/Shutterstock
What is your go-to fast food order?
Fries. I got to have some French fries – whether that's curly fries, waffle fries, it doesn't even matter. I like them all. I like the fresh fries where you are getting the skin off the potatoes, all of that. I love fries.
Is there a particular place you like to get your fries from?
Anywhere. It doesn't matter. I do it myself. It doesn't even matter. Now everything's so convenient. Now, [with] air fryers, you can put it in the air fryer and it will be just as crispy as if you fried it in the pan. Everything's convenient these days.
Who is one chef you would love to cook dinner for you?
Other than my wife?
The right answer.
Probably Bobby Flay or somebody. I watch him on TV all the time and go through his restaurants, so that'll be cool. I could learn a lot from him. 
Modelo and Takis "Hand on a Hot drop" will be held on July 10 during the iHeartRadio Block Party presented by Modelo, in New York City from 2:00 to 6:00 p.m. at Pier 76. Fans who can't attend in person can stream the competition at @ModeloUSA, @TakisUSA, and @SpiceAdams on Instagram Live.
This interview has been edited for clarity.