Why The Hell's Kitchen Restaurant Is Known For Its Cocktails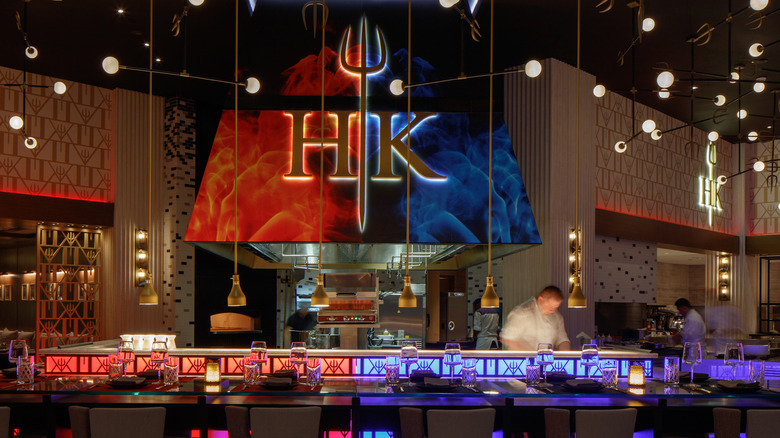 sbcreat0rs/Shutterstock
In the world of competitive cooking shows, Gordon Ramsay's "Hell's Kitchen" is hot stuff, which is why it's unsurprising to find out that the program launched a series of restaurants. In 2018, Ramsay opened up his very first Hell's Kitchen restaurant in Las Vegas. This was followed by two more restaurants located in Dubai and Lake Tahoe (via 2News.com).
The restaurant has a hyper-upscale menu, featuring dishes like oysters on the half-shell, pan-seared foie gras, and Beef Wellington. As one might expect from a restaurateur like Ramsay, Hell's Kitchen garnered a number of rave reviews on Tripadvisor with a 4.5-star rating from over 2,900 customers. Some of the praise couldn't be better if it tried. One customer wrote, "The meal was beyond excellent. Not only the food but the pace of its delivery was neither early [nor] late, it was perfect. It is difficult to [choose] highlights due to the entire meal being so good."
However, food and fire aren't all that Hell's Kitchen is known for. It's a hot spot for drinks, too.
Cocktails with a touch of Ramsay
Much like Gordon Ramsay's insults, part of what makes Hell's Kitchen cocktails stand out is the delivery. Case in point: the Notes from Gordon. Describing it as "a highlight," Las Vegas Magazine said the gin-based cocktail contains green tea, peach soda, and lemongrass, among other ingredients. It even comes with a special insult from the celebrity chef himself. In the past, notes included the barb, "What came first? The chicken or the egg? It doesn't matter because you can't cook either one." Another example is the classic Ramsay slam, "What are you? An idiot sandwich" (via YouTube).
The Las Vegas Review-Journal highlights the Smoke on Boulevard cocktail, which includes Woodford Rye and Aperol. "Served in a smoke box," it is infused with cherrywood smoke. A Tripadvisor review that praised the Vegas location's "smokin' good drinks" declared, "The smoke-infused bourbon was an unforgettable experience!" It went on to explain that "smoke makes a huge, positive difference on the taste of the drink."
Joining that hazy drink is the Fear & Loathing cocktail, which, according to Eater, features "cold-pressed blood orange juice." The Rum Donkey offers up the taste of "torched passion fruit." Even the restaurant's mocktail menu (limited though it may be) features yuzu juice as an ingredient.