Noodles And Company Wants To Give You Free Mac And Cheese, But There's A Catch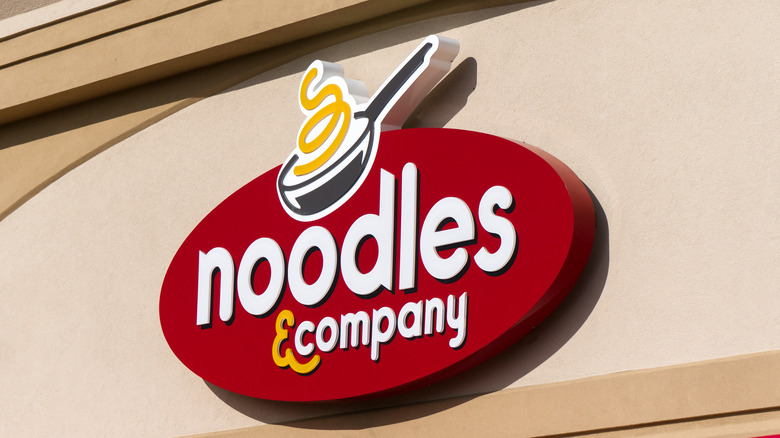 Ken Wolter/Shutterstock
Macaroni and cheese is not just a simple comfort food that makes us long for childhood when mom, dad, or the babysitter would whip up a pot of this creamy and cheesy dish. Macaroni and cheese is part of the American story, even if it did not originate in America or with Thomas Jefferson (via Thomas Jefferson Monticello Foundation). We'll give the Italians and the French credit where credit is due (via The Food We Know). 
However, as Smithsonian Magazine points out, when it comes to this pasta dish being served in the United States, Jefferson and his enslaved cooks are credited with popularizing this recipe and bolstering it into the throws of processed foods. That's when this dish really took off and the likes of Kraft Macaroni and Cheese and that of the Velveeta variety made their way to our kitchen tables. Today, macaroni and cheese is such an iconic, kid-friendly dish, Crayola made a crayon color aptly called Macaroni and Cheese in 1993. And Patti LaBelle's mac and cheese is rumored to have caused Elton John to see Jesus (via YouTube). To put it bluntly, macaroni and cheese is kind of a big deal, and in honor of National Mac & Cheese Day which happens to fall on July 14, Noodles & Company wants to give you free mac and cheese, but there's a catch.
Free Mac & Cheese, kind of
According to a Noodles & Company press release, the company that serves up all things noodles is marking the day by giving away a free small bowl of their classic Wisconsin Mac & Cheese; however, there's a catch. It is free only if two conditions are satisfied. The first is that you have to purchase one of the fast food chain's regular entrées, and the second is you must be a Noodles Rewards members. The old adage is true, membership has its privileges, but if you aren't part of the Noodles & Company Rewards click, it's easy to sign-up.
Per the quick service restaurant's website, signing up is free and you simply need to create an account. What are the perks of becoming a member? 350 points earn you a free delivery and just for joining, you can earn a free entrée after your first purchase. Noodles & Company rewards membership has three different tiers. These tiers are: Classic, Signature, and Premier. The more points you accrue, the higher you can climb. Additionally, members also get special rewards on their birthdays which are also based on your tier status. Noodles & Company has more than 450 locations and serves up nearly 13 million bowls of Wisconsin Mac & Cheese each year. We wonder how many of those will happen on National Mac & Cheese Day.