Easy Margherita Pizza Recipe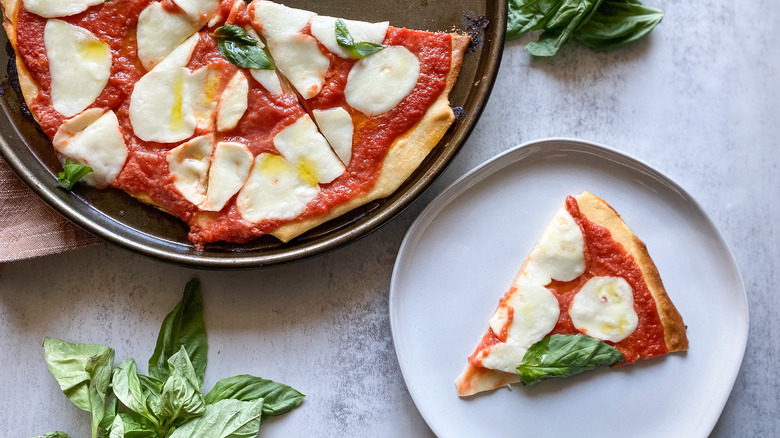 Kristen Carli/Mashed
Nothing says "Friday night" like pizza. Instead of ordering delivery, elevate your pizza night with a truly delicious and authentic Italian pie: the Margherita.
You don't need to go to a fancy pizza place to indulge in a Margherita pizza. Using store-bought pizza dough, you can make one at home in a matter of minutes. This recipe is brought to us by recipe developer and registered dietitian nutritionist, Kristen Carli, MS, RD. Carli assures us that after trying this recipe, we will never want to order pizza delivery again.
While making a homemade pie may sound intimidating, this recipe caters to even the most novice home cook. Trust us! If you have 10 minutes, and the required 5 ingredients, you are capable of making this dish.
The key to the success of this dish is in the details. Make sure to source canned San Marzano tomatoes, mozzarella balls, and fresh basil.
Gather your ingredients for Margherita pizza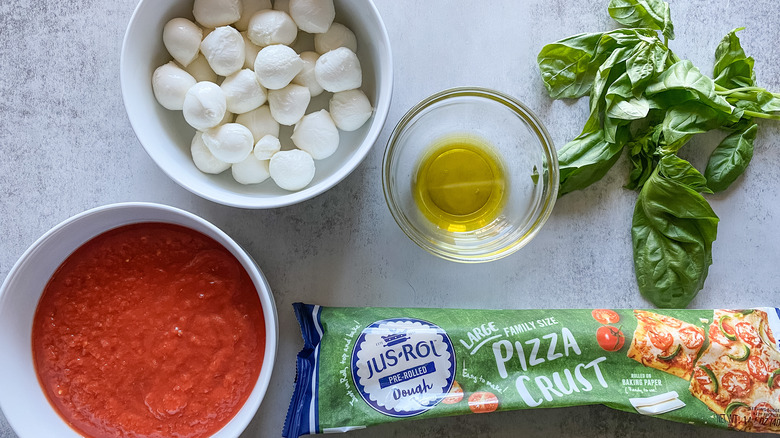 Kristen Carli/Mashed
To make this Margherita pizza, start by gathering your ingredients. You'll need store-bought pizza dough, San Marzano tomatoes, mozzarella balls, basil leaves, and olive oil. Carli recommends using mozzarella balls for this recipe as they are the perfect shape to melt evenly on the pizza. Like a true pizzano, she also recommends San Marzano tomatoes for the most authentic Italian flavor.
Unroll the dough and blend the tomatoes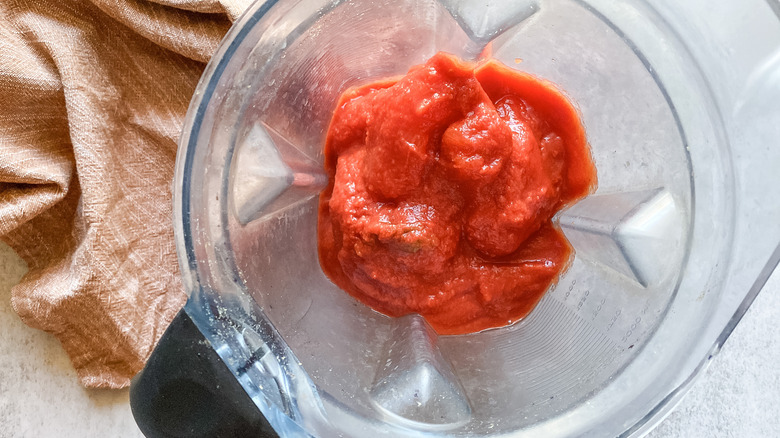 Kristen Carli/Mashed
First things first, preheat the oven to 425 F. Unroll the pizza dough from the tube and place it on a circular baking sheet. Using a store-bought dough significantly cuts down on the prep time in this recipe. You can use any type of pizza dough you like, whether plain, garlic and herb, or whole wheat. Then, pour the San Marzano tomatoes into a blender and process them until they turn into a smooth tomato sauce.
Add the sauce and mozzarella balls to dough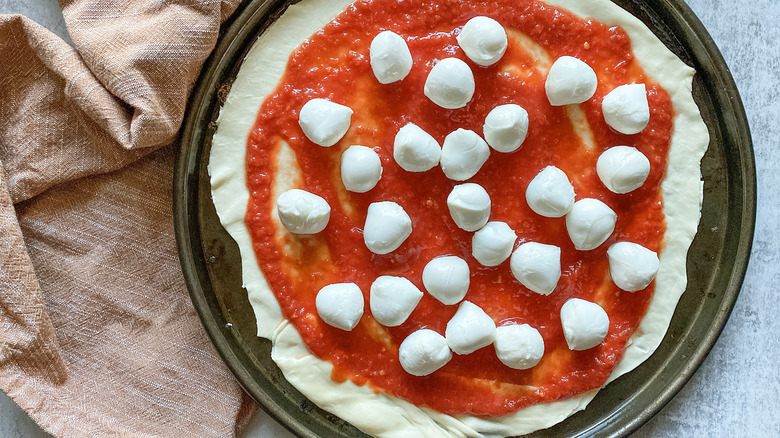 Kristen Carli/Mashed
Now it's time to add the pizza toppings. Using a spoon, spread the tomato sauce onto the pizza dough. You won't use all of it, but use about ½ cup. Feel free to store the remaining tomato sauce in an airtight container with a lid and keep it in the fridge to use with other pasta recipes. Evenly distribute the mozzarella balls on top of the pizza.
Bake the pizza and top with basil and olive oil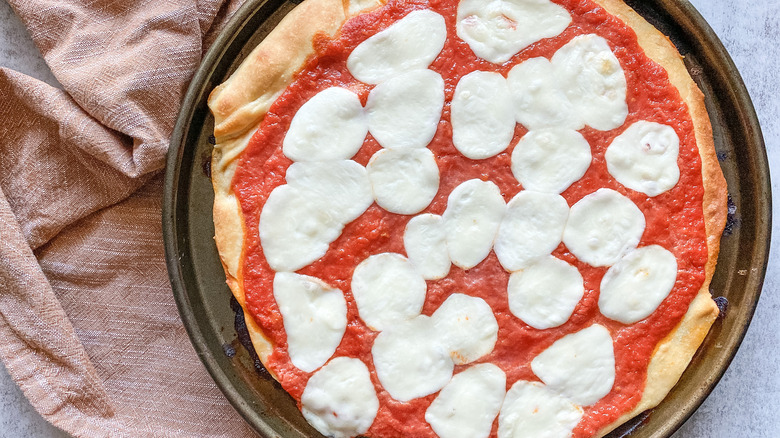 Kristen Carli/Mashed
Place the pizza into the preheated oven and bake for 10-12 minutes. Remove the pizza from the oven when the crust is golden and the cheese is melted and beginning to brown. Add the basil leaves to the top of the pizza. Then, drizzle olive oil on top for a shiny finishing touch.
Easy Margherita Pizza Recipe
Skip delivery pizza for your next pizza night, and instead try this simple and fast recipe for an authentic Italian Margherita pizza.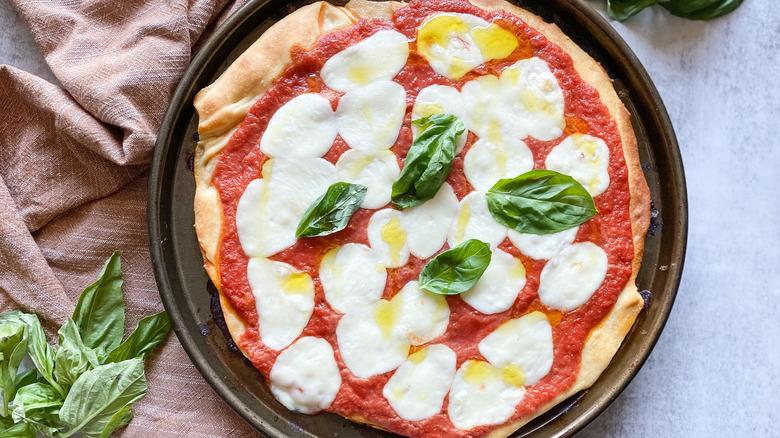 Ingredients
14 ounce container store-bought pizza dough
28 ounce can whole peeled San Marzano tomatoes
8 ounce tub mozzarella balls
4 basil leaves
1 tablespoon olive oil
Directions
Preheat oven to 425 F.
Unroll the pizza dough and cut to fit on a round baking dish.
Add the tomatoes to a blender. Blend until smooth.
Spoon about ½ cup blended tomatoes onto the dough, spreading it evenly across the dough.
Place the mozzarella balls evenly on top of the sauce.
Bake the pizza for 10-12 minutes.
Remove it from the oven and top it with basil leaves.
Drizzle with olive oil and serve.
Nutrition
| | |
| --- | --- |
| Calories per Serving | 1,009 |
| Total Fat | 39.8 g |
| Saturated Fat | 17.7 g |
| Trans Fat | 0.0 |
| Cholesterol | 89.6 mg |
| | |
| --- | --- |
| Total Carbohydrates | 117.2 g |
| Dietary Fiber | 10.1 g |
| Total Sugars | 13.3 g |
| Sodium | 1,947.5 mg |
| Protein | 46.1 g |