The Real Reason We Eat Freeze-Dried Food On Long Hikes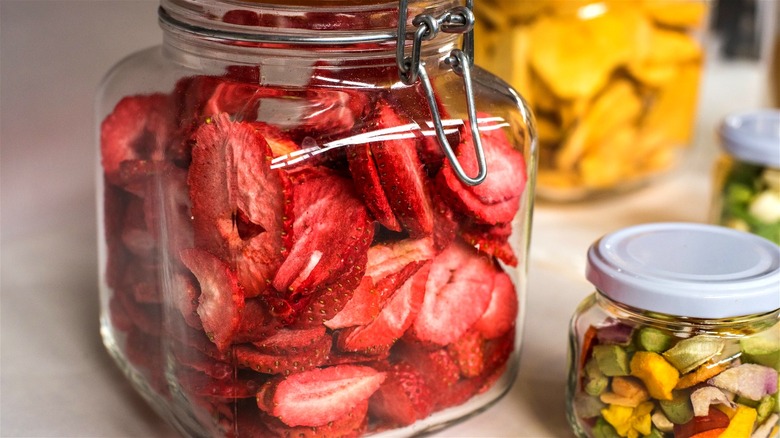 Joaquin Corbalan P/Shutterstock
With summer in full swing, many people are taking advantage of the weather to enjoy their favorite outdoor activities. If you're gearing up for your next big hike, there's a chance you have some of your favorite healthy snacks prepared. But have you considered more time-saving options like freeze-dried food? According to one 2020 study, freeze-dried food, which is food that is flash-frozen and then vacuum-sealed to preserve freshness, is a healthy nutritional alternative to salty snacks. The actual process of freeze drying food doesn't compromise the size and nutrient density of the final product.
While freeze-dried fruit has proven to be a healthy snack, the options don't stop at produce either. There are a variety of shelf-stable meals that are ready to eat with the addition of hot water. While there are some backpacking meals that miss the mark on flavor and consistency, brands like Mountain Rose and Good To-Go have many tasty options (via CleverHiker). The freeze-dried food industry is even expected to expand significantly in the future (per Globe Newswire). While this unique snack is becoming one of America's healthy favorites, freeze-dried food is perhaps most popular with hikers, and here's why.
Freeze-dried food has practical benefits
Now that you know freeze drying doesn't take away from a food's nutritional value, there are more reasons campers and specifically, hikers, pack freeze-dried meals for even an afternoon in the woods. First and foremost, freeze-dried food weighs less than fresh or dehydrated options, since about 98% of water is removed in the freeze-drying process (via Women's Health). According to The Takeout, each backpacking meal weighs roughly 6 ounces, making them a great choice if you're planning to carry about 20% or more of your body weight (per FarOut).
Another reason hikers enjoy freeze-dried meals is that they are shelf-stable and don't need refrigeration (via USDA). According to Mountain House's website, their freeze-dried meals can last up to 30 years. While that's quite a long time to have chicken and dumplings sitting in your backpack, as long as your packaged meals aren't exposed to extreme heat or cold, you can enjoy them years later without compromised taste or texture. Next time you go for a long hike, you may want to try out a few freeze-dried meals for yourself. There's nothing quite like eating hot beef stroganoff in the middle of the forest.