Instagram Is Raining Hearts On Duff Goldman's Daughter's Big Mac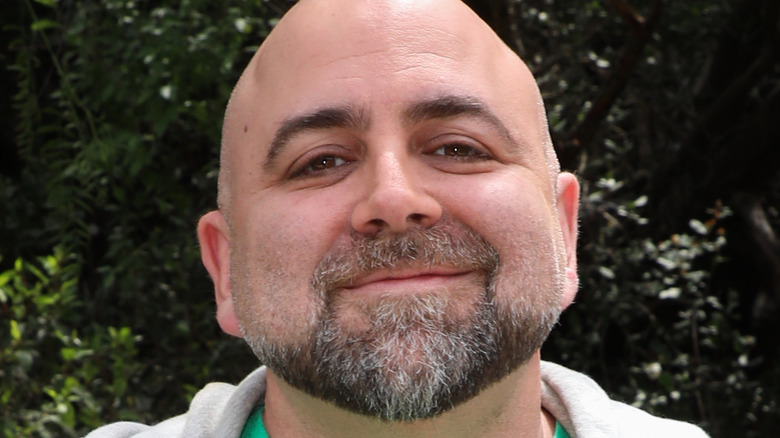 Paul Archuleta/Getty Images
Hamburgers have been at the helm of the McDonald's menu since its golden arches first lit up in 1955. However, it wouldn't be for another 17 years that the chain's most famous take on the handheld sandwich was born. Featuring "two all-beef patties, special sauce, lettuce, cheese, pickles, onions, on a sesame seed bun," according to its infamous jingle, the Big Mac made its debut in Uniontown, Pennsylvania in 1967, and by the following year, was rolled out to menus nationwide (via the New York Times).
Now in its 54th year of feeding McDonald's lovers worldwide, the stacked sammie has become one of the eatery's top-sellers of all time and is only outperformed by its equally-as-famous meal accompaniment, French fries. Per Reference, the chain doles out a whopping 1.5 million Big Macs each day, which further breaks down to an impressive 17 burgers per second, and recently, one went to an extra special customer.
Taking to his Instagram account on Wednesday, July 13, Food Network star Duff Goldman revealed that his one-year-old daughter, Josephine, sunk her teeth into McDonald's' pride and joy this week for the very first time. "Josephine's first Big Mac!" the Food Network star captioned a photo of the youngster chowing down on the burger, which was being fed to her by a pair of manicured hands that likely belonged to her mother, Johnna. By the looks of the snap, it seems like the tot was ... ba da ba ba ba, lovin' her meal.
McDonald's Big Mac seems to have a new fan in Josephine Goldman
The Guinness World Record for most Big Macs consumed in a lifetime is 32,672. The achievement belongs to Donald Gorske, who has eaten a McDonald's Big Mac every day for 50 years. However, it might only be a matter of time before Duff Goldman's daughter, Josephine, dethrones the world's biggest Big Mac enthusiast. The youngster certainly appeared to enjoy the newest addition to her food repertoire in the Instagram photo Goldman posted of his only child's latest milestone — though possibly not quite as much as followers enjoyed the snap itself.
The post has amassed over 4,400 likes in addition to dozens of comments, as of this writing, including one from Nancy Fuller, who expressed her love for the shot with a string of eight heart-eyed emojis. "She has great taste everyone needs a Big Mac every now and then," another Instagrammer commented. "You go girl!!" quipped another fan.
Some questioned why Goldman — a trained chef — was feeding his daughter McDonald's. However, considering that the "Ace of Taste" star once worked at the fast food restaurant, it shouldn't come as too much of a surprise. He even picked up a special talent during his brief stint at the chain. "I can make 12 Big Macs in a minute," he revealed during an appearance on E! News' "Daily Pop" earlier this year. With how much Josephine seemed to enjoy the iconic burger, we hope that's still true.