The 'Chipotle Burger' Is A Work Of Art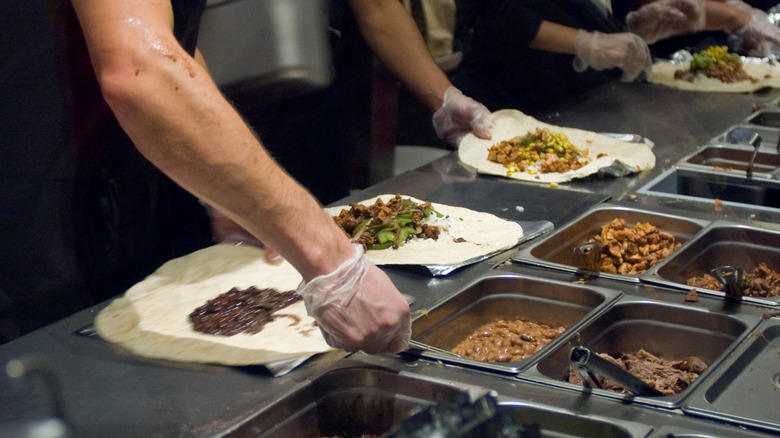 rblfmr/Shutterstock
It's not unusual for chain restaurants to debut new menu choices or return older ones. Taco Bell introduced a new crunchy menu item in its Big Cheez-It Tostada, and Arby's brought back a fan-favorite sandwich for a limited time.
Chipotle Mexican Grill has made a name for itself by selling fast-casual, Mexican-style food. Some of the chain's signature items include its burrito bowls, tacos, and guacamole. Surprisingly, according to Restaurant Business, the chain is affiliated with another type of restaurant, too: a pizzeria brand known as Pizzeria Locale. That chain only exists in Colorado with four locations, and it serves various pizzas, salads, and sides.
Chipotle might know a thing or two about burritos and pizza, but one thing it has never dabbled in is burgers; they don't quite fit with either food category. However, one store employee recently got creative and invented what they called a "Chipotle burger." It turns out Reddit was quite impressed with the makeshift menu item.
One Reddit user just introduced the 'Chipotle burger'
A Reddit user recently introduced a burger-style dish that they'd created out of a Chipotle meal. "Everyone bow down to the Chipotle Burger," they wrote, and plenty of other Redditors took notice. The burger bun appeared to be made out of a toasted tortilla, and it looked to include lettuce, tomato, and steak.
"That looks good tho [sic]! Unhealthy but good!" one person commented. "I am sincerely saddened I will never get to experience this," someone else wrote. Other users joked that the dish reminded them of "something I'd see on Diners, Drive-Ins, and Dives," and that the cost would be somewhere between $32 and $50, given Chipotle's prices.
Of course, the so-called "churger" or "burgadilla" is not an actual menu item, but perhaps the restaurant chain will catch wind of the thread and introduce something similar — it might be a popular Chipotle menu item before you know it.