Arby's Just Brought Back A Fan-Favorite Sandwich
Arby's has been known to retire quite a few of its popular menu items in its 60-year tenure, much to its fans' dismay. Among the fast food items we sadly lost in 2021 were the chain's beloved loaded Italian sandwich — a monstrosity of deli meats and fixings — as well as its pizza slider and ham slider. And in a particularly dreaded moment last fall, the company announced the discontinuation of Arby's potato cakes, a breakfast favorite, in favor of its new crinkle fries. Some customers were so passionate about the fried spuds, in fact, that nearly 4,000 of them signed a Change.org petition to bring them back.
While Arby's has vaguely hinted that potato cakes could one day make a return to the menu, for now, the meat-centric chain has more concrete news for customers who miss its discontinued menu items: For a limited time, Arby's is resurrecting one of its savory favorites, along with some other updates, per Chew Boom.
Arby's Chicken Cheddar Ranch Sandwich is back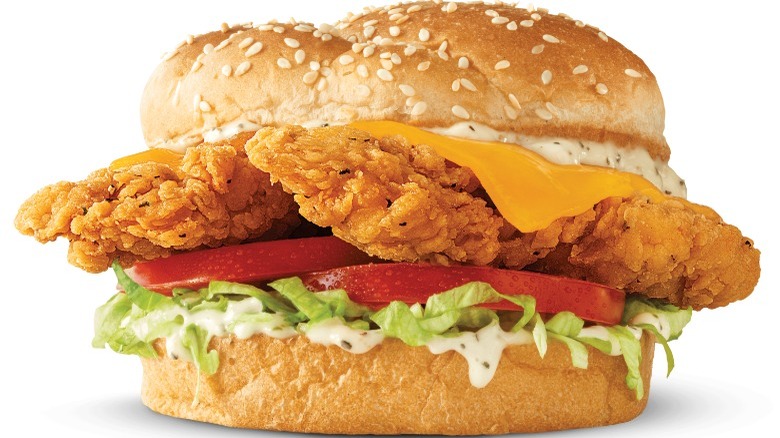 Arby's
The chicken cheddar ranch sandwich is making a temporary reappearance on the Arby's menu, according to Chew Boom. The dish was first introduced at the chain back in 2020, and it made a short-lived reappearance in September of 2021, per Brand Eating. During these times, it was a part of the chain's 2 for $6 deal, in which customers could opt for the sandwich, along with a serving of their side dish of choice, for $6. As of this month, the sandwich is on the 2 for $6 menu once again — with a few 2022 updates.
Arby's is now serving a different version of its 2 for $6 menu, which also includes its Classic Roast Beef sandwich and white cheddar mac and cheese. The chicken cheddar ranch sandwich, according to its website, remains the same, with crispy chicken tenders, sharp cheddar, parmesan peppercorn ranch sauce, and lettuce and tomato on a sesame seed bun. As for how customers feel about the sandwich, there's some positive feedback from 2020: On YouTube, food reviewers 2¢ Chick and Peep THIS Out! gave the menu item props for a crispy coating on the chicken and flavorful ranch sauce, though they said that the taste of the cheddar didn't fully come through.