Padma Lakshmi's Favorite Childhood Treat Had A Bit Of A Kick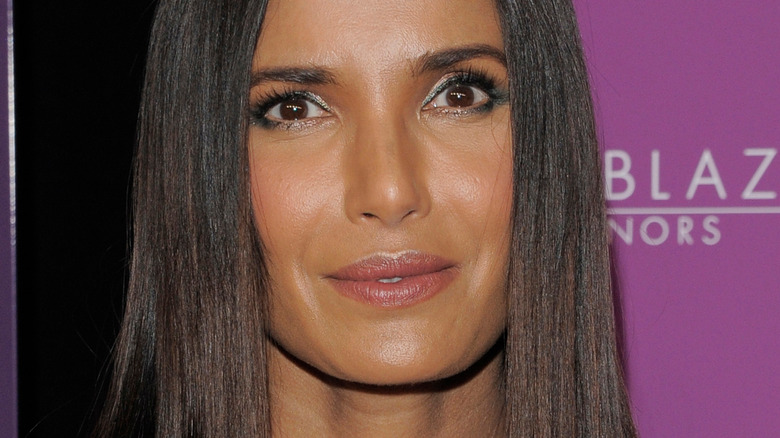 Ron Adar/Shutterstock
Childhood memories help us thrive and provide a healthy dose of nostalgia. Most importantly, they play a crucial role in our well-being and help us better understand ourselves. For instance, childhood memories of food are so powerful that they can evoke unconscious memories and utilize your senses to make that particular recollection even more vivid. So, a memory as simple as eating a candy bar or trying to make a pancake with your parents for the first time can sometimes feel emotionally more evocative than other types of reminiscences. 
That's how model-turned-cookbook-author Padma Lakshmi felt when she shared her favorite childhood treat in a June 22 Instagram video. The "Top Chef" host and creator of the critically acclaimed Hulu series "Taste the Nation" credits her childhood in India as her culinary inspiration. "When I was young, I would spend a lot of time in the kitchen with my grandmother. Everything she did — the way she made her masalas, mixed her pickles — it really created an impression on me," Lakshmi said to the Hindustan Times in 2011. So, it's no wonder her treasured childhood treat packs a punch. 
Any guesses what treat makes her taste buds soak in all the flavors like a cactus in a desert? Here's a hint: It's intrinsic to Indian cuisine. 
She craves 'all the spicy, salty stuff'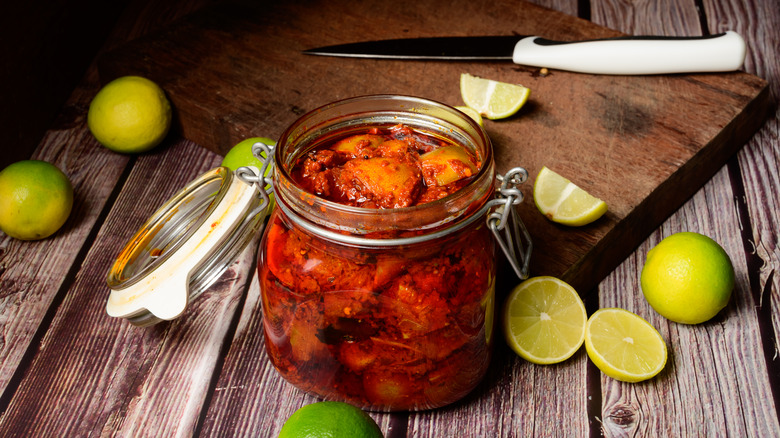 P.V.R.Murty/Shutterstock
Pickle, also known as "achar" in the Hindi language, is a popular condiment in Indian cuisine. South Asian pickle adds flavor and life to even the most bland-tasting dishes. It has been a part of their culture and history for thousands of years. So, it's no surprise that even Padma Lakshmi, who has spent most of her life abroad, has amazing childhood memories associated with the spicy and tangy condiment. 
Over the years, Lakshmi has expressed her love for pickles countless times. In June, she posted an Instagram video to offer fans another glimpse of her preferred childhood treat. "In western homes or American homes, children usually grow up wanting to lick the bowl after batter or before a cake is made," the Bravo star said in the Instagram Reel. "But I always wanted to lick the bowls and spoons from pickle-making because that was my jam — the spicy, salty stuff."
The video showed bottled-up lemon pickles and Lakshmi licking the achar spoon with childlike enthusiasm and approving the traditional Indian condiment she had made. She captioned the post, "Anyone else do this as a kid?? Let's be real I still love it! Gimmie all the spicy salty stuff." Instagram users couldn't agree more with Lakshmi. One commenter said, "Of course ... who would waste all that flavorful goodness!"
And hey, don't forget to check her lemon pickle recipe, too.