The One Condiment Michael Symon Will Never Put On His Hot Dogs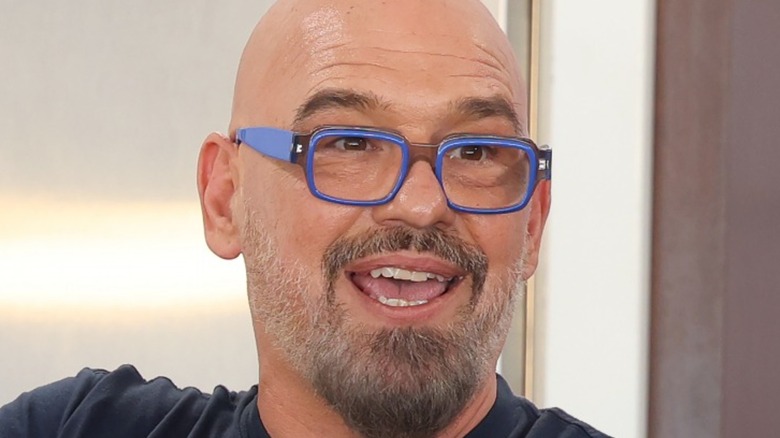 Alexander Tamargo/Getty Images
Hot dogs are a simple food that can create quite a stir. One of the more interesting hotdog conversations is centered around whether or not it's a sandwich. It's the infamous hot dog question that Snoop Dogg has weighed in on. Celebrity chef Alex Guarnaschelli also has a position on this controversial debate and even Carla Hall has thrown her answer into this food fight to settle it once and for all. Of course, California and New York have legally declared hot dogs are sandwiches because that's how those two states roll. But that's not the only dialogue surrounding this favored ballpark food.
In July 2021, the National Hot Dog and Sausage Council and the North American Meat Institute released national survey results to some burning questions that keep all of us up at night. What they discovered was that 62% of hot dog eaters say these dogs taste best at a baseball game and 87% of participants think hot dogs should be served and eaten off paper plates with paper napkins. So, not wrapped in the paper wrapping you get at a ball game? Seems like a foul in the data. Still, there is one debate around the hot dog that really makes some people see red and it's about a condiment Michael Symon says he will never put on his hot dog.
No Heinz 57 for Michael Symon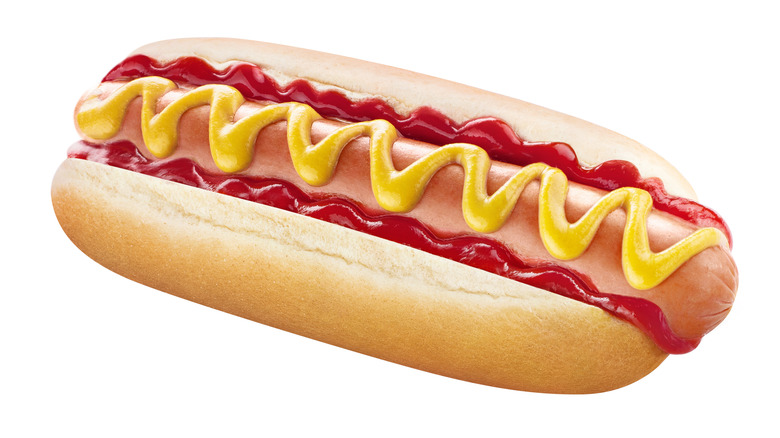 Yeti studio/Shutterstock
Per his Food Network bio, Symon is best known as the winner of the "Next Iron Chef" in 2008 and host of "Burgers, Brew and 'Que." He has also served as a judge, and the celebrity chef definitely has opinions about food, especially when it comes to ketchup on his hot dogs. In an Instagram post, the chef shared a video detailing how he makes his hot dogs during the summertime, sharing that he uses mayo to get his hot dog bun toasty. He also quipped that by now, his followers know him as a "No ketchup kind of dog person." The post has received 12k likes and no pushback when it comes to this quip.
Symon has previously talked about his dislike for ketchup on social media. Symon's shared his controversial ketchup opinion in a tweet to Alex Guarnaschelli in which she said, "Ketchup is delicious." He simply replied with a green face emoji and later shared with another tweeter that he feels that ketchup has too much sugar. Symon is, of course, not alone in his feelings that ketchup doesn't belong on a hot dog. The National Hot Dog and Sausage Council also support no ketchup advocates. As part of their etiquette decree, the organization explains that if you are over 18, you should shun this condiment on your dog and instead stick with mustard, relish, onions, cheese, and chili which are "acceptable" hot dog toppings.