The Surprising Reason Cardi B Took David Letterman To A Bodega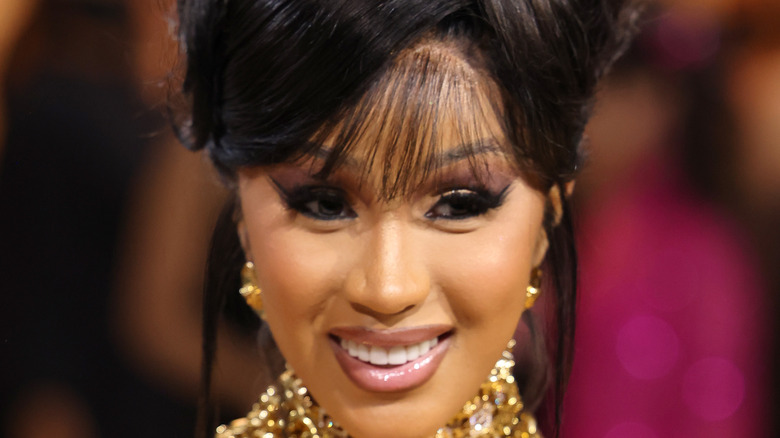 John Shearer/Getty Images
Fans of celebrity interviews have a reason to get excited again because the famous comedian and talk show host David Letterman is back on Netflix with Season 4 of his show, "My Next Guest Needs No Introduction." Letterman is well known for his "groundbreaking" shows, "Late Night with David Letterman" and "Late Show." In early 2018, after a lengthy hiatus, Letterman returned to his role as talk show host when the first season of "My Next Guest" started airing on Netflix. Letterman's new show has been so successful that it's currently in its fourth season (via Biography). 
The latest season included celebrity guests including Will Smith, Billie Eilish, Ryan Reynolds, Kevin Durant, Julia Louis-Dreyfus, and Cardi B (per Collider). Famous rapper Cardi B was quite an exciting guest, and one of the topics Letterman and Cardi touched on was food. Eat This, Not That reported that Cardi loves eating healthy foods, such as fruits and vegetables, and she is also learning to cook Hispanic food. However, the rapper eats only two meals in a day — breakfast and a large dinner (via The List). For one of her late-night meals, she surprised Letterman by taking him to a bodega in New York.
Cardi B and David Letterman shared a chopped cheese sandwich
In one pre-filmed segment for "My Next Guest Needs No Introduction," Cardi B and David Letterman took a trip to "Hajji's" bodega in The Bronx. Why? Well, Cardi B wanted Letterman to try something new and unique to bodegas in The Bronx (as well as Harlem and Queens) — a chopped cheese sandwich. Letterman posted the segment on Twitter, where he offered to teach Cardi B how to drive a car because she introduced him to the delicious sandwich — now that's a cool deal. 
Chopped cheese (also called chop cheese) has a cult-like following in NYC. It consists of ground beef grilled with onions, chopped with a spatula, topped with cheese, and placed in a hero roll before it's enriched with tasty condiments, such as mayonnaise, tomatoes, and lettuce (per First We Feast). Cardi B has previously posted memes about "getting a chop cheese at 3 am in the Bronx" on her Instagram. Now, she's shared the sandwich with Letterman, who seemed to like it as much as Cardi. 
Letterman is no stranger to foodies — on his previous shows, he interviewed guests, including chef David Chang, Martha Stewart, and Anthony Bourdain (via Eater). We can only hope that Letterman will interview many more foodie celebrities and that "My Next Guest" will be renewed for a fifth season.