McDonald's Just Dropped The Mic On The Chicken Sandwich Wars
If you were present on social media in 2019, you might remember the "chicken wars" that ensued after the major success of Popeyes' fried chicken sandwich launch, per Hypebeast. After the sandwich sold out just two weeks after its debut, Popeyes took to Twitter, quoting a Chick-fil-A post with the message "...y'all good?"
"We were expecting it to be popular, but we weren't expecting the huge conversation that blew up around it," Popeyes CMO Bruno Cardinali said, per Hypebeast.
Per CNBC, when McDonald's stepped in to flex its chicken-making muscle, it launched a new crispy chicken sandwich, not to be confused with its long-term menu item, the McChicken. Immediately, the fast-food chains' strategy was to sell its sandwich at a lower price point than its competitors. Just when you thought the hype following the "chicken sandwich war" was over, McDonald's recently announced that it would be pulling another trick out of its hat.
A new twist on the chicken sandwich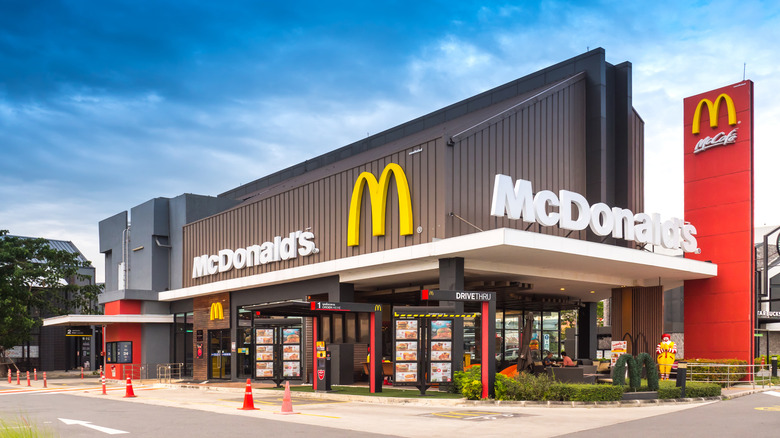 Tama2u/Shutterstock
McDonald's will be launching a new chicken sandwich in Singapore to test its popularity (via TheStreet). Dubbed the Chicken McCrispy Salt & Pepper, the sandwich will be an attempt at serving bone-in chicken. The company's decision to launch in Singapore might come down to Asia's growing love for the meat, which has risen substantially in the past five years, per Inciner8.
In all likelihood, the sandwich will make its way to the United States if it excels in the Asian market. It will cost $6.60 in Singapore currency, which is the equivalent of $4.71, according to TheStreet. Interestingly, the practice of pushing chicken on the Asian market is quite common. Though KFC has 25% of its restaurants in North America, a whopping 40% of its fast-food establishments are located in Asia.
So although American consumers aren't able to enjoy the new sandwich as soon as they'd like, one thing is for sure: the chicken wars won't be over anytime soon.