If You're Going To A Game At Dodger Stadium, There May Not Be Food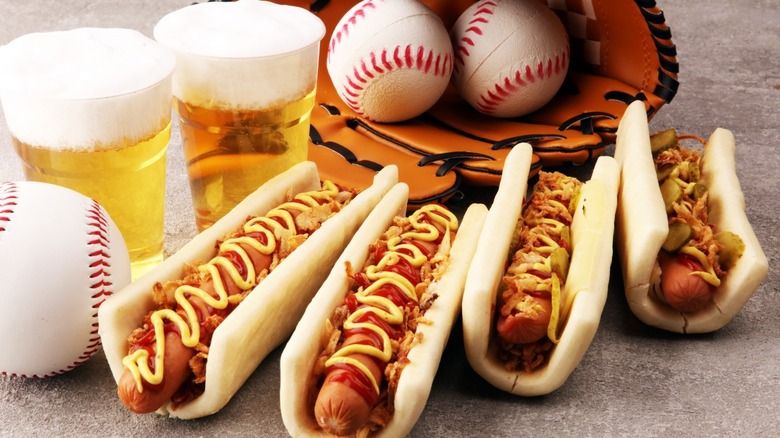 beats1/Shutterstock
Most Major League Baseball players are on hiatus this week as the league heads into the halfway point of the season. Tuesday night's All-Star game, along with the rest of the week's special events, are being held at Dodger Stadium in Los Angeles, California. Monday night features eight sultans of swat vying for power supremacy in the Home Run Derby. Built in 1962, Dodger Stadium is considered among the pantheon of iconic ballparks, along with Chicago's Wrigley Field and Boston's Fenway Park. It's a great place to watch a game, soak up some Southern California vibes, and maybe spot a celebrity or two. 
On a typical day, fans enjoy some delicious eats to accompany the atmosphere, such as the park's famous Dodger Dog (a 10-inch hot dog served in a steamed bun), barbecue, or tacos al pastor (via Restaurant Business). However, the ballpark's culinary experience may change after the All-Star break, depending on how union contract negotiations progress between the stadium's food and beverage workers and the company that runs the stadium's concessions, according to Dodger Blue.
Dodger Stadium concession workers avoid strike during All-Star game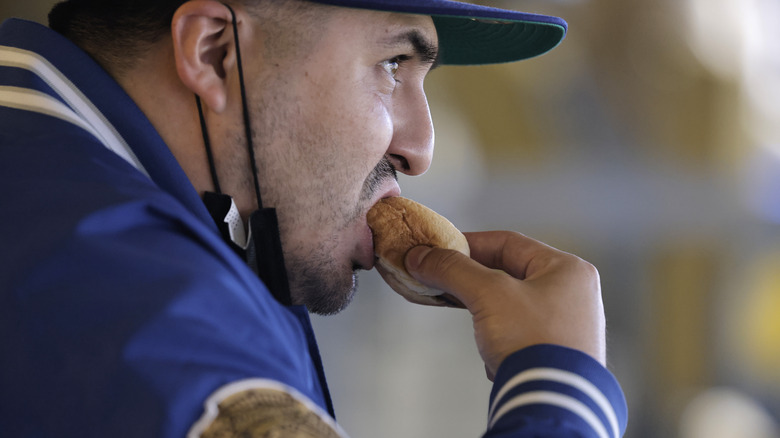 Michael Owens/Getty Images
Dodger Stadium's food and beverage workforce includes more than 1,500 employees. Of those employees represented by hospitality union Unite Here Local 11, 99% voted in favor of an imminent strike leading up to MLB's All-Star game, in order to gain leverage in contract negotiations with food service company Compass/Levy, per Restaurant Business. Workers are seeking improved wages, benefits, and other protections. The MLB Players Association, the union that represents the league's players, has even put their support behind concessions employees (via Dodger Blue).
Thankfully for fans, an All-Star game walkout was avoided after Levy and Unite Here made major headway in contract negotiations last week. But negotiations are still ongoing, meaning that the possibility of a strike still looms when the regular season continues. So, even if a friend or family member does take you out to the ballgame at Dodger Stadium, it could be difficult to buy yourself some peanuts and Cracker Jacks. The Dodgers' first home game following the All-Star break will be a Thursday, July 21 matchup against their division rival the San Francisco Giants, according to ESPN.