The Touching Reason Ina Garten Is Teaming Up With Williams Sonoma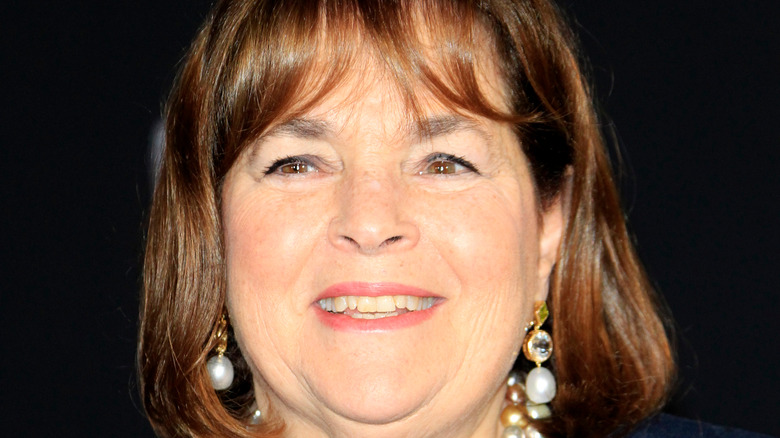 Kathy Hutchins/Shutterstock
Ina Garten is kind of a legend in the food world. Garten has won several Emmy Awards and written more than a dozen cookbooks and has a devoted legion of followers, including one superfan who cooked every single one of Garten's recipes. But she hasn't always been seen in a positive light, at least not in the eyes of the media. There was one Make-a-Wish controversy that had some saying the star wasn't very generous for a number of years.
Basically, news got out that Garten, or a member of her team, had denied a 6-year-old's Make-a-Wish foundation request to meet with and cook a meal alongside the star. Apparently, Garten's publicist said that her schedule was full, but after the public heard about the incident, many people pounced on the star (via Salon). Some even called her "The Heartless Contessa" while a headline proclaimed that she "shattered a little boy's dreams," according to the LA Times. 
But in the years since, Garten has participated in many other charitable giving opportunities that would indicate there is in fact a heart beating in her chest. She even auctioned off a lunch at her Hampton's property to benefit Broadway Cares/Equity Fights AIDS (via CharityBuzz). Now, she's teaming up with Williams Sonoma for yet another charitable event, perhaps showing that her earlier mishap really was just a mistake.
Proceeds of these Garten-designed products will go to charity
In 2021, No Kid Hungry wrote that approximately 12 million children in the U.S. were going hungry. By contrast, just two years earlier, "a record low" of 10.7 million kids counted as "food insecure," based on USDA findings. Of course, even that "low" is a staggering figure to consider, perhaps especially for a group striving to get the number to zero. But some big names in food are hoping to help drive that number down.
For Williams Sonoma's 2022 No Kid Hungry fundraising drive, the kitchenware brand has teamed up with several stars to create its latest "Tools For Change" product line. The proceeds will go to the foundation (via Business Wire). This is the eighth year that the brand has fundraised for the organization. Williams Sonoma wants to pass the $3 million mark, and Garten designed a silicone spatula and a tea towel set to support the effort. The tea towels feature a printed design of Garten's own handwriting saying, "Cook like a pro! xxx Ina," while the spatula features the same "xxx Ina" signature. It's similar to the one she designed in 2018 (via Delish).
Other celebrity designers for Williams Sonoma's No Kid Hungry collection include New Orleans hip-hop legend Big Freedia, TikTok star The Pasta Queen, blogger Tieghan Gerard of Half-Baked Harvest, and more. Williams Sonoma says that each spatula sale can provide 40 meals to kids across the country, and tea towels, up to 70.