Why You Should Make Apple Pie In Your Air Fryer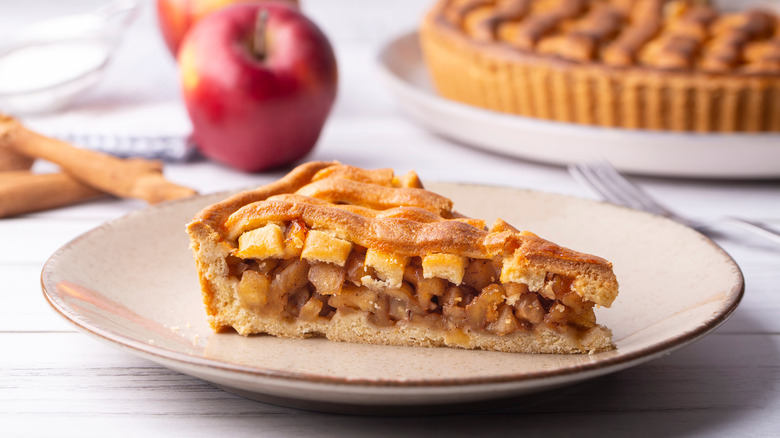 Esin Deniz/Shutterstock
Summer in the U.S. is all about fireworks, barbecue, and, of course, apple pie. Known for its flaky crust and stuffed with sweet, juicy, cinnamon-glazed apples, this pastry is a popular dessert all across the country, from your the rustic version at your grandmother's house to fancier renditions at downtown bakeries.
Perhaps one of the best things about apple pie is that it can be prepared and served in a variety of imaginative ways. You could make an easy apple pie recipe a la mode for your standard, delicious combination of hot crust and cinnamon-scented filling with vanilla ice cream. You could combine a love for pie and caramel bars using Mashed's recipe for caramel apple pie bars, or you can think really outside the pie tin with a twist on Guy Fieri's apple pie hot dog recipe. 
But have you ever considered using your air fryer to make apple pie? You may have relied on it for everything from french fries to appetizers, but what would the results be for this classic dessert? Would you get a delicious, golden brown crust in a fraction of the time it takes in the oven, or would you find yourself scraping sticky apple filling from the inside of the basket?
These air fryer apple pies are the best make-ahead dessert
Yes, you can use your air fryer to make handheld fruity treats in the vein of McDonalds' famous fried apple pies — and it takes little more than store-bought pie crust, apple pie filling, and an egg. Mashed's 20-minute air fryer apple pie recipe has you begin by cutting the prepared crust, first set out to reach room temperature, into squares. You'll spoon your favorite store-bought pie filling a bit off-center, then fold the crust over itself into a triangular "pocket." Crimp the edges closed with a fork, brush the top of each pie with egg wash, then sprinkle them with cinnamon sugar. Bake your mini pies in a preheated, 350-degree air fryer until golden, about 10 minutes. You'll want to oil the fryer basket and make the pies in batches of two at a time for best results. Only want to serve a couple? You can freeze the remaining formed pies, then air-fry them fresh when you're ready to enjoy them.
This recipe can be recreated with just about any type of pie. Try cherry, pecan, or a homemade batch of whatever summer stone fruit you're loving these days. Plus, pies are just one of the many unique things you can make in the air fryer — and who wouldn't love a feast full of crispy goodness from appetizers to desserts?