20-Minute Air Fryer Apple Pie Recipe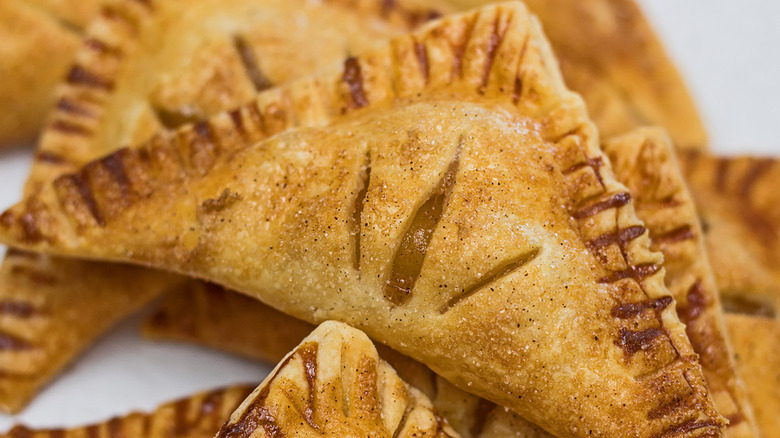 Angela Latimer/Mashed
Making a pie can be such hard work, but with this air fryer apple pie recipe, you can have your pie without spending a ton of time working on it. Plus, it requires no plates or silverware! You only need a handful of ingredients and your trusty air fryer to whip up these delicious apple pies.
This recipe, created by recipe developer Angela Latimer of Bake It With Love, is super easy to follow and is a great option for a make-ahead dessert for another time. You can make all the pies now, throw them in the freezer, and air-fry them on demand. It's the perfect Sunday afternoon activity that your Friday self will thank you for. 
Ahead, find the whole recipe with step-by-step instructions for how to make these at home yourself. And while we created this recipe using apple pie filling, you could easily use a different pie filling next time. Maybe cherries or strawberries or blueberries ... there are so many options.
Gather the ingredients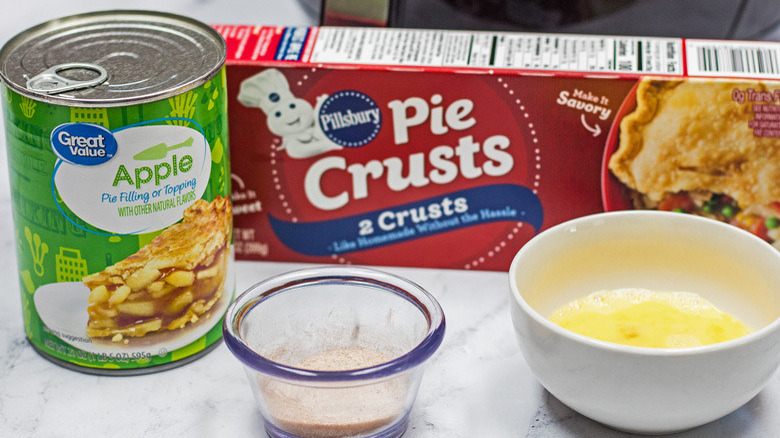 Angela Latimer/Mashed
 You'll need apple pie filling, premade pie crusts, an egg, cinnamon, and a little bit of water. That's really it! You could choose to make your own pie crusts if you'd like — you can just use whatever your go-to recipe is. However, the store-bought crusts can help you cut a corner and whip up this recipe much faster. 
Prepare the pie crust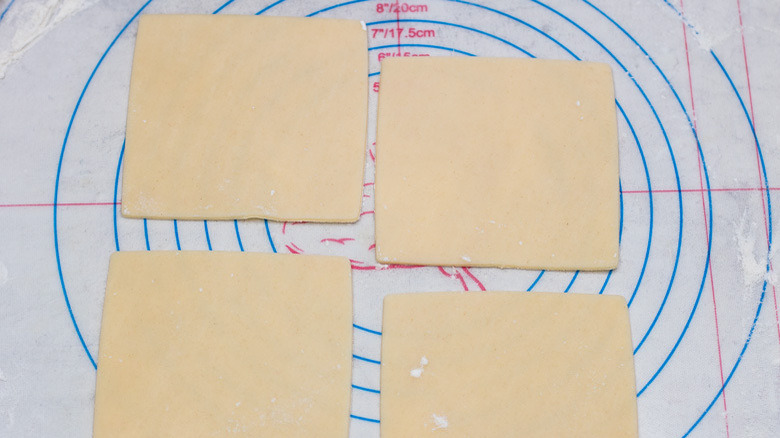 Angela Latimer/Mashed
The very first thing you need to do is bring the pie crust up to room temperature. This will require a bit of planning ahead so that the crusts are ready to go when you're ready to make the pies. 
Once the crust is room temperature, roll it out flat. You might need a rolling pin for this step. Next, cut the crust into five-inch squares or circles, either works. If you have a cookie cutter that size, that will work, but it's easy enough to free-hand the cutting. You could even trace around a bowl if you have one this size.
Fill the pies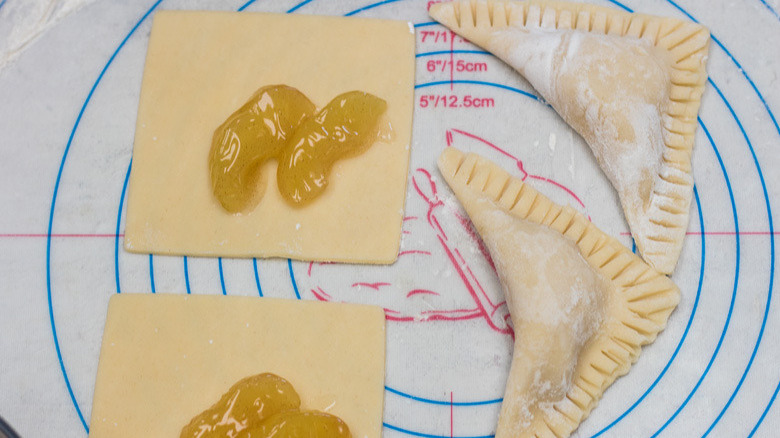 Angela Latimer/Mashed
When your crust is properly cut, you can start filling the pies. Place two slices of apple pie filling (plus some of the delicious juice!) into the square or round slightly off-center. You want to leave room to fold the crust over. You might have to pick two slices of different sizes to get them to fit, but just eyeball it as you go.
Place a few tablespoons of water in a small dish, and dip your fingers in it to seal the pies. Trace around the crust edge, and fold over to create the pie. Pinch the seams as you go around the pie, sealing everything into place. Use a fork to crimp the edges and really lock those apples in place.
Repeat these steps for all the pies you're making.
Finish the apple pies
Angela Latimer/Mashed
Now that all the pies are assembled, they need to be dressed up. Take your egg, crack it into a small bowl, and beat it. Add a drizzle of water, and using a pastry brush, brush the tops of the pies with the egg wash. Then use a sharp knife to cut vents into the top of the pies. 
Combine half a tablespoon of sugar and half a teaspoon of cinnamon in a small bowl, and sprinkle it over the tops of the pies for a little extra pop of flavor.
Time for the air fryer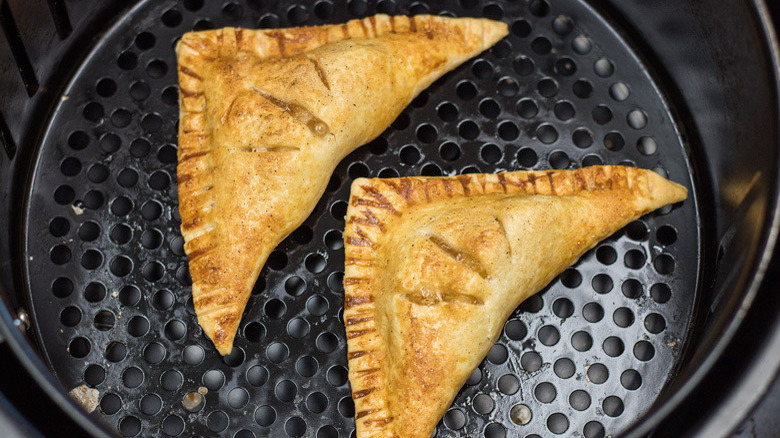 Angela Latimer/Mashed
Use a little bit of the oil of your choice to coat the basket or tray of your air fryer. Don't use an aerosol spray for this, but instead use a pastry brush or paper towel to coat the tray. 
Set the air fryer to 350 degrees Fahrenheit, and give it five minutes to heat up. If you have an air fryer that doesn't require preheating, you can skip right to cooking the pies. Place them two at a time into the basket or onto the tray (you can do one at a time if you have a small air fryer). Make sure they have some space between them and aren't touching the side of the air fryer. Cook at 350 degrees Fahrenheit for 10 to 12 minutes or until golden brown. 
Remove them with a spatula and repeat the cooking process until all the pies are done. You may also need to add more oil to your cooking tray or basket between batches.
Let's eat!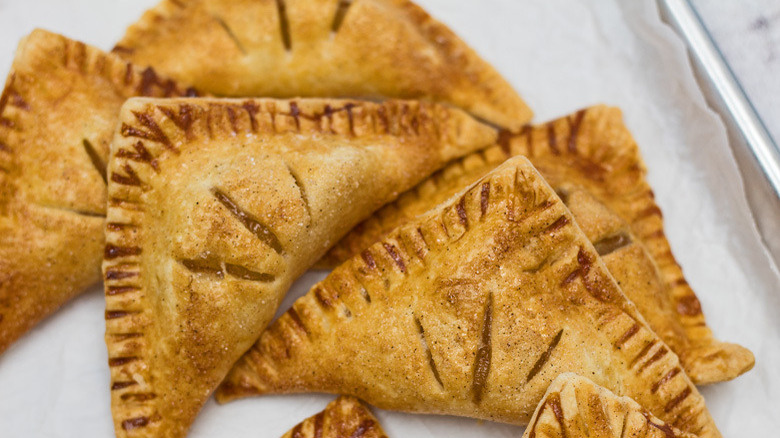 Angela Latimer/Mashed
These air fryer apple pies are best eaten fresh out of the fryer when they're toasty warm. We absolutely recommend a scoop of vanilla ice cream on the side and maybe some caramel drizzle on top! 
If you can't eat them all at once, though, you can pop them in an air-tight container and store them at room temperature for two to three days. Another option is to prepare the hand pies but freeze them before putting them in the air fryer. That way, you can grab them as needed from the freezer, thaw them, and put them right into the air fryer. If you go this route, skip the egg wash and cinnamon sugar before freezing, and do that step right before the air fryer. 
20-Minute Air Fryer Apple Pie Recipe
Making a pie can be such hard work, but with this air fryer apple pie recipe, you can have your pie without spending a ton of time working on it.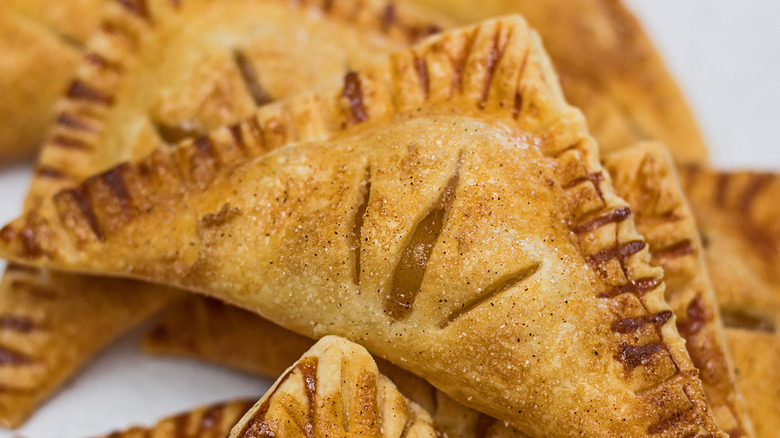 Ingredients
14.1-ounce package of ready-made pie crusts (2 sheets)
½ of a 21-ounce can of pie filling
1 large egg, beaten
½ tablespoon sugar
½ teaspoon cinnamon
Directions
Follow the pie crust package instructions to bring them to room temperature before starting.
Roll the pie crusts out and flatten to smooth using a rolling pin, if needed.
Cut the pie crust into 5-inch squares or rounds.
Place two slices of the apple pie filling into each square or round pie crust just off center from the middle diagonally.
Wet your fingertip and trace the bottom crust corners to moisten and seal the crusts.
Fold the dough over the filling and match up your edges, pinching the seam as you go. Then use the tines of a fork to crimp and seal the edges.
Repeat cutting, filling, and sealing with the second pie crust.
Combine the beaten egg with a drizzle of water, and use a pastry brush to coat the surfaces of the pie crusts.
Use a sharp knife to cut three vents into the center of each hand pie.
Combine the ½ tablespoon of sugar and ½ teaspoon of cinnamon, then sprinkle generously over each pie.
Coat the bottom of your air fryer basket or trays lightly with oil.
Preheat the air fryer at 350 degrees Fahrenheit for 5 minutes.
Place 2 hand pies into the air fryer basket at a time, making sure that they are not touching each other or the sides of the basket.
Cook at 350 degrees for 10 to 12 minutes until golden and the filling is bubbling.
Remove the air-fried pies using a spatula to a tray or plate and continue cooking in batches as needed.
Serve and enjoy.
Nutrition
| | |
| --- | --- |
| Calories per Serving | 302 |
| Total Fat | 15.0 g |
| Saturated Fat | 5.7 g |
| Trans Fat | 0.0 g |
| Cholesterol | 23.3 mg |
| | |
| --- | --- |
| Total Carbohydrates | 39.9 g |
| Dietary Fiber | 1.2 g |
| Total Sugars | 5.9 g |
| Sodium | 262.1 mg |
| Protein | 2.5 g |