The TikTok BBQ Hack That Had Gordon Ramsay Seeing Red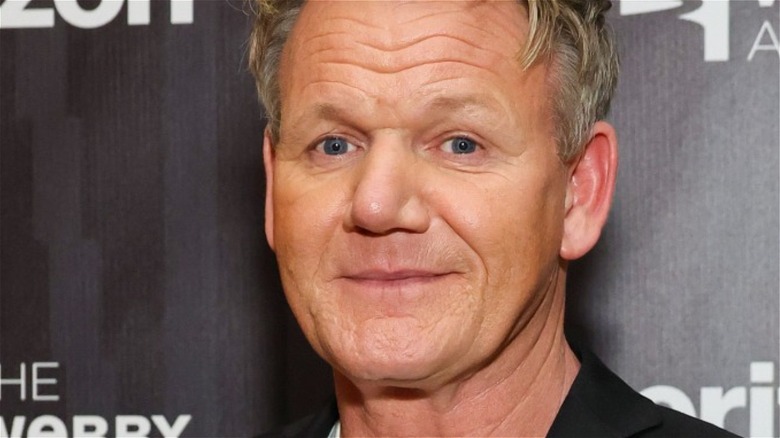 Mike Coppola/Getty
Gordon Ramsay has made a career out of roasting people's food on TV, so it's no surprise that the chef is doing the same thing on TikTok. Instead of having to watch a whole episode of "Hell's Kitchen" to see someone be called an idiot sandwich, the chef has made it more accessible with short videos. 
TikTok is clearly here for the chef's snide comments, because he has more than 33 million followers, and you'd be hard pressed to find a video on Ramsay's feed that has garnered fewer than 1 million views.
According to Insider, viewers may be connecting with these videos because they're more casual and less buttoned-up than the chef's TV shows. Plus, we doubt that anyone would be brave enough to make things like sandwich ice cream and hot dog Wellington on national television. Fans tag Ramsay in their wildest creations to get the most dramatic reaction out of him, and this BBQ hack video was no different.
Gordon Ramsay wants nothing to do with this dehydrated barbecue sauce
Gordon Ramsay shocked the world (or at least TikTok) when he said that he was eating "slightly vegan" and wanted people to send him vegan recipes. Mario of @veganrecipes accepted the challenge and tagged Gordon Ramsay in a video where he made strawberry fruit leather wrapped cucumbers covered in Chamoy and Tajín. Ramsay did not respond to this video, but he had thoughts about the creator's dehydrated barbecue sauce video.
In Gordon Ramsay's reaction video, he said that the final product looked like a "plate of dehydrated cow dung" and that it was "leathery and disgusting" (via TikTok). A few TikTokers agreed with the chef: "LoOkS gOoD? GET YOUR EYES TESTED!! Has me dead," said one user. 
But a surprising number of people disagreed with the chef and said they'd be willing to try the dehydrated sauce. "I disagree with you this time. It's portable and less mess," said one TikToker. "To be fair dehydrated barbecue sauce is delicious," said another TikTok user. "Doesn't fulfill the purposes of a sauce due to no longer being one, but delish!"