The NYC Takeout Fail That Has TikTok Cracking Up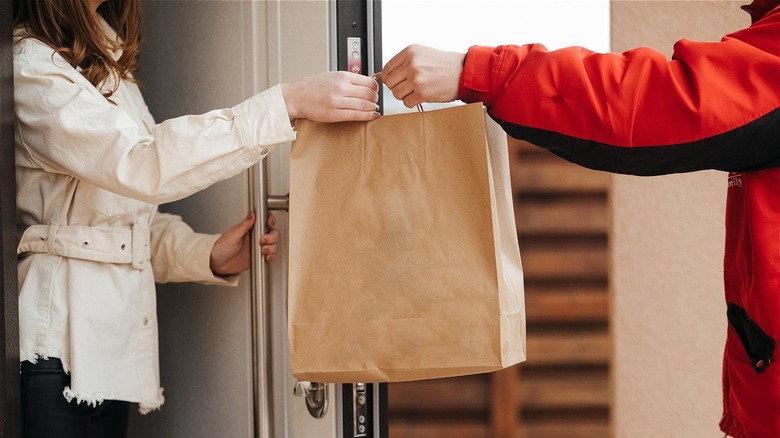 buryakphoto/Shutterstock
During the beginning of the pandemic, restaurants that may have never offered delivery before had to adapt to keep their customers and employees safe. While delivery is convenient for customers, it can be costly to the business and not all food travels well. If the business does not do the delivery in-house, some companies charge up to 30% in fees (via CNN). Not only that, but once the food is in transit, the presentation and integrity of the dish can be ruined.
It's easy to make huge mistakes when ordering delivery, but a few chefs gave Insider a helpful list of foods that are not delivery-friendly. Per the article, customers should avoid ordering salads, saucy noodles, and fried/breaded foods for delivery. On the other hand, chefs give tacos, casseroles, lasagna, soups/stews, and relatively dry noodles the green light for travel. Even if you do order a more travel-friendly food, the bumps and potholes along the way can leave you with a deconstructed meal, and not in a good way (via Reddit). Plus, even if you go pick up the food yourself as one TikToker did, you are not in the clear. They experienced firsthand that crazy things can happen between the restaurant and your house (via TikTok).
This TikToker's takeout got stuck in the door of a train
When a TikToker shared that their Korean BBQ Chicken dinner was stuck on the outside of the PATH (the train that runs between New York and New Jersey), a few people felt bad for them, but most of TikTok was cracking up about it (via TikTok). "I'm sorry this was the best laugh I ever had on this app," commented @_hotasapicket_. "I'm sorry this might've ruined ur day but this made my day I DIDN'T KNOW THIS COULD EVEN HAPPEN," said another TikToker. The video has over 9.2 million views, and people were invested in how the chicken tasted after its little joy ride.
The creator of the video, Zah, was happy to oblige, and posted several videos of the aftermath. The takeout somehow survived the train ride and when the TikToker tried it, he gagged. He admitted in another follow-up video that he has been to this place multiple times and usually loves the chicken, but after a ride outside the train, it tasted like fumes. TikTok was very invested in this chicken journey, and even though it is sadly over, we will leave you with this iconic comment from the first video: "now THATS some fast food," commented @toastyinfernal.