The Sneaky Food Swap That Had TikTok Laughing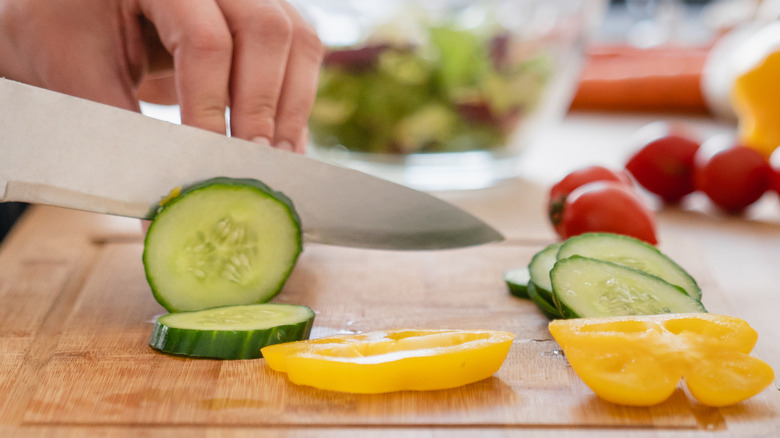 Inside Creative House/Shutterstock
Children becoming inexplicably bored with their food is a perfectly natural occurrence, according to Great Ormond Street Hospital for Children. The hospital estimates almost one third of young children could be dubbed fussy eaters, but they usually grow out of it to become more culinarily diverse.
One child's unwillingness to change their eating habits became a hit thanks to a viral TikTok video. The clip, which has been watched over 19 million times, was uploaded by TikTok user @charliegeter, and showed an adorable little girl enjoying a bowl of saucy food resembling pasta. However, her pleasure was rudely interrupted when the meal was suddenly swapped for a healthy portion of fruit and vegetables.
The girl — complete with sauce smeared all around her mouth and wearing a bright orange covering to protect her from further food mess — was distracted with a false claim that there was a "kitty cat" outside, but when she realized the dastardly food swap she was decidedly unimpressed. "What is this?" she said, staring piercingly toward the camera. Viewers reveled at how cute the child was, and fully sympathized with her shock at having her food changed.
TikTokers couldn't get over this adorable prank
The young girl's powerful stare in the viral food-swap TikTok video was gladly appreciated by fans, with many filling in what she might have been thinking. "Am I missing the joke?" was one guess, while another offered, "You think this is funny?" "I can't anymore with you guys," was a further suggestion. "You can't fool this baby," one viewer concluded, with another saying they "lost it" at the hilarious prank.
"It's the hazmat suit while eating pasta for me," remarked an admirer of the girl's keen eating habits. Many people observed the huge spoon used to eat the pasta, which one compared to a shovel. The vast majority of viewers were overwhelmed by the star's cuteness, making her yet another toddler that has TikTok obsessed with a funny eating video.
Another TikTok video from the creator revealed that the girl is named Charlie, and the TikTok account seems to be dedicated to her innocent charm, featuring clips of her hanging out with her family, living her best life, and of course, more meal time shenanigans — like when she first tried (and hated) cantaloupe in another sweet video.