Why Trader Joe's Is A Hotspot For Gen Z Date Nights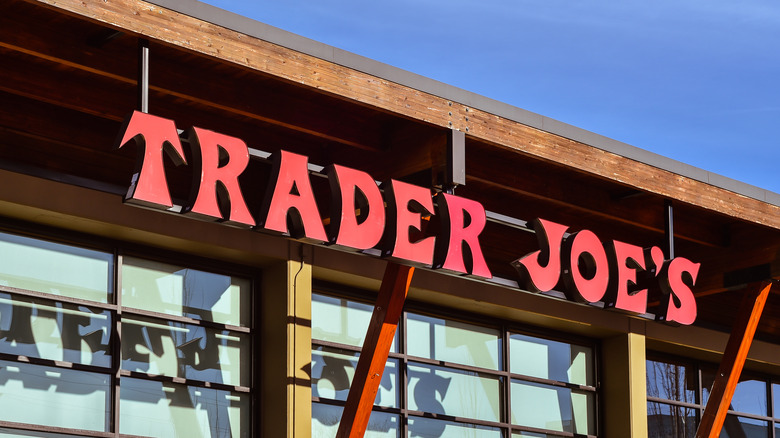 jejim/Shutterstock
Trader Joe's grocery chain has a loyal, cult-like following, especially among Gen Z'ers born between 1997 and 2012. According to a recent Axios Harris Poll 100, Generation Z believes that Trader Joe's is the most reputable company in the U.S., beating out 99 other popular companies like Tesla and Amazon. The company's popularity transcends demographics, landing in the top four amongst rural, urban, and suburban communities. Even Democrats and Republicans can agree on this.
Why did the grocery store chain score so high across the board? The poll considered factors important to that generation — trust, ethics, citizenship, vision, and culture. In a report by Deloitte, Generation Z expects companies to hold the same commitment to global and societal issues as they do and expect companies to demonstrate that. In return, they support companies they believe in.
After 60 years, Trader Joe's has kept their footprint small while chains swelled around them like ticks. With 80% of their products being a private label, the company can keep costs down, especially as food prices surge. Their quirky attempts at marketing appeal to younger generations, as do personal interactions, which are evident at checkout. Hand-written signs throughout the store and a Trader Joe's podcast make the store a "national chain of neighborhood grocery stores" (via Forbes).
Generation Z is the first generation to grow up fully digital. Although they have strong moral compasses, social media also has more of a say in their behavior. So when a trend goes viral with a company they support, the response is enormous — even when it comes to matters of the heart.
Trader Joe's date night is gaining speed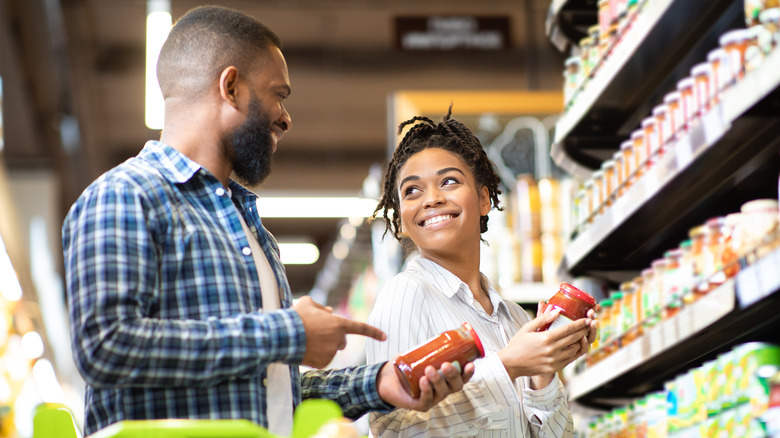 Prostock-studio/Shutterstock
Garnering nearly two billion views on TikTok, "Trader Joe's Date Night" is the newest viral trend for Gen Z. Kicking it old-school with Rock! Paper! Scissors! (or ro-sham-bo) couples are shopping the aisles of Trader Joe's, throwing down over who will get to choose each course for dinner. The trend began in March 2022 and has exploded as the hashtags #traderjoesdatenight and #traderjoesdatenightchallenge are popping up by the hundreds.
Although products vary by location, Trader Joe's appeal to Gen Z and their older counterparts, Millennials – with "healthy snacks with natural ingredients, more international flavors and spices, plant-based food, and healthy microwavable meals" in smaller packages — provides endless combinations of meal choices. Since many the products are frozen or refrigerated, dinner comes together quickly, making this a win/win for everyone. Couples compete over the beverage (yes, you can still find a wine for $4), appetizer, entree, side, and dessert.
This fun way to pick a meal is not just for romantic dates. Multigenerational "dates" have gotten into the fun too. If taking the kids grocery shopping isn't a nightmare, this sounds like a fun way to get kids interested. Be willing to have ice cream for dinner! Viewers love the videos commenting, "Show us the dinner," or "This is such a fun idea! I want to try this sometime." This isn't the first viral trend featuring Trader Joe's, however. In 2020, we saw "Pizza Date Night From Trader Joe's for Under $20." Since "I don't care," is usually the answer to, "What do you want for dinner?" this trend is a welcome change.