Twitter Is Going Berserk Over Gordon Ramsay's New Soccer Jersey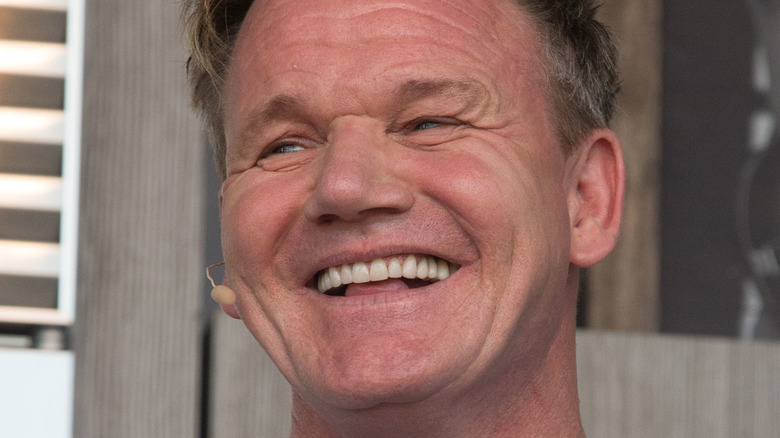 Sterling Munksgard/Shutterstock
Since celebrity chef Gordon Ramsay is so passionate about his craft, many people would probably assume that he has wanted to be a chef since childhood. Fans may be surprised to learn that Ramsay's first dream was to become a professional soccer player (or on his side of the Atlantic, football). "'My uncle Roland took me to my first game at Ibrox," he told The Guardian's Observer Sport Monthly. "I was seven and I went on his shoulders. The crowd was just phenomenal." Ibrox Stadium is home to Rangers FC, who later scouted Ramsay for the team when he was merely 15 years old, according to his autobiography (via The Sun). The "MasterChef" host explained to Observer Sport Monthly that he was a standout player because of his speed and aggressive tackling.
His aggressive style came at a price, though. A few games into his trial with Rangers FC, Ramsay tore his cruciate ligament and was let go from the team as a result. Although he was heartbroken, the "Hell's Kitchen" star partially credits his high standards in the kitchen to his coach Jock Wallace, who let him go without a second thought. Ramsay is still a fan of the sport to this day and has even competed in a few matches for charity (via Daily Mail). The ultimate honor, though, was when Rangers FC recently gifted him his very own jersey (via Twitter).
Fans hope that Gordon Ramsay will see some playing time
You can tell that Gordon Ramsay was feeling nostalgic when he recently toured the Rangers FC's training facility (via Glasgow Live). Since Ramsay's pursuit of a professional soccer career was cut short, the chef was clearly honored when the team presented him with his very own jersey (via Instagram). The football club posted a few photos and videos from the chef's visit on Twitter, and fans were clearly excited about it. "Both the best in the world at what the [sp] do for a living," commented one fan on a video of Ramsay meeting Rangers FC's captain, James Tavernier. "Best Ramsay to ever wear a rangers top," replied @eck_mowbray.
Although the jersey is clearly for show, some fans think that signing the celebrity chef would actually be a good idea. "I mean intimidation factor from him if he's in Hell's Kitchen mode," replied @jackh670. "Now this is a ramsay signing I can get behind," commented another fan. Although the 55-year-old chef is no young buck, he may actually be able to hold his own on the field since he runs marathons and has completed several Ironman triathlons (via Daily Mail).