Gordon Ramsay Says He Almost Became A Professional Player In This Sport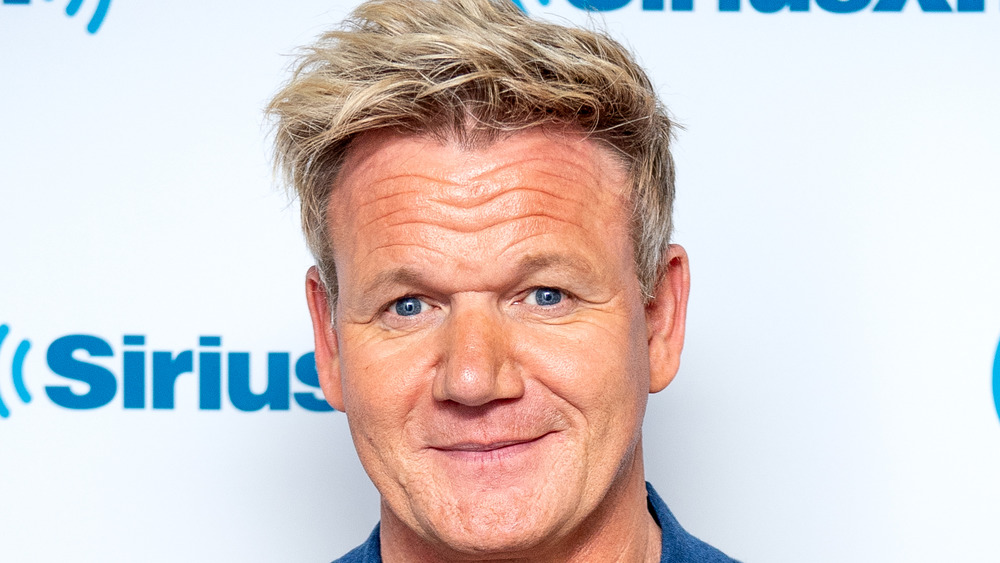 Roy Rochlin/Getty Images
Gordon Ramsay is an internationally recognized chef with a laundry list of accolades and accomplishments including a string of Michelin-starred restaurants throughout the world and several successful television shows. But, if all went according to Ramsay's original plans, his career — and life — would have been completely different.
As a boy growing up on the outskirts of Glasgow, Scotland, Ramsay became a soccer (known as football in the UK) fan early on. The chef recalled his first game to Observer Sports Monthly. "My uncle Roland took me to my first game at Ibrox. I was seven and I went on his shoulders. The crowd was just phenomenal."
When he was about ten, Ramsay's family moved to Stratford-upon-Avon, England. The town, best known for being the birthplace of William Shakespeare, was where young Ramsay started playing soccer.
Ramsay played soccer in school, getting quite good at the game. The chef recalls to The Guardian that he was fast and adapted quickly. "I was a naturally aggressive left-back, a cut-throat tackler. You may have got past once but there was never, ever, ever a second occasion. And I was fast, I was a great 100 meter sprinter."
At age 15, Ramsay was spotted by a scout for his favorite team, according to Goal. Ramsay showed such promise at soccer, that his parents moved back to Scotland so their son could have a shot at signing with the Rangers Football Club. He trained with the club's youth academy, with the hopes of making it to the team in the future.
An injury squashed his soccer dreams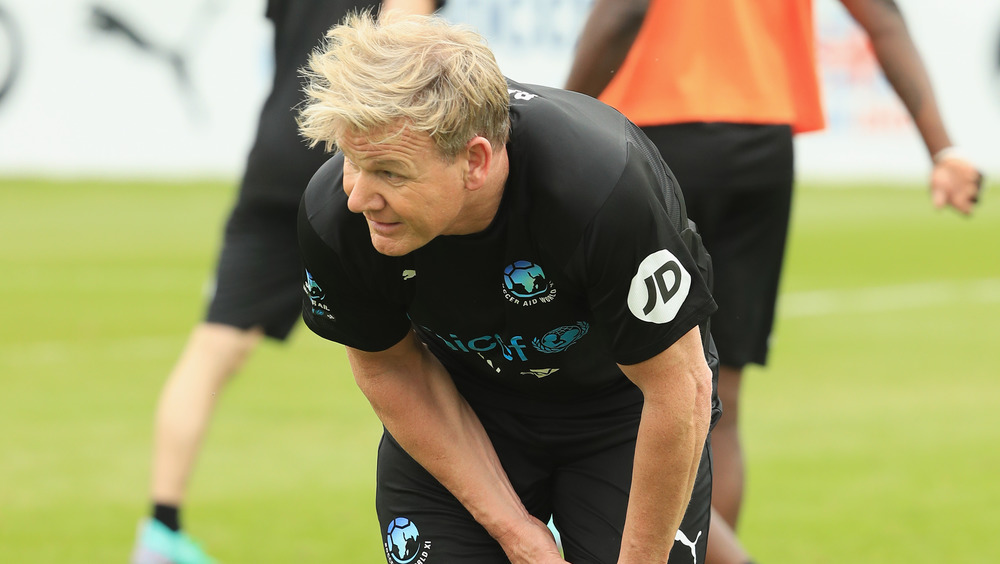 Andrew Redington/Getty Images
Ramsay's father, a fan of Rangers Football Club, was particularly happy with the young footballer-in-training, he shared with Goal, "My dad was a Rangers fan and fantastically proud of me." Still, the training was tough and the games were "violent," according to Ramsay. 
He persisted with training, but soon started racking up injuries, including a tear to his cruciate ligament and damage to his knee cartilage. According to the The Sun, his training with the Rangers lasted only a few months, though he did play a few non-league trial matches with the team, reports Goal. 
With his football career looking bleak, Ramsay was forced to make a decision about his future. He enrolled in the hotel management program at North Oxon Technical College in Oxfordshire, England and graduated in 1987, according to Britannica. 
Biography notes that Gordon Ramsay worked with some of Europe's best toques, including an apprenticeship at Harvey's in London under chef Marco Pierre White, and with Joel Robuchon in France before being tapped as the head chef for London's Aubergine in 1993. Under Ramsay's helm, the restaurant earned a two-Michelin-star rating. 
Gordon Ramsay still loves soccer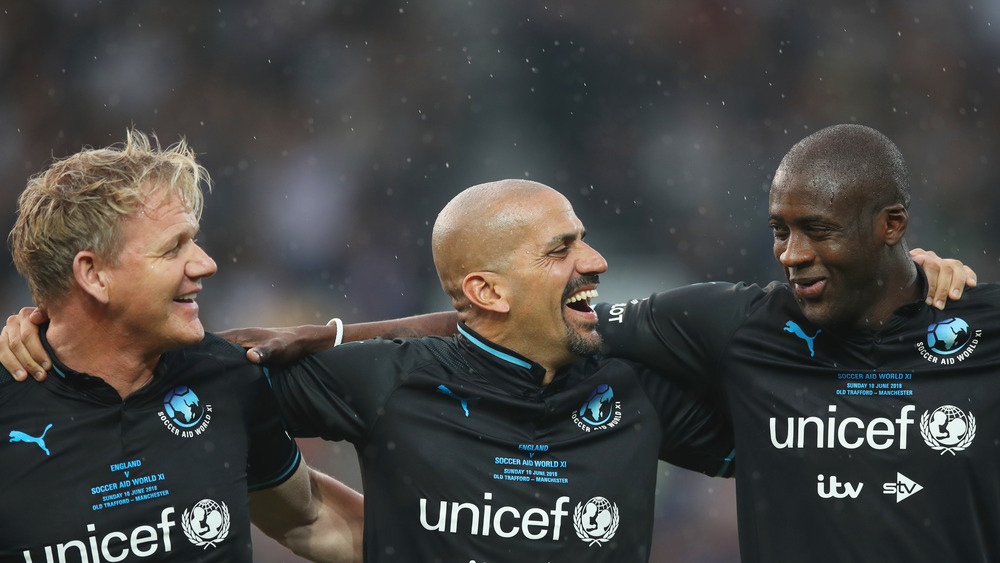 Lynne Cameron/Getty Images
Ramsay's culinary career continued with great success. The chef is also a television celebrity and pop culture icon. According to his official website, the chef's television shows, which include Hell's Kitchen, Kitchen Nightmares, and Hotel Hell, can be seen in more than 200 countries.
Ramsay is also the author of several books and owns and operates multiple restaurants across the world, from the UK to Singapore. The chef, and his wife have also founded the Gordon and Tara Ramsay Foundation which focuses on raising funds for the Great Ormond Street Hospital Children's Charity in London.
Though the chef has a seemingly grueling schedule, he still finds time for athletic pursuits. He's run several marathons including the London Marathon, the Los Angeles Marathon, and an Ironman in Hawaii, according to Celebrity Marathon Times.
And, though Ramsay didn't quite make the team as a pro footballer, he remains an avid fan of the game. Ramsay still follows his beloved Rangers. The chef has even donned a jersey to participate in charity football matches, including one in 2012 in which he was taken to a hospital for injuries he received at the game, according to the Daily Mail. This might prove, once and for all, that Ramsay belongs in the kitchen and on the small screen rather than the football stadium.