The Real Reason Ina Garten's First Cookbook Isn't Great For New Cooks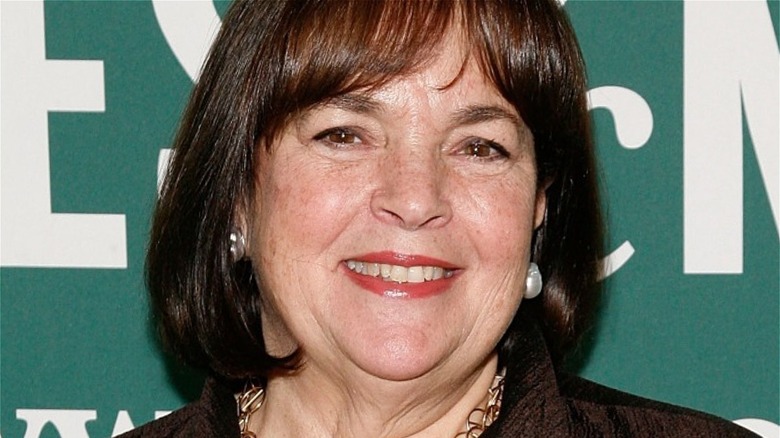 Andy Kropa/Getty
We may receive a commission on purchases made from links.
Although the last few years have been difficult for everyone, one good thing that came out of the pandemic is more Ina Garten on social media. The lovable celebrity chef, with a cult following of celebrities (T.Swift, Gwyneth, even the Duchess of Sussex) and we mere mortals, had shown us her wry sense of humor when we needed more laughs in our lives, resulting in a million new followers for the Contessa on Instagram (via The New York Times).
Since 1999, Garten has published a baker's dozen cookbooks under the Barefoot Contessa name. According to Epicurious, the former gourmet food store owner finds inspiration for her recipes from her travels, eating at friends' homes, or a dish she bought at a food market. Each cookbook has a theme that consistently focuses on the casual entertaining Garten is known for.
The Barefoot Contessa website is a one-stop resource for everything you need to entertain successfully. Aside from her recipes, Garten has included her favorite products, how she likes to set the table, flower arranging, and even playlists on Spotify and Apple Music to set the mood. Can't you picture Garten dancing to "I'm So Excited" by the Pointer Sisters? It's on her "Dance Party" playlist.
With the newest cookbook, "Go-To Dinners," scheduled to come out in October 2022, Delish looked at the 12 predecessors, examining how each cookbook appealed to a different home cook and assigned a superlative to each one. Comfort food obsessed? Leftover lover? Aspirational chef? There's a cookbook for us all.
The Barefoot Contessa Cookbook might be too advanced
Of all the cookbooks Ina Garten has published, her first book, "The Barefoot Contessa Cookbook," is too advanced for new cooks and geared more toward the "seasoned" home cook, according to Delish. Published in 1999, the cookbook preserves the recipes customers requested from her Hamptons gourmet food store. Filled with twice as many beautiful photographs as recipes, the inaugural cookbook elevates the comfort foods we are familiar with.
Homey recipes like the perfect roast chicken and meatloaf fill the pages, but with Garten's spin. Garten takes the cold-weather-classic pot pie of our childhood and fills it with lobster meat instead of the familiar chicken. She creates a decadent crab cake with rémoulade sauce that requires over two dozen ingredients, yet according to The New York Times, each recipe is tested a dozen times before reaching publication, so you know it's going to be good.
Delish's most critical remark of the cookbook is that it's geared more for those with "grills, stacked ovens, and/or space to host." Not surprisingly, the Contessa disagrees with Delish's assessment and tells fans that "The Barefoot Contessa Cookbook" is filled with easy recipes and that she recommends it for beginner cooks.
Laid out by courses but also events like "The Cocktail Party," Garten provides a blueprint for home cooks who want to achieve the same relaxed atmosphere that Garten exudes in her cooking shows. With personal notes throughout the book, Garten tries to simplify the recipe and provides tips for doing things ahead of time. How easy is that?