Why Instagram Roasted Gordon Ramsay For His 'Raw' Roast Beef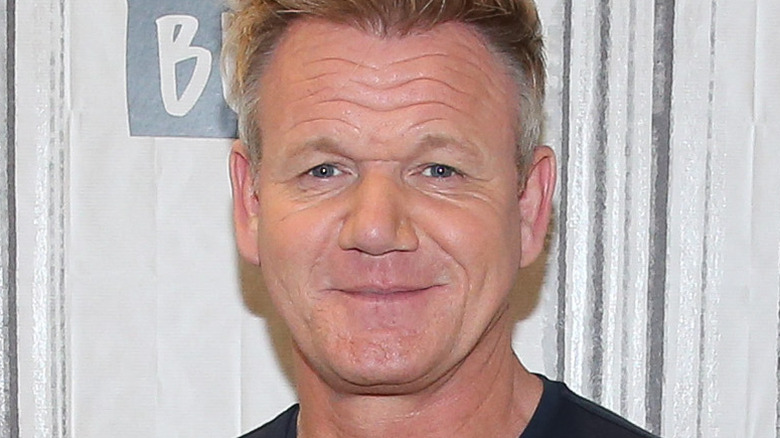 Rob Kim/Getty Images
For anyone living in the U.K. and Ireland, one day of the week is especially beloved for all who like to eat well. Yes, it's Sunday, and the meal is known as Sunday roast. Incidentally, it's the classic British meal that the famous singer Adele makes every Sunday. The tradition of roasting meat on Sundays dates back centuries and the type of meat can vary — beef, pork, lamb, and chicken are all equally good, but roast beef is the most popular option (via The Spruce Eats). 
Once the meat has been roasted to perfection, it's typically accompanied by tasty sides such as Yorkshire puddings, roast potatoes and vegetables, and delicious, often quite thick gravy that's poured over the meat before serving. Interestingly enough, roast lamb is usually accompanied by mint sauce instead of gravy. And come Christmas, roast turkey is a must-have on the festive table. 
Famous chef and TV personality Gordon Ramsay is no stranger to Sunday roasts. Ramsay's restaurants' website shares many types of Sunday roast recipes, and there is even a vegan roast, called vegan beet Wellington. But now, it seems like the king of roasts got roasted himself, and it all happened on Instagram.
The beef in Gordon Ramsay's Sunday roast looks very raw
Chef Gordon Ramsay shared a video on his Instagram and captioned it, "Sunday wouldn't be complete without a roast!!" In the short video, we can see a typical Sunday roast served in his London Bread Street Kitchen and Bar: a piece of roast beef accompanied by roast potatoes, carrots, Yorkshire puddings, and a jug of gravy that's poured over the beef (per GB News). Looks pretty yummy, although Ramsay's followers were quick to comment on the doneness of the meat. 
Apparently, it looks raw to most people, who commented things like, "Alright bro enjoy yo raw ... meat," "Put that on a field and it will start eating grass," "More like a rawst," and, "Jeez, that's definitely raw." Wow, talk about an actual roast, and we're not even on Comedy Central. The comments poke fun at one of Ramsay's most popular catchphrases — "It's raw." The phrase became a meme after the chef said it on the cooking competition reality show "Hell's Kitchen" (via ScreenRant). However, there were also a few positive comments such as "Yummy" and "Looks great." So who should we believe, the chef or his Instagram followers? Regardless of the positive and negative comments, it looks like this time we got two roasts instead of just one.