The Tortilla Chips That Are Utterly Disappointing Aldi Shoppers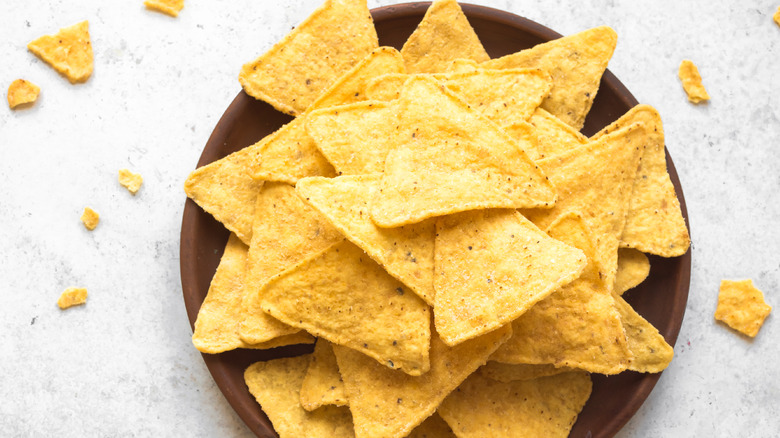 Oksana Mizina/Shutterstock
One major reason why so many people love Aldi — aside from its notoriously low prices — is its exclusive products. People stalk social media and the number of Aldi fan accounts on Instagram just to keep tabs on what the grocery retailer has most recently released. There's a vast selection of flavored cheeses and the even greater selection of unique frozen meals. One in-house Aldi brand is Clancy's, which produces all kinds of chips and salty snacks. Clancy's is much cheaper than what you might find in the grocery store from a bigger snack brand like Lay's or Tostitos, for instance. According to Kiplinger, a 10-ounce bag of Clancy's chips costs about $1.88, compared to a $3 8-ounce bag of Lay's.
However, Kiplinger cautioned against buying Clancy's after taste-testing the kettle chips, saying they weren't worth even the lower price. It seems that many other shoppers agree. In a recent Reddit thread, people shared their dislike of the brand's new Texas Seasoned Tortilla Chips.
People aren't a fan of the Texas flavor
It seems that Aldi shoppers aren't exactly thrilled about the new Clancy's Texas Seasoned Tortilla Chips. On Reddit, the original poster shared a photo of the bag, leaving only the snarky caption, "Texas isn't even palatable as a chip." Other Redditors quickly chimed in with their own opinions, many of which were very negative. "Tried them and they were awful," one person wrote, while another added, "These just taste like corn and salt." Someone else noted that the flavor of the chips was like under-seasoned Doritos. Others commented that the texture was off — one person said they tasted stale while another said they were too crunchy.
However, not everyone hates the chip. Blogger Aldi Reviewer shared its opinion of the Texas Seasoned Tortilla Chips and said they're flavorful without being spicy. According to the blog post, the gluten-free chips are sprinkled with lime zest, garlic powder, cumin, paprika, and salt and pepper. A 20-ounce bag currently costs $2.99 at Aldi and contains 20 servings of chips.