Would You Pay Four Figures For One Of The Last Choco Tacos?
The Choco Taco has officially made its unprecedented exit. On July 25, Klondike, the company responsible for producing the delicious treat, announced that it has discontinued the Choco Taco. When a fan tweeted at the company regarding the rumors, Klondike wrote on Twitter, "Sadly the Klondike Choco Taco has unfortunately been discontinued in both 1ct and 4ct pack sizes." Klondike referred to the discontinuation as a "tough" decision to "ensure availability of our full portfolio nationwide," but it stood firm in replying to plenty of fans' tweets about the treat leaving shelves.
When products get discontinued, they might remain in stores for a period of time afterward, since those stores have to sell out of the product before it can truly be considered gone. But after hearing Klondike's decision, people have already taken to the internet to start selling some of the last Choco Tacos to ever hit the market. How much would you pay for one?
Klondike's Choco Taco is selling for $1,000 online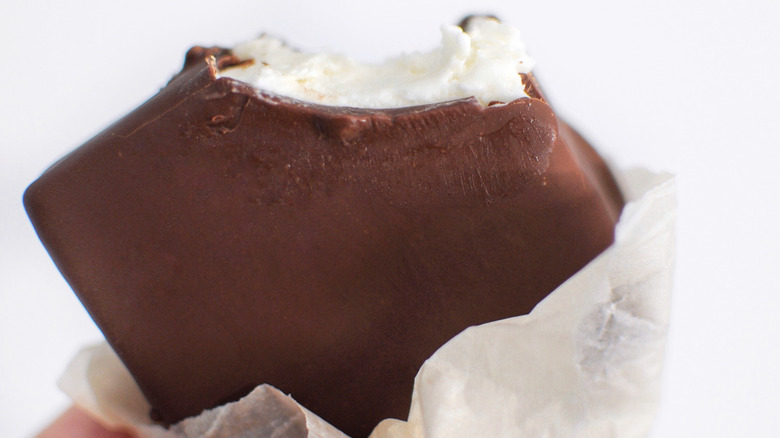 Linda Szeto/Shutterstock
For those who are serious about satisfying that Choco Taco craving one last time, look no further than eBay. The online sales website has the dessert listed for as much as $1,000, should you choose to avoid the bidding process and select the "Buy Now" option. You can bid as little as $375 for that particular Choco Taco, or purchase one outright for $875 on another listing.
Based on consumers' reactions to the news, it's possible that someone might be willing to fork over the cash to have one last chance at eating the chocolatey treat. Reddit users took to the platform to discuss the discontinuation, with one user poetically writing, "I thought it would be here forever, and I always told myself I'll have one later but later is here and a choco taco is not." Despite fans' disappointment, it doesn't look like the Choco Taco is planning to return. Klondike added in a tweet that they had to make the decision despite, "when we hear from fans like you who really enjoyed it."