Trader Joe's New Chicken Offering Has Shoppers Excited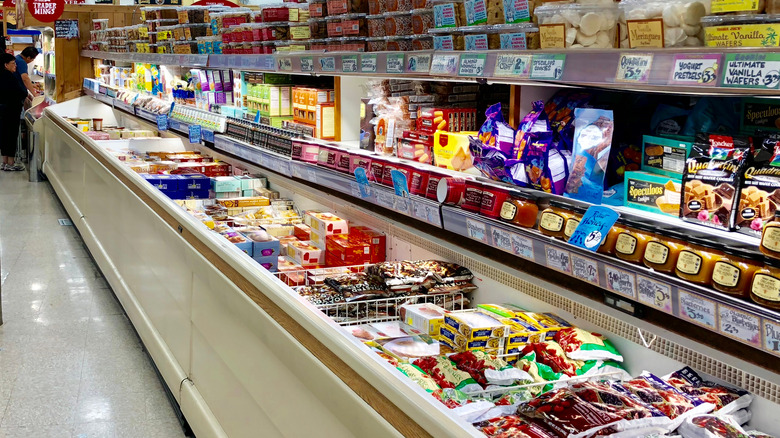 Cassiohabib/Shutterstock
While hamburgers and hot dogs may be thought of as iconically American, the United States eats more chicken than any other meat (per World Atlas). This shouldn't come as a shock given that people across the U.S. will fry chicken for sandwiches, grill chicken to toss into their salads, and have long been putting chicken on their waffles – which ultimately results in the country collectively munching through about 8 billion chickens every year, per The South Florida Reporter.
But Americans aren't fueling their love for chicken alone. There are plenty of grocery stores with an array of preprepared chicken-based foods that have become favorites for many shoppers. However, those who enjoy high-quality ingredients may find that they prefer shopping for their chicken needs at a grocery chain so popular, it has its own podcast. We, of course, are referring to Trader Joe's. The grocery chain has garnered chicken fans in the past with products like its Organic Free-Range Chicken Stock, but its newest poultry item may very well be its next fan-favorite.
Shoppers are drooling over Trader Joe's Chicken Meatballs
Have you ever thought that chicken and meatballs were a match made in meat heaven? Because Trader Joe's certainly has. Trader Joe's List, an Instagram account dedicated to the latest finds at the grocery store, recently revealed the addition of chicken meatballs to stores. According to the item's packaging, the product is pre-cooked and pre-seasoned with notes of basil, oregano, garlic, and onion. It's also gluten-free and made from antibiotic and hormone-free chicken. According to post, four chicken meatballs pack 16 grams of protein — making it a great snack.
Although the new item has only been in stores for less than a week, it seems to be gaining a lot of popularity among customers. Trader Joe's shoppers shared their excitement to dig in to the new dish on social media. One user commented, "Can't wait to try these! Yay for paleo options!!!" Another person wrote, "clean ingredients I'll have to try!" For around $4, you can give these delicious meatball bites a try for yourself without breaking the bank. And it looks like this chicken product won't leave shoppers divided. We just hope this item doesn't unexpectedly vanish from Trader Joe's before we can give it a try.