The Unexpected Ingredient That Will Majorly Upgrade Your Key Lime Pie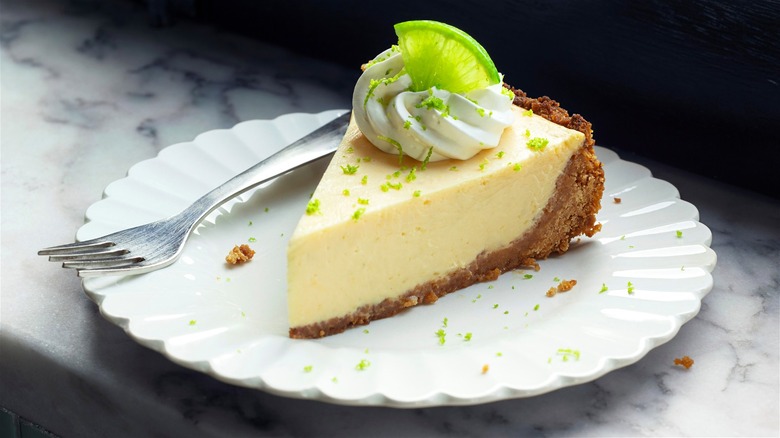 viennetta/Shutterstock
Summer is here, and people are gathering together on weekends or holidays to enjoy pool parties, beach hangs, and most importantly, outdoor meals. With all the seasonal dessert options available, there's nothing like a fresh key lime pie in all its creamy citrus glory that simply goes hand in hand with summer get-togethers.
Yes, you could buy the popular Costco version, which made its much-welcomed return to warehouse shelves, but there's something extra-rewarding about following a simple key lime pie recipe at home.
The emergence of key lime pie is a contentious one. But regardless of where the first recipe came from, what makes this favorite dessert unique — beyond the tartness and the creaminess of sweetened condensed milk — is the light, yellow-colored filling thanks to the subtleness of key limes (per What's Cooking America). You may know that regular limes and lime juice are common substitutes for key limes, but there is one ingredient you may be unaware of that has the potential to bring this iconic classic to the next level.
Key lime pie gets an upgrade with white chocolate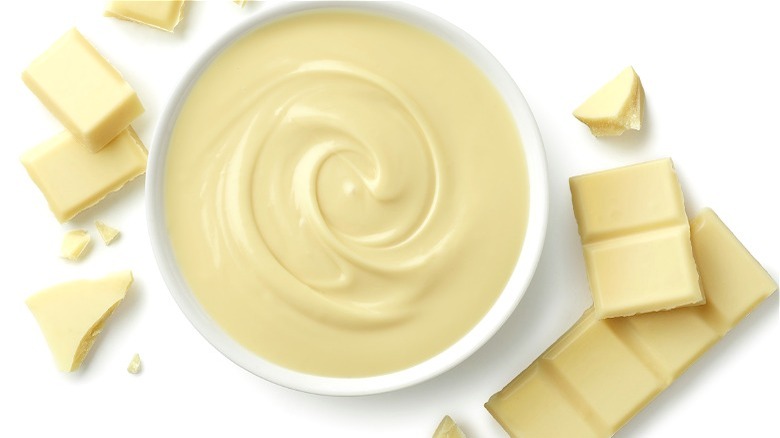 baibaz/Shutterstock
There are many different methods out there for creating the perfect key lime pie. But the addition of one decadent ingredient can make that citrus flavor stand out. White chocolate is made with cacao or cocoa butter, which is the fat derived from cocoa beans, then mixed with sugar, milk solids, and sometimes lecithin (per Britannica).
While there's some debate in the culinary world about how white chocolate isn't actually chocolate, some chefs believe the debate over white chocolate ends in procuring bars with minimal ingredients, per The Washington Post. According to the Post, chocolate bar creator Denise Castronova believes white chocolate is "a good medium in which you can play creatively with flavors and texture."
Speaking of flavor, white chocolate traditionally works well with fruit due to its subtleness. P Magazine suggests using acidic fruits for white chocolate pairings to balance the milkiness with tart flavors. This has proven to be true for limes — one unique pie was a finalist in the Nestle Kitchens Pie Contest a few years back, and certain chefs continually pair white chocolate with lemon to create a dynamic duo.
While there are ample pie recipes out there, key lime pie is distinct for its tangy citrus flavors and creamy sweetness. Consider adding some white chocolate to the filling of your next zesty creation. If fear is holding you back, shaving some white chocolate onto that fresh whipped cream topping will also do the trick.