The Returning Costco Dessert That Has Instagram Blowing Up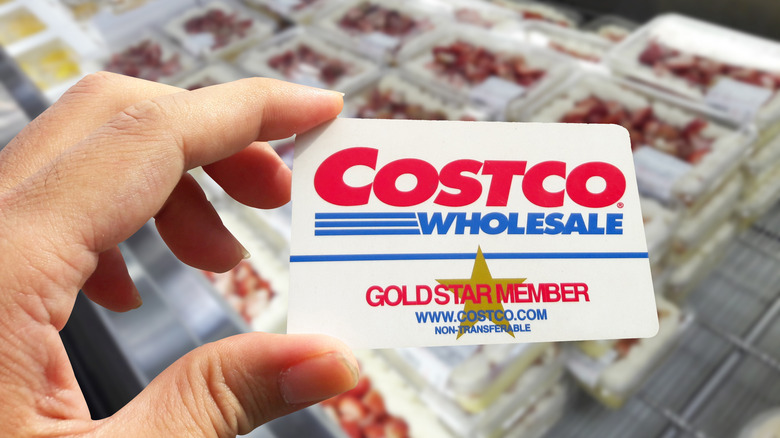 Andy.LIU/Shutterstock
if there's one absolute truth about Costco, it's this: When its customers love a product and stores stop carrying it, loyal patrons take to social media to share their thoughts of sadness when it leaves and their feelings of jubilation if it returns. For example, when Costco's sheet cake unexpectedly vanished from shelves, fans took up a petition for its return, per NBC Bay Area. This cake made a quick comeback, at least by way of special order, to thunderous applause from Twitter.
When Costco's beloved hot dogs were listed as out of stock, albeit temporarily, the retailer's loyalists ran to Reddit to share their dismay. And of course, when Costco's chocolate-covered strawberries found their way back onto shelves for a couple of weeks around Valentine's day, social media users were eager to give fellow members a joyous heads-up. Costco is known for those devoted voices. 
As luck would have it, a favored dessert is making its way back into the bakery, and the folks on Instagram could not be more excited. Given the timing, it wouldn't be surprising if this summer favorite graced many a backyard picnic or cookout table as summer celebrations get underway.
The massive pie weighs more than four pounds
Per a June 21 post from the Costco Buys Instagram account, the membership-driven retailer's Kirkland Signature Key Lime Pie is no longer a distant memory for fans. Costco has brought back the oversized pie, which weighs a whopping 68 ounces (or 4.25 pounds), just in time for the firework-filled festivities of the Fourth of July. And Instagram is all too excited. 
Costco Buys shared a video of the pie, humorously set to a seductive, instrumental version of Justin Bieber's "Yummy." The bulk buying influencer noted that this tangy dessert has a buttery graham cracker crust and sells for $15.99 at their location.
One pie enthusiast declared that "this is how we eat our feelings this week." Another follower posted a crying emoji and wrote, "My family voted for the chocolate cheesecake over the key lime pie and I'm so hurt." No need for tears, only forks. Still, others shared how they wished Costco had a smaller version of this key lime heaven, typing, "I really wish Costco would do 1/2 pies. We are not a large family and it would be wasteful to buy one." Naturally, the community had a solution: Eat half and freeze the rest for future nibbling. Problem solved.
The key lime pie has long been a fan favorite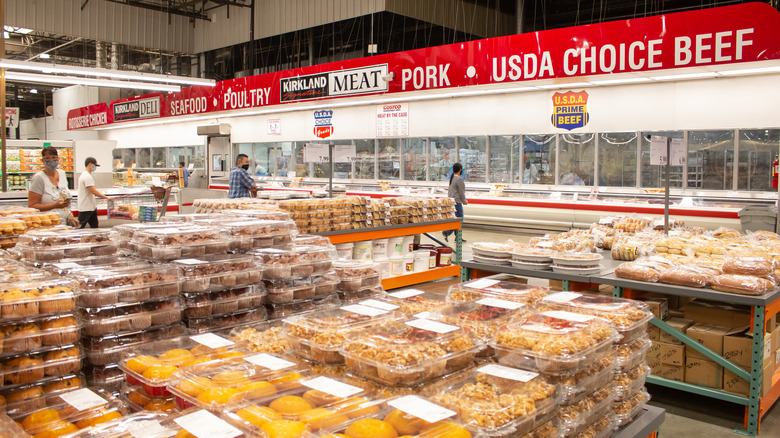 The Image Party/Shutterstock
When Redditors weighed in on the quality of Costco's key lime pie in 2021, user ieatoatmeal exclaimed, "Oh it's wonderful!! I ate an entire one by myself a few years back, but I haven't been able to find it the past 2 years." The only taste-related complaint customers seemed to have was with the pie's generous whipped cream topping, with some shoppers noting that they scraped some of it off.
And as with the comments on the Costco Buys Instagram post, some users expressed their interest in a smaller version of the Costco treat. It's not a problem unique to the key lime pie, though. "... That Tuxedo cake always beckons to me, but I cannot in good faith get it when I will only eat 2 or 3 pieces out of the whole thing and be left with like 75% of it just sitting there," Redditor Anomaly1134 noted.