Lemony Grilled Asparagus Recipe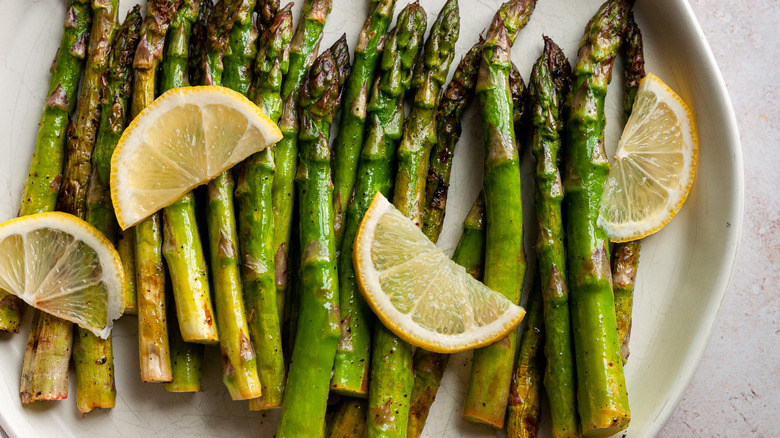 Christina Musgrave/Mashed
Who doesn't love a nice, heaping side of asparagus? When the summer months roll around, a few key things come to mind, and grilling is definitely at the forefront. Let's be honest — summer and grilling are basically synonymous, and asparagus is one of the most incredible veggies you can cook on the grill. There's just something about the flavor and the char marks from the grill grates that make it incredibly tasty. To go along with the wonderful taste, we should also mention that asparagus is good for you because it has plenty of health benefits. According to Healthline, this green veggie is an excellent source of antioxidants and helps improve digestion, thanks to its high fiber level. This means you can feel good about eating it. 
Recipe developer Christina Musgrave of Tasting With Tina came up with this lemony-fresh recipe that we all can appreciate. "I love that this recipe is easy and makes restaurant-quality asparagus. It's so delicious," Musgrave raves. "This is great for an easy weeknight dinner, grilling out, or even as a side for a steak dinner."
Gather the ingredients for this lemony grilled asparagus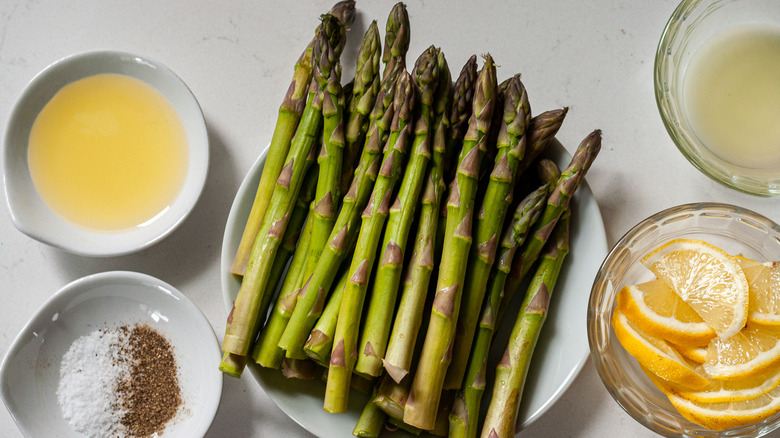 Christina Musgrave/Mashed
Preheat the grill and season the asparagus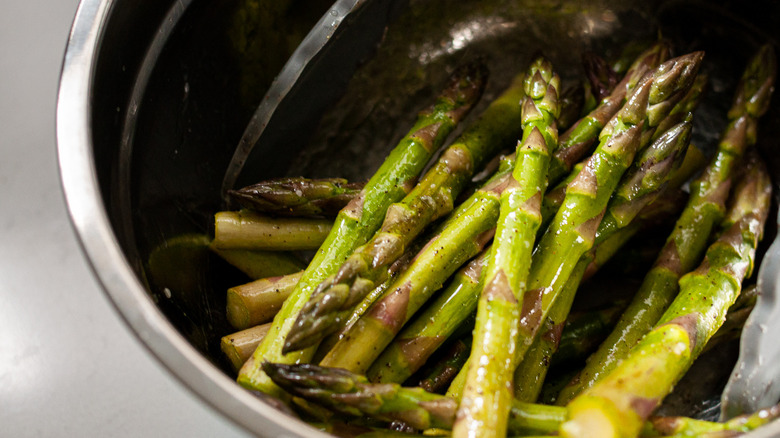 Christina Musgrave/Mashed
As the recipe indicates, you will use a grill to make the asparagus, so go ahead and preheat it to medium.
While the grill heats up, take out a large bowl and add the asparagus. Next, toss in the olive oil, lemon juice, salt, and pepper. Give the bowl a few good tosses to coat the asparagus in all the yummy spices, lemon, and oil.
Grill the asparagus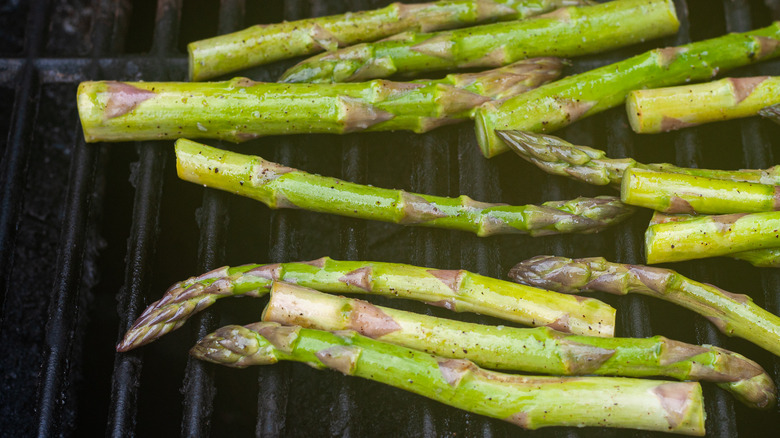 Christina Musgrave/Mashed
Believe it or not, it's already time to throw the asparagus on the grill. Do a quick check to ensure it's preheated, and toss the asparagus on. Cover and cook for about 5 to 10 minutes. You can tell it's done once the asparagus becomes tender.
Why grill asparagus?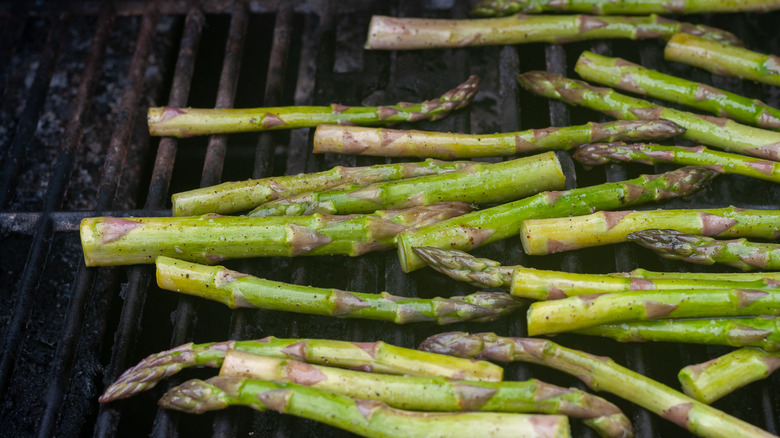 Christina Musgrave/Mashed
When it comes to cooking asparagus, there are plenty of different methods for cooking it, like in a pan or in the oven. However, Musgrave explains why she loves to using a grill instead. "Grilling is super easy and gives this asparagus a restaurant quality taste," she shares.
Serve your lemony grilled asparagus
Christina Musgrave/Mashed
Once you remove the asparagus from the grill, you can plate and serve as you wish. Be sure to add some lemon wedges on the side because the more lemon, the merrier! "This is great with grilled chicken, steak, or sausage. This asparagus is also a great side with pasta or risotto," Musgrave shares. It also makes a healthy snack as well. 
Lemony Grilled Asparagus Recipe
With summer in full swing, there's no better side dish than this lemony grilled asparagus.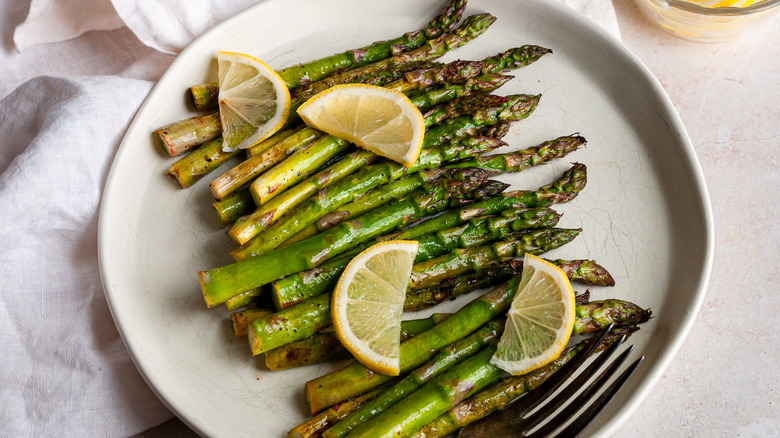 Ingredients
1 pound asparagus, ends removed
1 tablespoon olive oil
1 teaspoon lemon juice
½ teaspoon salt
½ teaspoon black pepper
Optional Ingredients
lemon wedges, for serving
Directions
Preheat the grill to medium heat.
Combine the asparagus, olive oil, lemon juice, salt, and black pepper in a large bowl. Toss well.
Add the asparagus to the grill, and cover for 5 to 10 minutes, until the asparagus is tender.
Serve with lemon wedges.
Nutrition
| | |
| --- | --- |
| Calories per Serving | 54 |
| Total Fat | 3.5 g |
| Saturated Fat | 0.5 g |
| Trans Fat | 0.0 g |
| Cholesterol | 0.0 mg |
| | |
| --- | --- |
| Total Carbohydrates | 4.7 g |
| Dietary Fiber | 2.5 g |
| Total Sugars | 2.2 g |
| Sodium | 275.4 mg |
| Protein | 2.5 g |