The Hotel With A Champagne Phone In Every Room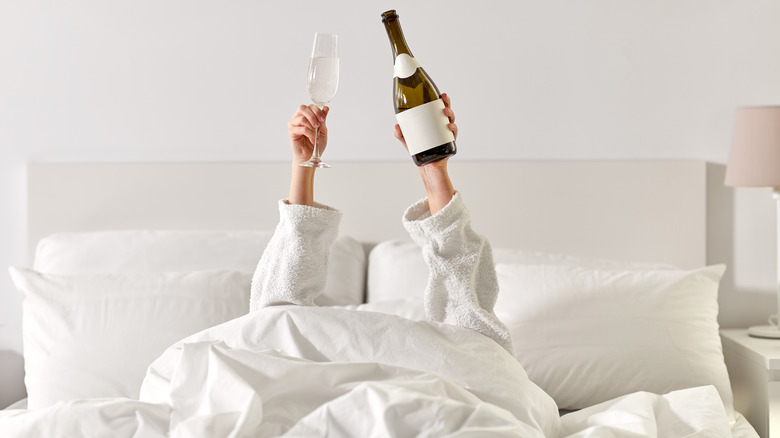 Ground Picture/Shutterstock
Thanks to steep competition within the travel industry and a more discerning public, hotels have been forced to find fresh ways to set themselves apart from the crowd and attract new clientele. As a result, weary travelers can now rest their heads in a mind-blowing array of creative venues. 
One hotel, for instance, boasts onsite giraffes. Yes, if a Kenyan safari is on your bucket list, Giraffe Manor may be the ideal lodgings with a group of giraffes making regular visits, sticking their heads in the windows for snacks. Do you long to go on a cruise but suffer from motion sickness? South Korea's Sun Cruise Resort is an actual cruise ship built on land that promises the "most beautiful sunrise in the world." Are you a bookworm who loves to be lulled into slumber by a good read? Tokyo's Book and Bed offers a novel experience (pun intended) with the use of more than 4,000 books and boasts that each room comes with a nightlight. If you'd prefer accommodations that offer views of the Northern Lights and visits to Santa's house, Finland's Kakslauttanen Arctic Resort may be a proverbial bull's eye. There are even hotels aimed at vegetarians and vegans. 
Yes, there seems to be a place to suit every taste, dream, or unusual interest. But what if you find yourself requiring an emergency bottle of bubbly? Thankfully, there's a hotel for that, too. 
An old-school phone is the key to instant bubbly
The Kimpton Harper, an upscale hotel in Fort Worth, Texas, recently marked its first anniversary with an abundance of sparkles and bubbles. As Food & Wine explains, hotel guests can now have Champagne delivered to their rooms asap. They need only pick up the receiver on their retro rotary phone, request their bubbly, and — voila — a bottle of Veuve Clicquot will arrive. Nifty. To make this offer even more appealing, the guest can even keep their signature golden Champagne flute as a souvenir (per Delicious). 
Why did they choose to go this particular route? The hotel's marketing manager told TravelAwaits that they love to have fun and that, "Bubbly at the push of a button had the perfect ring to it." You don't have to worry about missing out on this novel experience, as Thrillist says that the Kimpton Harper intends to make this a permanent offering that will feature different Champagne partners. Perhaps, you could even start a Champagne flute collection. And if you go a little crazy with the orders, there are ways to use leftover Champagne, too. 
Thanks to the innovative people at many of the world's finest accommodations, your every whim is increasingly being met. Whether you find yourself craving a visit from a giraffe, some one-on-one time with the North Pole's most famous resident, or a bottle of the finest Champagne at your fingertips, there is a perfect place for you. Cheers.