Einstein Bros. Just Launched A New Breakfast — And It's Not A Bagel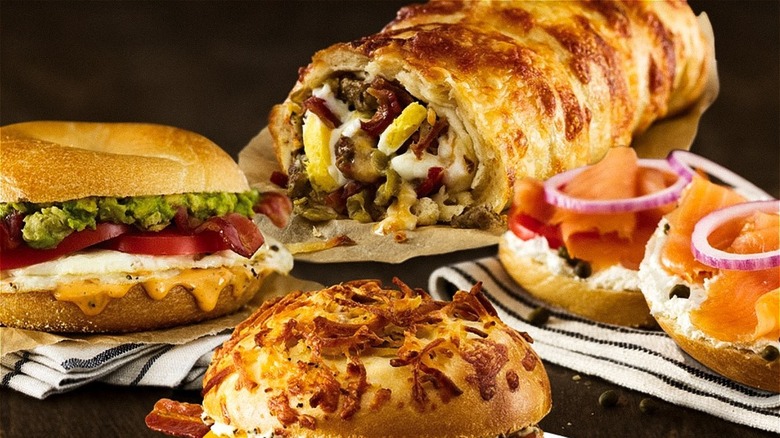 Einstein Bros. Bagels/Facebook
Einstein Bros. Bagels may be diversifying its breakfast menu, but its current morning options are already nothing to scoff at. The chain already offers 11 bagel sandwiches for breakfast alone, including a Texas Brisket Egg Sandwich and a healthy Green Avocado Egg Sandwich with spinach, tomatoes, and roasted tomato spread (via Einstein Bros. Bagels). 
The brand, which was founded in 1995, recently merged with Panera Bread and Caribou Coffee to create a new conglomerate called Panera Brands (via Business Wire). Einstein Bros itself is already a conglomerate of existing bagel brands bought up by the company's founders Boston Chicken Inc., the same entity behind Boston Market. The mega brand, which also includes the Noah Bagel Corporation, basically set out to create a bagel monopoly, and it appears to have largely been successful at the chain level. And though Einstein Bros is known for bagels, its newest breakfast offering is a bit more unexpected.
New ownership means new ways to eat breakfast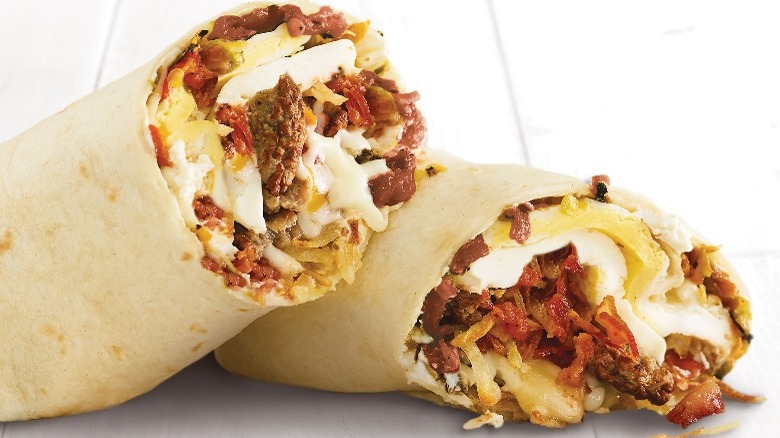 Einstein Bros. Bagels
Since merging with Panera Bread last summer, Einstein Bros has been expanding its breakfast options with an array of new offerings, including a breakfast burrito. The chain's first breakfast burrito launched in January, and it's just unveiled another one, which is the second breakfast burrito they've come out in the year since the merger. So what's the difference between the two? The existing breakfast burrito, called the Big Breakfast Burrito, offers more of a traditional breakfast burrito experience, with classic ingredients like sausage, salsa, eggs, cheese, and bacon all wrapped in a warm tortilla (via Einstein Bros. Bagels). The new breakfast burrito, on the other hand, brings a totally different flavor to the table.
According to a press release, the new breakfast burrito option at Einstein Bros. spotlights the smokey, spicy flavor of chorizo. The burrito also includes the breakfast standbys of eggs and bacon, but kicks it up a notch with cage-free eggs and thick-cut bacon. Crispy hash browned potatoes mellow things out a bit, and it's all held together with a nutty, savory blend of asiago, romano, and parmesan cheeses. Don't forget the jalapeno salsa! The decidedly non-bagel offering will cost about $6.99 and arrives in select locations August 3 (via Einstein Bros).