Einstein Bros. Just Came Out With A Breakfast Burrito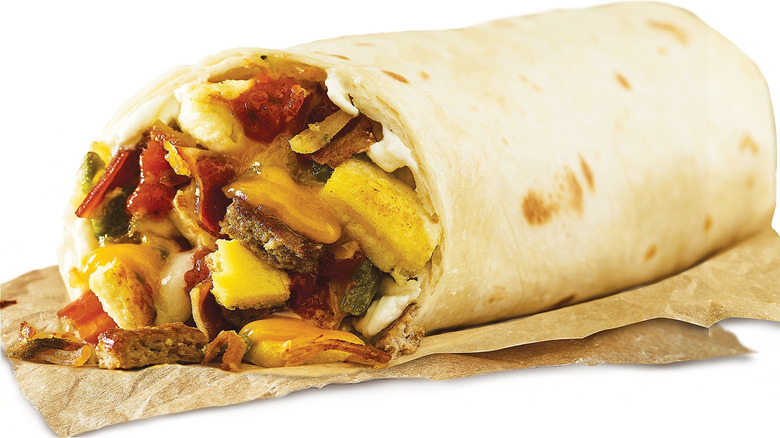 Einstein Bros.
Fans of Einstein Bros. bagels are about to find a new item to love. While the chain, which was founded in 1995, is primarily known for its coffee and bagels, Einstein Bros. is now expanding its menu with a brand-new breakfast item: a breakfast burrito. The Big Breakfast Burrito, which the chain describes as a "hearty, mouth-watering kick of flavor," is packed with ingredients sure to satisfy those cravings for a savory and sizeable breakfast, all packed into a perfectly portable tortilla, per Einstein Bros.
The Big Breakfast Burrito can be ordered in-store or through the Einstein Bros. app. And while it's outside the realm of Einstein Bros.' traditional offerings, that doesn't seem to be a bad thing for fans. "That breakfast burrito at Einstein Bros is what I live for," one person tweeted. "Our burrito this weekend was good," another person confirmed in response to an Einstein Bros. tweet.
The new Big Breakfast Burrito is selling for around $6.99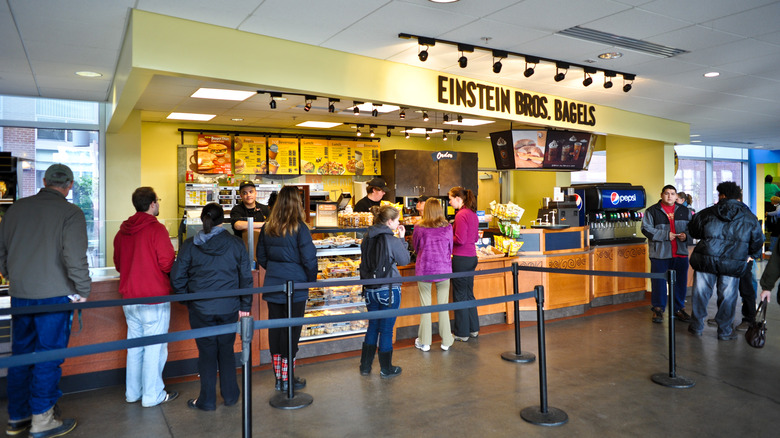 PICTOR PICTURE COMPANY/Shutterstock
This isn't the first time Einstein Bros. has experimented with more filling breakfast fare. In 2019, the bagel chain brought a burrito-bagel hybrid, the Bagelrito, to its menus in Colorado, according to Thrillist. The protein-packed breakfast item, made with bacon, turkey sausage, eggs, cheese, and hash browns, all stuffed into a tortilla-bagel combo, was only available for a limited time. But the hefty Bagelrito apparently whet fans' appetites for a heartier, portable breakfast option.
As Chew Boom reports, the new Big Breakfast Burrito features melted cheese, cage-free eggs, hash browns, and both turkey-sausage and thick-cut bacon, topped with green chiles, salsa, and a dab of cream cheese, all rolled into a flour tortilla. According to Brand Eating, fans who want to give this substantial new meal a try can purchase the item for $6.99, though prices may vary depending on location.