How Subway Clapped Back At John Oliver
Fast food sandwich giant Subway was in the news lately after coming under the scrutiny of John Oliver, host of "Last Week Tonight." For the uninitiated, "Last Week Tonight" airs weekly on HBO, and features comedian Oliver satirizing the previous week's major news stories. The show culminates with a top story, where Oliver goes in-depth on one topic for the latter half of the program.
A few weeks ago, Oliver set his sights on Subway, dedicating 26 minutes of the show's runtime to talking about everything from the sandwich chain's marketing practices to joking about how many locations there are and quipping about how "from the outside, they all look like the worst one" (via YouTube).
The main thrust of the segment was about how the company treats its franchisees. As often happens when Oliver covers something as popular as Subway, it got a lot of attention, like when the British comedian issued a challenge to Cheerios. In this episode, Oliver's main argument was that Subway allows too many franchises to open too close to one another, sparking competition between them. Oliver also alleged that the company has done too little to support its franchisees after opening their establishments, including making franchisees pay out of pocket for company-wide upgrades and threatening to close restaurants for infractions as light as vegetables being cut "too choppy" (via YouTube). Naturally, Subway was quick to respond.
Subway's response to John Oliver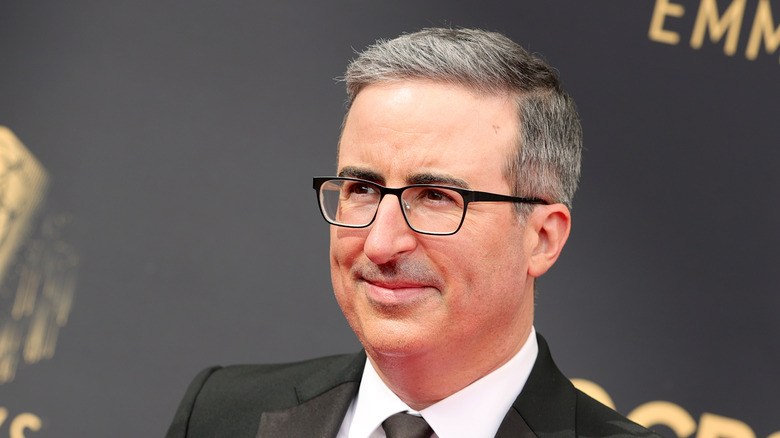 Rich Fury/Getty Images
Following John Oliver's sharply worded segment, a Subway spokesperson sent a statement to the Hearst Connecticut Media Group, saying they were "concerned that the misleading characterizations made on Last Week Tonight With John Oliver may have a negative impact on our franchisees – thousands of small business owners whose livelihood is serving guests, everyday in their communities" (via CT Insider).
And while CT Insider notes that Subway has been criticized for its franchising practices since the 1990s — according to Business Insider, an economist from the US House of Representatives called the chain "the biggest problem in franchising" back in 1998 — Subway claims it worked with "Last Week Tonight" producers to help them "understand that we have a new leadership team and a different approach to our business than we had in the past."
Some people felt the segment went too far. Harold Kestenbaum, a franchise attorney with Spadea Lingana, found it unfair to criticize Subway for having one-sided franchise agreements, claiming all major franchisors have them. "...franchisees sign them and most know precisely what they are getting into," Kestenbaum wrote, adding that "Oliver owes the DeLuca family an apology for what he said."
Subway isn't the only major food brand to be in Oliver's spotlight — in 2020, Pringles answered a bit on "Last Week Tonight" by donating $10k to Feeding America (and revealing the full body of its mascot in the process). At this point, it seems we'll just have to wait and see who Oliver can get a rise out of next.