What Happened To Tailgate N Go After Shark Tank?
At times equally as frightening as the predators terrorizing the beaches along the east coast, the sharks on "Shark Tank" can hold a company's future in their hands. ABC's hit reality television show, now in its 13th season, follows entrepreneurs as they pitch their American dreams to a panel of famous investors (the sharks), hoping to raise capital to grow their business. According to CNBC, more than ​​$100 million has been offered in deals.
With an estimated combined net worth of $5 billion, the sharks are represented by billionaire Mark Cuban, owner of the Dallas Mavericks, Barbara Corcoran, real estate mogul, Lori Greiner, referred to as "the Queen of QVC," Robert Herjavec, CEO and entrepreneur, fashion industry pioneer Daymond John, and Kevin O'Leary or, "Mr. Wonderful," along with a lineup of guest investors. Looking for a return on their investments, the sharks grill the entrepreneurs about their 'next best thing' and can go to blows with each other in hopes of a stake in a company they believe in.
Since its 2009 premiere in the U.S., "Shark Tank" has invested in dozens of companies, some now household names. While some pitches became successful companies, others were not as lucky. Season 11 saw the Johnson family pitch Tailgate N Go, a portable kitchen. Three years after airing, how is the company doing?
Tailgate N Go's success
Created for camping and other outdoor recreational activities like tailgating at sporting events, the all-in-one kitchen and dry box Tailgate N Go was pitched in 2019 by Ron, Taylor, and Kobe Johnson of Colorado. Made entirely in the USA, the Tailgate N Go contains everything needed to cook outdoors, including ​​cutting boards, paper towel holders, and different compartments for food and spices. The Johnsons said the product was developed to alleviate the stress caused by forgetting or losing kitchen items on family camping trips and was inspired by the "chuck box" or "patrol box" used by boy scouts.
In business for a year-and-a-half before being on "Shark Tank," the Johnson's had already sold 100 units and obtained two provisional patents on the Tailgate N Go. The minute-long pitch asked for an investment of $250,000 in exchange for 10% equity in the business. Spooked by high production costs ($700 per unit) most sharks steered clear of the investment that retails between $1,795 and $1,995.
Although Kevin O'Leary made an offer to the Johnsons, the family rejected the investment due to the line of credit offered and the $100 royalty on each unit sold perpetually. The Johnsons were successful in securing a deal, however. After some negotiating, shark Matt Higgins, chairman of the Miami Dolphins, offered $250,000 in exchange for 20% equity in Tailgate N Go plus an additional $50 royalty for each unit sold, sealing the deal (via Shark Tank Recap).
A Shark Tank success story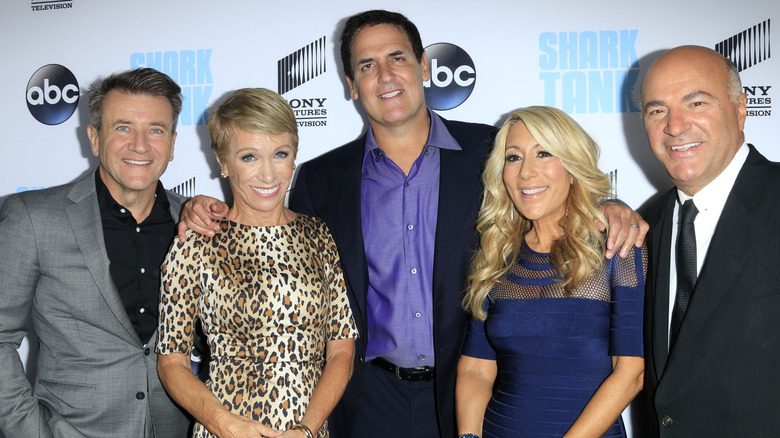 Kathy Hutchins/Shutterstock
Within a few months of their two-minute appearance on "Shark Tank," Johnson's Tailgate N Go made an additional $400,000 in sales, a 60% increase per Shark Tank Recap. Although COVID affected some channels the family planned on using to market their product, like canceled trade shows, Tailgate N Go is still going strong with a reported net worth of $1 million.
In 2021, shark investor Matt Higgins parlayed his relationship with the Dolphins into a licensing deal with the NFL, which Higgins proudly posted on Instagram. The agreement allows the boxes to display your favorite team's colors and logo. In addition, the NCAA has licensed a few college teams, and the boxes can be personally customized with your business logo. Tailgate N Go can be purchased on the company's website, which also offers accessories for the boxes.
After 300 episodes, a handful of products have generated $100 million in sales or more, including Squatty Potty, the toilet stool that boasts it's the "#1 way to go #2," which saw sales rise to $175 million after radio personality Howard Stern promoted and advertised the product. The wearable blanket "The Original Comfy," backed by real estate mogul Barabara Corcoran, has seen $150 million in sales. However, according to Investopedia, the most successful product to date is "Bombas." The socially responsible sock company donates to homeless shelters for every item purchased, accounting for 50 million donated items and sales reaching over $225 million, proving doing good can be lucrative too.