Best Food Storage Container Sets Of 2022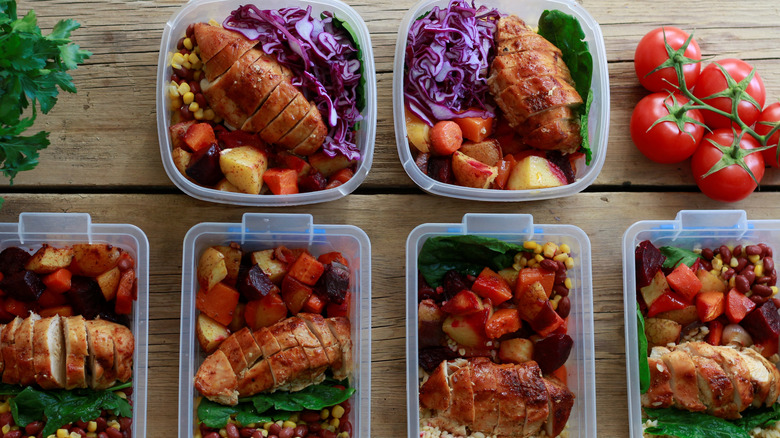 Fevziie/Shutterstock
We may receive a commission on purchases made from links.
Everyone wants to keep their food as fresh as possible. One of the best ways to do that, especially when you're meal prepping or dealing with a bunch of leftovers, is with a great set of food storage containers. Food storage containers are not only convenient, but also beneficial for the environment since they're much less wasteful than single-use plastics. 
We've all heard about how harmful plastic is for the environment, but to put our current level of pollution into context, consider this: By 2050, when measured in weight, our oceans could contain more plastic than fish (via The World Counts). We don't know about you, but we'd much rather have fresh salmon on our plate than have to deal with a neglected sea full of synthetic garbage. The bottom line is that by using a set of reusable food storage containers, you can play your part by saving food in a more sustainable way.
There's a wide range of food storage container sets to choose from, so what it really comes down to is deciding what features you're are best suited to your purposes. From extra large sets intended for bulk dry goods to portable boxes perfect for bringing lunch to work, there's no doubt that this list will help you find a set of food containers that meets your specific needs. The good news is that we found some of the best food storage containers on the market to make your shopping a breeze.
How we selected products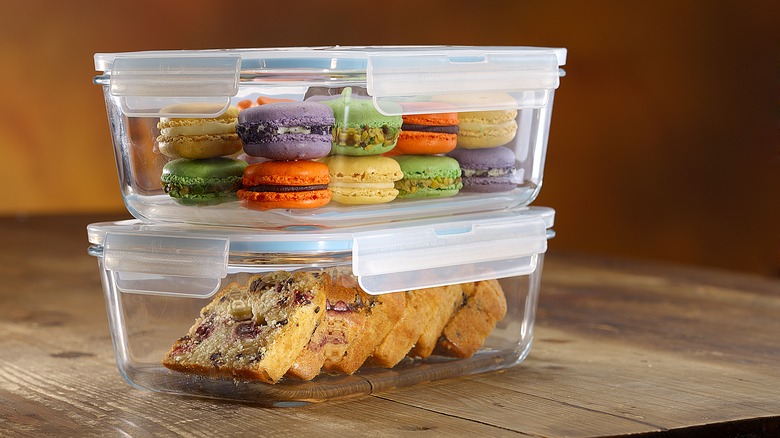 Canan Asik/Shutterstock
To provide you with a roundup of some of the best food storage containers on the market, we've taken several factors into consideration. Without a doubt, one of the most important elements in the decision making process is customer feedback. We've formulated this list with the help of many user reviews, sifting through responses to provide food storage container sets that have the most favorable assessments from professional reviewers and everyday users alike.
Another key component was affordability. In an effort to cater to everyone, we've selected food storage container sets with various price points to suit different budgets. We've also focused on providing a wide range of products with unique features so that each selection truly has something exceptional to offer. If you're looking for a new set of food storage solutions that you can trust, then you're in the right place. Here are the best food storage container sets of 2022.
Best overall food storage containers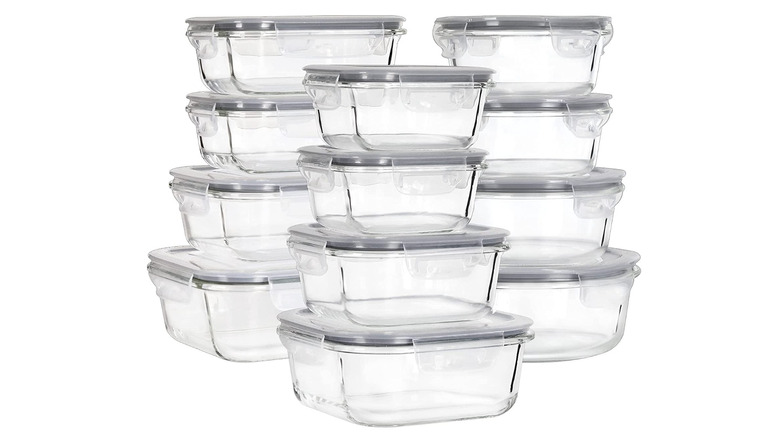 MUMUTOR
If you're looking for a set of food storage containers that has it all, then look no further than this 24-piece set from Mumutor. This set is made with durable borosilicate glass and comes in three different shapes and nine different sizes to ensure that all of your bases are covered. These containers are oven-safe up to 750 degrees, BPA-free, and watertight thanks to a leakproof seal with a removable rubber gasket. All told, this set of food storage containers truly has a lot to offer.
Each container has a four-sided locking system to properly secure your food to make it airtight and prevent any spillage. Because they're oven safe and have different shapes, these containers can also function as small baking dishes. For inspiration's sake, consider how you could use the rectangular dishes to bake individual portions of lasagna or little quiches in the round containers. 
This set is especially unique because of its wide range of different shapes and sizes, allowing you to store food with impressive versatility. With a nearly perfect rating after over 1,000 reviews on Amazon, it's clear that this set of durable glass food containers is one of the best out there and has plenty of satisfied customers singing its praises.
You can buy the MUMUTOR glass food storage container set on Amazon for $40.
Best budget food storage containers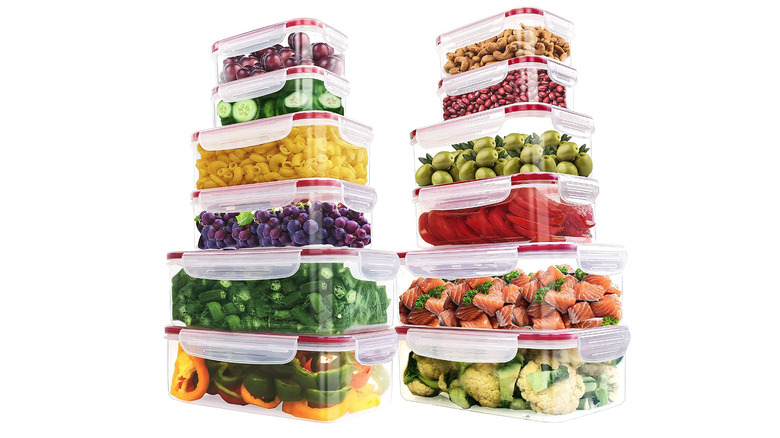 Utopia Kitchen
At the end of the day, it's safe to say that we're all looking for high-quality products that don't break the bank. When you're on a budget, however, sometimes finding a great deal can be a challenge. Luckily for you, we found this 24-piece food storage container set from Utopia Kitchen.
This set is made with BPA-free durable plastic that's both airtight and leak proof. Each lid has a removable plastic seal that's easy to clean and helps to ensure that your food stays fresh. Once the lids are removed, all of these containers are safe for the microwave and dishwasher. 
As for versatility, this set has three different sizes (namely, containers with 500 ml, 1200 ml, and 2250 ml capacities) to provide you with a variety of storage options. These rectangular containers are also easily stackable to help maximize space and simplify storage in your kitchen. Earning four-and-a-half stars after 3,000 Amazon reviews, this food storage container set is clearly well-made, dependable, and affordable.
Purchase the Utopia Kitchen food storage container set on Amazon for $20.
Best portable food storage containers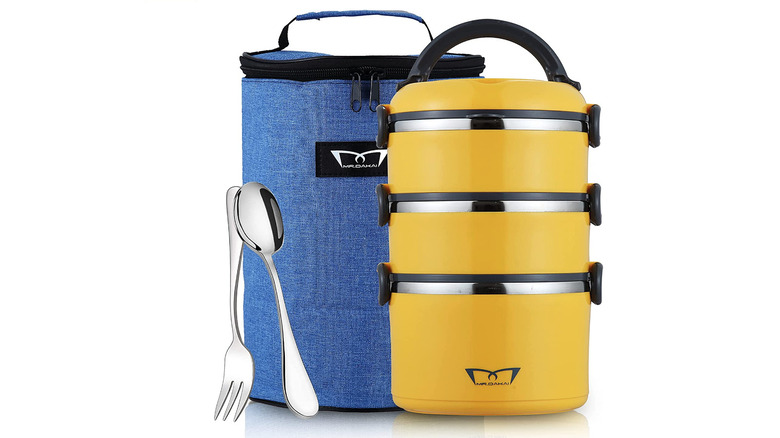 Mr. Dakai
Whether you're taking your lunch to work or having a picnic, having a set of food storage containers specifically designed for portability can be highly useful. This set of bento boxes from Mr. Dakai is ideal for those of you who need to take your food on the go. Its stackable three tiers gives you ample flexibility to adjust portions as needed. It even comes with an insulated lunch bag and a couple of utensils.
Made with durable stainless steel and BPA-free plastic, this three-tier set comes with two different sizes of containers — one with enough room to hold four-and-a-half cups of food and the other two with enough space for three cups. When stacked all together, this portable set can hold over 10 cups of food, making it a perfect choice for multiple meals on the go, a picnic with multiple friends, or for anyone with a seriously big appetite. 
Not hungry enough to justify all of that food? You can easily just take one or two of these instead and tailor the size of your meal. Between the spacious design and convenient stackability, this set of bento boxes is sure to leave you satisfied. Did we mention this set also comes in multiple colors?
You can buy the Mr. Dakai three-tier food storage containers on Amazon for $36.
Best variety food storage containers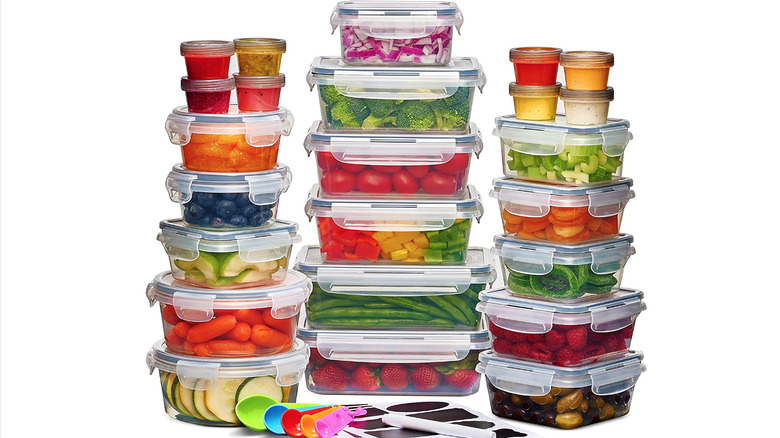 Seseno
When it comes to food storage, it's always good to have a variety of container options. Dressings, salads, and other leftover dishes tend to require vastly different amounts of space, so it's nice to have a set that can cater to that level of variation. This set offers 24 food storage containers and comes in eight different sizes, ranging anywhere from just over one ounce all the way up to a full liter of food. That means you'll have containers that are small enough to hold a single serving of your favorite salad dressing, but also large enough to store a big portion of last night's leftover casserole.
The containers in this set come in three different shapes with multiple lid locks. Made with durable shatter-resistant plastic, these food storage containers are safe for the dishwasher and microwave, so long as you remember to remove the lids first. Another sweet bonus: This set also comes with a bonus package of measuring spoons, label sheets, and a marker. It's no wonder this set has earned over 4,500 glowing reviews over on Amazon. This level of affordable versatility is truly exceptional.
Purchase the Seseno food storage container set on Amazon for $29.
Best bulk food storage containers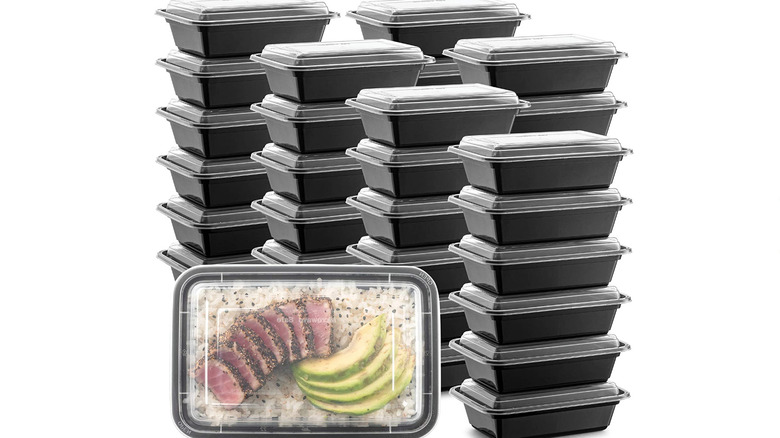 Promoze
Prepping a lot of your meals ahead of time can be a real lifesaver. Instead of coming home after a long day of work and having to cook dinner, with meal prepping you can simply pull out a meal that's ready to go, heat it up, and enjoy. Likewise, it's way easier to have a healthy lunch if there's one all ready to go in your fridge. 
Now, in order to accomplish this, you'll need the help of a good set of containers that are big enough to store a full meal. They'll also need to be sleekly constructed and stack well for storage. If you're looking to get in the habit of preparing your food ahead of time in bulk, this 50-pack of rectangular food storage containers from Promoze is sure to get the job done.
Each of the containers in this set are safe for the microwave and can hold up to 24 ounces. Made with durable food-grade plastic, this set of food storage containers can neatly stack up to maximize the space in your fridge and freezer. Since all of them are the same exact size, this set makes portioning out your meals a breeze. Furthermore, if you run a restaurant or food truck, this 50-pack of containers can also serve as a reliable way to package up your dishes to-go for customers.
You can buy the Promoze 50-pack of food storage containers on Amazon for $24.
Best extra large food storage containers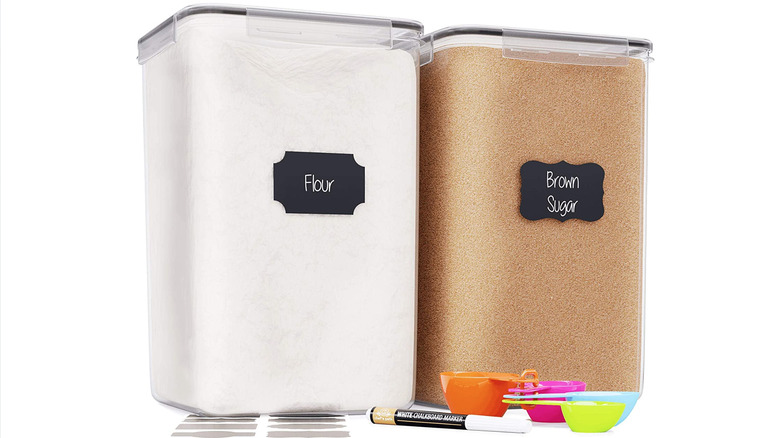 Chef's Path
If you like to cook from scratch, there's a good chance that you have a lot of flour and sugar on hand at home, not to mention a bevy of other loose ingredients. Rather than keeping all of that flour and sugar in its own flimsy packaging, it's much more neat and convenient to just store everything in a big container. This set of extra large food storage containers is sure to keep the essential dry goods in your kitchen in good order and very well-stocked.
Each of these extra large containers can hold up to six-and-a-half liters, which is about the equivalent of 27 cups. Think of the possibilities: Tons of rice, flour, cereal, sugar, dry beans, pastas, and any of your other favorite goods right at your fingertips. These tall and sturdy containers have multiple locks that tightly clamp the lids down and help to maintain the freshness of your food. The deal also comes with measuring cups, labels, and a white chalkboard marker. With nearly 30,000 positive reviews, there's no doubt that this extra large food storage container set is worth every penny.
Purchase the Chef's Path extra large food storage containers on Amazon for $31.
Best mini food storage container set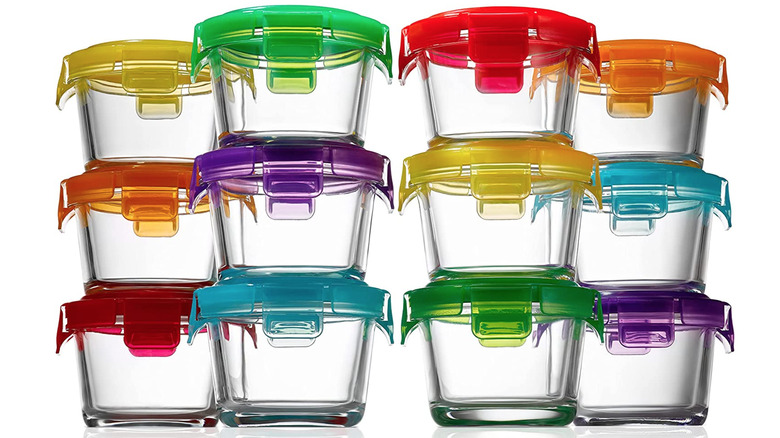 NutriChef
While we recognize the utility of large leftover receptacles, having a set of mini food storage containers can be really helpful, too. Plenty of sets come with a few smaller pieces, but for those of you who routinely make small batches of things like sauces, salad dressings, and baby food from scratch, having a more extensive collection of smaller sized containers is key. This 12-piece set of mini food storage containers by NutriChef was made to provide you with plenty of little vessels for any smaller portions you may require.
All of these little containers are made with borosilicate glass and can hold just under four-and-a-half ounces. Airtight, leakproof, and free of common food-affecting chemicals, these high-quality glass containers can handle swift changes in temperature and are oven safe up to 520 degrees. With multicolored lids that lock down for an airtight seal, you're sure to find countless uses for these colorful little containers. They're also stackable. If you think it's time to step up and improve your mini food storage collection, then this is one of the best sets out there to help you achieve that goal.
You can buy the NutriChef mini food storage containers on Amazon for $35.
Best collapsible food storage containers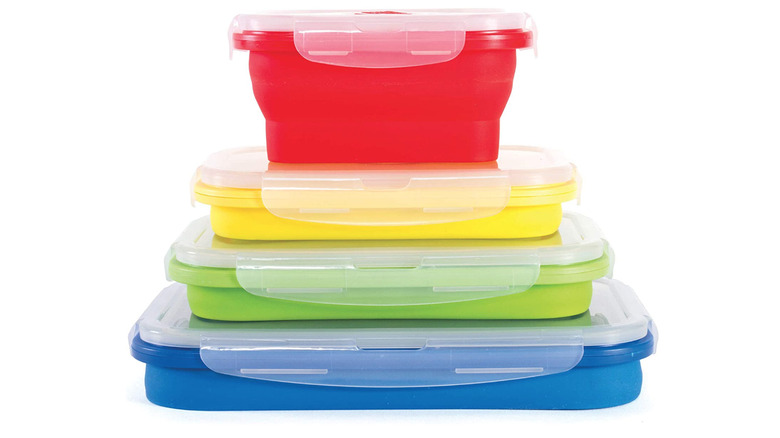 Kitchen & Home
When you want to save a little space, collapsible food storage containers can really come in handy. These containers can expand like an accordion to extend their height or collapse back down when they're less full or just totally empty. If you're looking for a product that's both versatile and compact, then we think that this set of four collapsible food storage containers from Kitchen & Home will surely do the trick.
This set comes with four different sizes: small (10.5 oz), medium (18 oz), large (26 oz), and extra-large (43 oz). Each piece can collapse down to about one-third of its original size, minimizing its use of space for easy storage. Made with non-toxic, BPA-free silicone, these containers are microwave safe and come with a handy vent to allow steam to safely escape while they're warming up. Because this silicone is resistant to temperature fluctuations, they are also safe for both the dishwasher and a standard kitchen freezer. If you're looking for a set of food storage containers that can conveniently adjust its proportions at the drop of a hat, this is a deal you don't want to pass by.
Purchase the Kitchen & Home collapsible silicone food storage container set on Amazon for $23.
Best canister food storage containers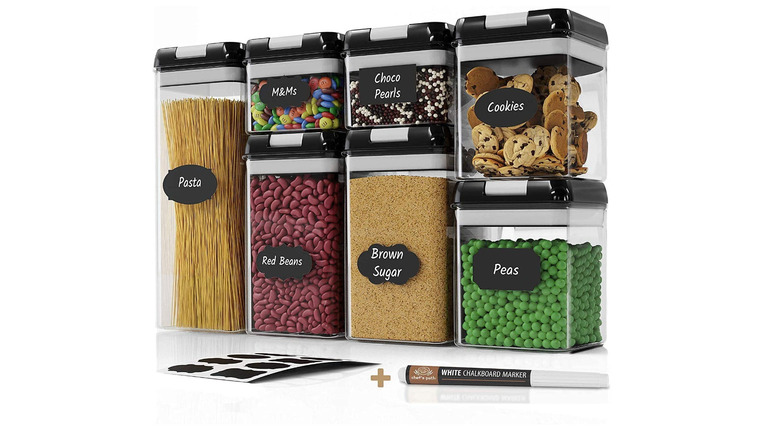 Chef's Path
Canister-style food storage containers are great for all kinds of goods, but what makes this particular set extra special is the assortment of sizes you get. This set comes in four capacities, offered across seven different storage containers. Having a wider range of options for storing food can be highly convenient for chefs and serious cooks who like having easy access to an assortment of ingredients. The variety of sizes of container in this collection means that you can store smaller items like homemade cookies or candies beside more commonly-used dry goods like pasta and flour.
These containers are stackable and, when arranged in the right way, they can create four tiers of storage that are all the same height, giving your kitchen a symmetrical aesthetic that's pleasing to the eye. Safe for the dishwasher and stain-resistant, these canisters are very easy to clean and keep in good condition. Another cool feature: this deal comes with a marker and reusable labels, so you can safely keep track of your food without having to worry about running out of material to do so. The bottom line is that this set will provide you with enough space and variation to store just about anything you want in larger quantities.
Purchase the Chef's Path airtight food storage containers on Amazon for $30.99.
Best large set of glass containers
Plenty of collections come with glass, but what makes this set so valuable is the sheer variety of pieces that it brings to your kitchen. This is a 35-piece set from Razab that includes 15 glass containers along with five other smaller plastic containers for your collection of popular world condiments, not to mention lids for everything. All told, this set offers vessels that can store everything from five ounces all the way up to over 40 ounces. We think it's safe to call that a vast spectrum of volume.
Shatterproof and secure with a tight rubber seal in the lid, these containers are oven safe up to 500 degrees (when the top is removed) and have locking lids to protect your food from any potential leakage. Whether you're using the larger containers to save bigger portions of leftovers or the smaller jars to store your favorite condiments, you'll find that each of these pieces serves a useful purpose. If you're on the hunt for a set of durable glass food containers that you can trust with a good amount of variety, then look no further.
Purchase the Razab glass food storage container set on Amazon for $80.
Best plastic food storage containers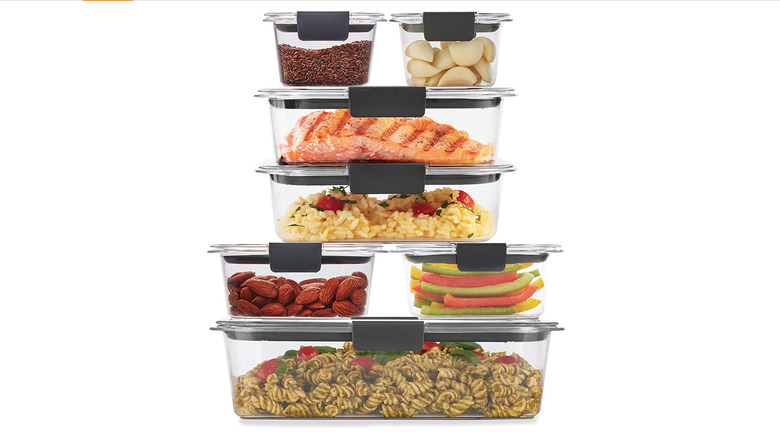 Rubbermaid
The market is littered with countless plastic food storage containers, so what makes this particular set of yet more plastic bins so special? For starters, this deal has been rewarded with a perfect five stars after nearly 55,000 customer reviews on Amazon. Another cool feature: the steam vents are conveniently located underneath the lid locks, so all you have to do is unclamp them before you put them in the microwave.
This 14-piece set comes with seven containers that are all airtight and leak-resistant. The sizes range from half of a cup all the way up to 9.6 cups. The BPA-free plastic on these pieces is crystal clear, providing you with full visibility. Stain and odor resistant, easily stackable to save space, and safe for the dishwasher, this set of food containers provides the perfect amount of storage, since it isn't too bulky or undersized. Simple yet efficient, you'll have to score this set to see for yourself what all of these satisfied customers are raving about.
You can buy the Rubbermaid plastic food storage container set on Amazon for $49.
Best food storage containers for microwaving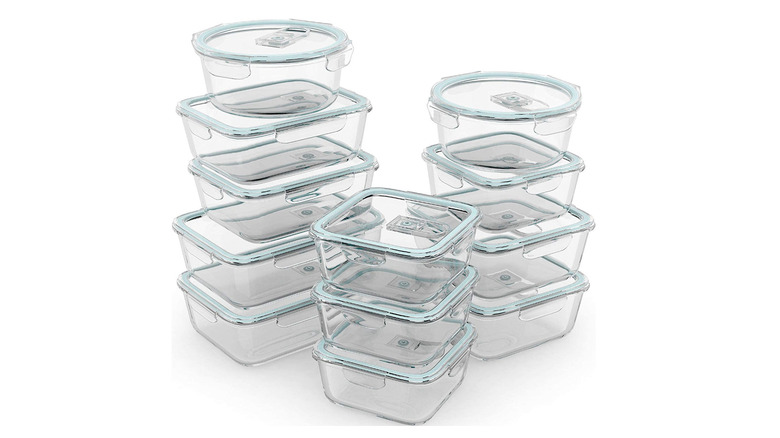 Razab
The microwave gets a bad rap sometimes, but the reality is that its level of convenience is just about unmatched. When you're pressed for time — as most of us are — it's so easy to just hit a few buttons and zap something's water molecules until it's warm enough to eat (via FDA). That said, with so many options on the market, how do you know which set is best? This 24-piece collection of food containers is a sure bet, with thousands of reviews that praise its high-quality design. It's also made with durable glass and has a built-in venting system.
This set comes with 12 glass containers along with matching lids that lock into place. Plenty of reviewers have commented on how well-secured these lids are when they're clamped down, applauding their ability to keep liquids totally contained without any leakage. This is especially important when you're microwaving, considering that any gaps have the potential to cause splatters of boiling hot liquid during the heating process. With its three different shapes and various sizes, effective lid vents, and an impressively tight seal, there's no doubt that this set would be highly used in your kitchen.
Purchase the Razab 24-piece food storage container set on Amazon for $49.